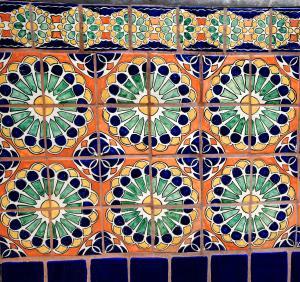 Mexican design colors evoke the beautiful Mexican beaches. Bright blues, vibrant yellows, cool sands, and rich terracotta are staple colors of Mexican design. However, the inspiration doesn't stop there. Mexico is a country drenched in color. Past the beaches are the jungles full of lush greens, bright reds found on exotic birds and the rich pinks of the hibiscus plant. The Mexican people brought that color into their churches and homes. The town of Tabasco and ancient Mayan villages have color drenched churches and homes inspired by the countryside and cultural beliefs.
Mexico has a strong culture and art is a large part of that. Folk art is the dominant style. Visiting the country you will see an abundance of clay pottery, brightly painted and carved animal figures, woven garments and baskets. Painters such as Diego Rivera, Frida Kahlo and Jose Clemente Orozco translated the Mexican culture to the canvas.
Dominant Mexican Design Colors
There are so many beautiful color combinations in Mexican design.
Ocean: This color scheme is made up of bright yellow, both light and dark blue, turquoise, bright white and shimmering silver, to evoke the sunlight dancing on the water. Suns and moons are a common motif in this color scheme.
Sandy beaches: This color scheme moves past the water to the light pink, and terracotta sands of the Mexican coastline. This is one of the more subtle Mexican color schemes. It incorporates terra cotta, pale sand, light pinks and pale grays.
Mexican sunset: A Mexican sunset is blazing and color-drenched. Use oranges, yellows, reds, whites and copper liberally to create this look.
Jungle: The jungles of Mexico are full of exotic birds and flowers. Almost anything goes with this design. Bright greens, both light and dark dominate and are accented by bright reds, royal blues and pinks. This color scheme is not for the color-shy. It requires a bold mix of saturated color to work.
Mexican garden: This color scheme mixes yellow, purple, orange, turquoise, light green and earth tones. Again, this design mix is not for the faint of heart. In order for it to work and not clash, it requires a liberal mix of bold colors.
How to Work with Mexican Design Colors
You can create an entire Mexican-inspired interior or just uses splashes of Mexican design color in your home.The kitchen and bathroom are good choices for creating a top-to-bottom Mexican feel. This is because you can tile the entire bathroom or backsplash in the kitchen with colorful Mexican ceramic tiles. Use the colors in the tiles to create your color scheme for the rest of the room. Terracotta tiles look beautiful on the floor of a Mexican-inspired room. Be sure to use terracotta colored grout too in order to create an authentic look.
If you aren't ready for an all-over Mexican look then consider painting some walls in pretty Mexican design colors. Mexican homes often have stucco or textured walls so try a clay plaster style in your home. Companies such as American Clay make natural plaster wall finishes in textured earth tones. Or you can choose a more vibrant color and paint some furniture or a doorway as an accent.
Add small color accents in pretty colors through wall hangings, murals, woven blankets, ceramic bowls candlesticks, hook rugs and silk throw pillows.
For more information on Mexican color, visit the website of visual artist Masako Takahashi. Takahashi has as studio in Mexico and has written several books on Mexican style including Mexicolor, which she coauthored with Melba Levick and Tony Cohan.