3 Accredited Online Interior Design Schools to Apply To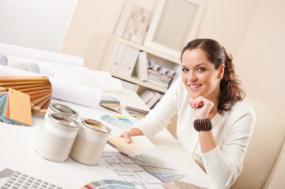 There are many online Interior Design degree programs, but only a few are recognized by the American Society of Interior Designers (ASID), the professional organization for Interior Designers. The ASID is not an accrediting body. The Council for Interior Design (CIDA) is the only professional accrediting body for interior design schools and so far has only accredited two online programs.
The Council for Interior Design Accreditation
The CIDA is "an independent, non-profit accrediting organization for interior design education programs at colleges and universities in the United States and Canada." While the CIDA boasts having accredited 150 interior design programs, only two of those are online degree programs.
Academy of Art University
The Academy of Art University is a CIDA accredited school and offers through its School of Interior Architecture & Design degrees in Interior Architecture and Design with a focus on areas of commercial, hospitality, residential and sustainable designs.
Master of Fine Arts (MFA): The Master's degree core curriculum integrates theory, design, and technology.
Bachelor of Fine Arts (BFA): 132 semester units. Once approved, the final project is exhibited professionally.
Second Degree Program (BFA): Students with existing Bachelor degrees can complete an additional 66 units for a second BA degree.
Associate of Arts (AA): This is an excellent degree choice for entry-level positions with design firms and companies.
Online tuition for the Academy of Art University is the same as "in-person courses" minus lab fees.
Undergraduate annual tuition: $785 per unit x 24 units = $18,840 annually
Registration Fee: $20 per semester
Student Activity Fee: $25 per semester, onsite only
Course Fees: $800 (average)
Materials/Supplies: $1,710 (average)
Total Annual Online Undergraduate Tuition: $21,346
The Art Institute of Pittsburgh
The Art Institute of Pittsburgh is a CIDA accredited school offering an online Bachelor of Science in Interior Design degree program with 180 credit hours with 55 courses. The online tuition includes:
Per credit hour: $470 x 180 = $84,600
Online lab fee: $100 per course x 55 = $5,500
Digital resource fee per course: $50 x 55 = $2,750
Application fee: $50
Enrollment fee: $100
Total tuition for online BA degree: $93,000
Choosing the Right Design School
These online degree programs have several advantages since they are approved by the ASID; however, that doesn't mean you're limited to just these online offerings. There are many other legitimate and worthy online programs that you may wish to explore before committing to a specific online degree program. Decide what type of design you wish to pursue and then select the program that will best support you in obtaining your goals. When comparing programs, look for ones that will train you well enough that as soon as you graduate, you'll be capable of stepping into a designer position.
While you'll have a learning curve that can only be met through on-the-job experience, joining professional organizations such as ASID will give you opportunities to network within other people within your profession and continue learning your craft.