Rustic, cabin style decorating does not have to be contained to a house hidden on a mountainside. Adirondack designs are easy to add to almost any home décor.
What Is Adirondack Style Design?
Adirondack style is the name also given to lodge, cabin, country and rustic styles of design. Named for the Adirondack Mountains, the style dates back to the 1800s. Designer William West Durant is thought to be the originator of the design, as he was one of the first to begin creating rustic style furnishing for his clients by pulling details, materials, and color from the surrounding nature.
Today, Adirondack style furniture is available for sale to fit into any interior. Adirondack style chairs, tables, hutches, and even bedroom furniture can be found to complete your Adirondack style home.
Decorating in Adirondack Style
The key to Adirondack style interior design is to make sure the home's interior stays in keeping with its exterior and/or its surroundings. While not every home is located on a wooded, Eastern mountainside, pulling from the natural colors and materials of this area can help to achieve this look.
Materials
The original Adirondack designs incorporated things like birch bark as wallpaper and roughly hewn logs as ceiling beams and furniture. Like other Craftsman style homes, the goal was to keep the materials at low-cost and low-maintenance by pulling from local resources.
To recreate the Adirondack style in your home, you can include some or all of the following materials:
Natural, rough hewn wood fashioned into furniture, coat hooks, ceiling beams, wainscoting, window casements and baseboards
Textured wall treatments made of reeds, bamboo, rushes, or hemp
Slate or bluestone tiles
Granite or fieldstone fireplace surrounds
Leather furniture, wall or floor coverings
Colors
The color palette of Adirondack influenced interior design stays true to the colors present in the Adirondack Mountains. Include plenty of the following colors as either accents or full color schemes in the home:
Hunter green
Mint green
Pine green
Yellow
Gold
Icy gray
Sky blue
Deep red
Natural wood tones
Because green is a predominate color in the style, consider pairing multiple shades and tones of green as accents throughout the home. Highlight them by using cream or light tan walls, and pair them with touches of yellow, blue, and gold to bring out the many hues that nature creates.
Lighting
Avoid stark, modern light fixtures in this style of design. Wall scones, some types of pendant or chandelier, and lots of floor and table lamps will provide the soft, diffused light that will highlight the natural colors of the home. Look for lights made of hammered metal, wood, and roughly cast ceramic to become a focal point in the design. Twig lamps were a favorite, especially floor lamps made from larger twigs or small branches.
Accents and Art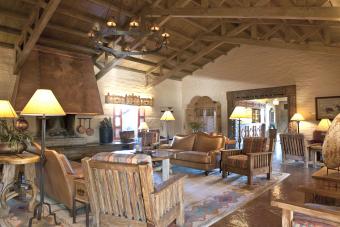 Furniture Styles
The iconic Adirondack chair is easily recognized for its angled seat and straight back. This comfortable chair design is a popular choice for patios, decks, and lawns. Other furniture to explore for indoor use from the Arts and Crafts Movement includes Mission style chairs, tables, and beds. Rustic furniture styles in birch and cedar can include log or twig style furniture pieces.
Incorporating Adirondack Design
If the idea of a rustic, relaxing design appeals, but the full cabin style decorating style does not, consider mixing and matching to create a design of your own. Many of the rustic, relaxed elements of Adirondack style interior design work beautifully when paired with more modern pieces in an incongruous blend of style. Just be sure to keep color palettes to a harmonious blend and don't be afraid to introduce some luxury to the space. Not every home is built like a log cabin, but that doesn't mean it can't create an ambiance to help you relax as if you are in one.