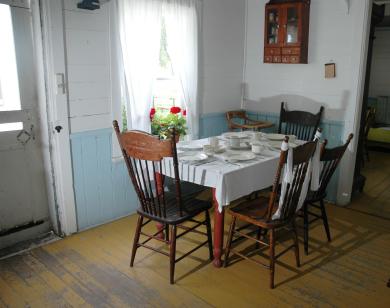 Americana kitchen décor is all about bringing patriotic American colors and cozy, charming style into your home. A kitchen decorated in Americana style will be warm and inviting, the kind of kitchen where your family and friends will want to wile away the hours.
What is Americana Kitchen Décor?
Americana kitchen décor takes its inspiration from Country style interior design. While country style interior design can be a catch all term that can refer to all kinds of homey design styles, like English Country style and French Country style design, Americana design incorporates the charms of Country design with distinctly American styles. Other interior design styles that share some inspiration with Americana and American style in general include:
Get the Look - Americana Kitchen Décor
The basic tenants of the Americana kitchen style revolve around the color choices you make. What colors say "Americana"? Red, white, and blue, of course! When deciding on your color scheme, you can choose to go for brighter reds, whites, and blues, like the colors on the modern USA flag, or you can go for richer, deeper colors more associated with Colonial America (this second approach is the most traditional approach to Americana design). The Colonial style colors are rusty reds, dark blue-grays (a la Williamsburg Blue), and beige/off white tones.
The tricky part about Americana colors, whether you choose the modern colors or the Colonial tones, is that they can be overwhelming and hard to use. For instance, painting your kitchen walls rust-red or dark blue can significantly darken your room, not to mention make it appear much smaller. Make sure your use of color does not overwhelm your kitchen; think of the Americana color more in terms of accessorizing than in terms of paint and wallpaper, unless you have a very large kitchen. Start with small splashes of color and add additional color slowly but surely, so you can stop before you go too far.
There are many ways you can incorporate these Americana colors into your kitchen décor. Look for Americana themes and designs in the following accessories:
Chair pads
Tablecloths
Placemats
Candles
Lampshades
Light switches
Curtains
Throw rugs
Wooden flags and other wall art
Shelves
Table runners
If you have the room, furniture pieces in Americana colors, like a Williamsburg blue bookshelf or rust red chairs make nice additions.
Once you have the colors for your kitchen tied down, you need to add the rest of the pieces to bring the room together. Here again, you have some flexibility, depending on whether you choose to go modern or more rustic. Light woods and modern appliances can work just fine in a kitchen decorated with modern colors. If you have chosen to go more traditional, however, getting the right pieces will make your look complete. When choosing woods, think dark finishes or natural wood pieces - if you want to get really authentic, choose woods that are indigenous to your area, just like the early American colonists would have used. Copper bottom pots and pans make the perfect addition, as do copper cooking utensils. A hanging pot rank or wall rack will show off all of your cookware to great effect.
For more perfect finishing touches, keep your eye out for great period antiques for your walls and shelves. With Americana kitchen décor, you are only limited by your imagination. The idea is to create a family friendly, comfortable room - there are no hard and fast rules. This is one interior design style that welcomes clever clutter - think of the kind of kitchen in which children's drawings look right at home on the refrigerator.
Americana Country Design Resources
These websites are great places to start your Americana design shopping: