3 Lovely DIY Autumn Themes for Home Decorating
The imagery of autumn is colorful, with summer leaves giving over to brilliant reds, oranges and yellows, to iconic pumpkins, to icons likes scarecrows that grace many yards. All of these lend themselves to excellent decorating themes for your home as a way to celebrate fall.
Pumpkin Theme
You can add touches of a pumpkin theme throughout your home decor with pillows, throws, and various artistic representations of the pumpkin in art, posters, and objects.
Color
Most people think orange is the only pumpkin color, but there are some varieties found in gardens that are white, brown, white with orange stripes, or green and orange. Accent with other fall tones, like yellow, burgundy, or deep plum.
Decorate With Actual Pumpkins
In addition, there are also miniature pumpkins that can be placed in a basket centerpiece or cornucopia decoration. You can buy real large, medium, and miniature pumpkins from a local farmers' market, grocery store, or online; plant your own pumpkin patch; or buy artificial pumpkins to use year-after-year, from places such as:
Factory Direct Craft: Pick up faux miniature pumpkins in a variety of materials, from burlap to glazed to wood.
Other Pumpkin Icon Decorating Ideas
You can use the pumpkin theme to decorate your home for autumn by incorporating it in various areas of your home for a continuity that flows from the front door to the den and kitchen.
Yard, Porch, or Front Entrance
Make a statement about the fall to all who visit or ride by your home, starting with the front entrance or porch area.
Table and Mantel Decorations
Opt for a less than traditional fall centerpiece for your dining table, buffet, or entryway console table with one of these finds:
DIY Pumpkin Projects
If you're creative, try these fun pumpkin decoration projects.
Candle holders: Scoop out centers of miniature pumpkins an set an LED tea light inside. If you prefer a jack-o-lantern look, carve a face in each. Keep in mind that these will only last a few days before they will need to be thrown away.
Flower pot pumpkins: Use at least three different size of clay flower pots. Paint a pumpkin face on each using black pain. You can use a simple pumpkin triangle design for eyes, nose and mouth or a more stylish face. Add fall plants or faux foliage.
Scarecrow Theme
The scarecrow is a favorite autumn figure. You can select one that fits both the season and Halloween and/or Thanksgiving to use it longer. Use cute scarecrow figures, wreaths, throws or pillows in your home to carry the theme throughout. Place wall art in the half bath or kitchen.
Color
Center the color scheme around the colors of the scarecrow. It's a given that beiges and tans will be prominent colors because they replicate straw colors. The clothing and patterns used in your main one or two scarecrows' clothing can be repeated in your theme design. For example, if blue and red clothing are used, then you can repeat these colors in your room to draw attention to the central scarecrow figure.
Other Scarecrow Icon Decorating Ideas
You can choose to go with a scary or cute scarecrow for the centerpiece of your design(s). Think about what you wish to see whenever looking at the scarecrow selection.
For your yard, porch or front entrance, you can either go cute, neutral or scary with your outside scarecrow choice.
Design Toscano adds the macabre to the season, especially Halloween with this spooky evil scarecrow that can be set right in with your landscaping or on a porch step.
Hang a large scarecrow from PartyCheap on your front door to greet friends and neighbors, especially if you don't want a full-sized one in your yard.
Hayneedle lets you welcome the fall with this scarecrow flag complete with a sunflower on his hat and his very own crow.
Some decorations can work for either a table or mantel centerpiece, while others are created for a specific use.
This scarecrow harvest candle holder set from Luxury Lifeway is ideal for a home with country or Americana décor. Add a plaid table runner and a few more candles to complete the look.
If a fresh floral arrangement is your ideal table centerpiece, opt for one with fall colors and a scarecrow figurine from Teleflora.
DIY Scarecrow Projects
Try your hand at creating your own brand of scarecrow theme décor. People who sew might enjoy making the Topsy Turvy Scarecrow Runner using the kit from Happy Hollow Designs. You can also make your own whimsical fall wreath following simple instructions - just replace the owl decoration with a scarecrow. Of course, the ultimate DIY project would be to make your own scarecrow.
How to Make a Scarecrow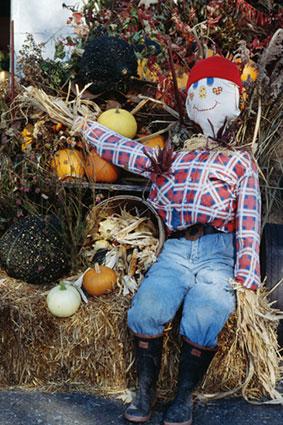 Supplies
Plaid or country-themed shirt
Old blue jeans
Pillowcase
Hat
Raffia and/or straw
Markers
Plastic bags and/or newspapers
Safety pins
Rubber boots
Directions
Button the shirt and zip up the pants then stuff with plastic bags or newspaper.
Make the face using a pillowcase, draw a face with markers, and then stuff with newspaper.
Attach the head, shirt, and pants with safety pins.
Add raffia and straw around the neck, arm and leg openings.
Safety pin hat on head.
Stuff the bottom of the legs into rubber boots.
Set the scarecrow in a chair by front door.
Fall Leaves Theme
Pillows, blankets, banner flags, and rugs can add a touch of fall leaves to your existing design. Incorporate these items throughout your home, adding color to your entire house, entrance, and tables.
Color
Choose at least two leaf colors to use in your fall leaf theme. You can also use varying hues of these colors to add depth to your room. For example, red leaves can be brilliant scarlet hues to deep burgundy hues, depending on the tree species. Yellows can be vivid to dark golden hues. Add some brown to help weight the colors - and don't forget that these can vary from very dark brown to a soft tan.
The color you choose can also highlight existing color schemes. For example, adding orange will complement a blue room.
Other Fall Leaf Icon Decorating Ideas
Add some special touches to specific areas of your home using leaves.
Yard, Porch or Front Entrance
While leaves might grace your yard courtesy of the trees in your landscape, you'll still want to include them in decorations near the entry to your home.
Grandin Road's New Haven Greenery Collection sets the exterior with colorful fall leaf garland, wreath, swag, and urn filler.
Pottery Barn's rustic Tuscan vases from master potters are hand-thrown terra cotta with a white chipped glaze. Add some leaves to them, and they can be used on a porch or inside an entrance area.
Table and Mantel Decorations
Create a picturesque look on your table, mantel, or other area with a leaf display.
Add a touch of stylish autumn with a golden leaf wreath from Plow & Hearth. Use it over the mantel or place it on the table with a large column candle in the middle.
Add three column candles to a glittering leaf centerpiece to create an elegant look on your table or mantel.
An artificial leaf wreath from Balsam Hill can be placed in the center of the table with orange and brown column candles.
DIY Fall Leaf Projects
A couple of easy DIY leaf projects can save money and give you a great way to decorate for fall.
Fall Leaf Wreath
Purchase die cut fall leaves made from chipboard from Michaels, along with a foam wreath. With a glue gun, hot glue the leaves around the form to create a stylized fall leaf wreath.
Fall Leaf Art
Collect leaves and preserve them with silica gel to create an elegant art project.
Spread one inch of silica gel onto a microwavable dish.
Place four to eight leaves on top of the gel, depending on their size, leaving space between them.
Spread another inch of silica over the leaves.
Use high speed setting for two minutes. You may need to use more or less time, depending on moisture, number of leaves, and your microwave's wattage.
One finished, mount leaves using white glue or a glue stick onto stock paper or framing mat.
Purchase frames to display your art on the wall or place in a tabletop easel.
Seasonal Decorating for Your Home
Fall is just one of four seasons that you can enjoy by decorating your home. You can add small subtle touches to your décor or go all out and decorate in the same fashion as Christmas or other holidays.