Baby Room Designs Made to be Affordable and Unique
Today's baby room designs are no longer simply just pink or blue but can be as individual as each newborn. Planning a nursery design is often one of the most meaningful and enjoyable interior decorating experiences. Not only is excitement in the air, it is also a unique opportunity to explore diverse options in color, shape, texture, and pattern.
The Modern Nursery
For a new twist on traditional baby room designs, many people are leaning towards a fresh modern look. This contemporary style can create a nursery with clean lines and simple colors or produce a cool, funky motif. The best place to start is with the baby furniture, since this will be the foundation of the nursery design. Then add bedding and accessories with a minimalist modern feel or maybe try a fun, retro modern print. Choose a paint color, wallpaper pattern, or wall mural which brings out your favorite hues found in the textiles and accents.
The affordable, down-to-earth crib collection from Ikea brings modern style into everyone's price range. Their practical designs are also smart since most of the models convert into a toddler bed for even more value. Ikea also carries a nice assortment of inexpensive and stylish baby bedding to complement their contemporary cribs.
For a high style modern nursery, check out the Stokke Sleepi™ crib system. With a suggested retail price of $749 to $1,089, their convertible baby bed gives you plenty of bang for your buck. The Sleepi crib starts as a small bassinet and then transforms into a crib, toddler bed, youth bed, or two club chairs. This clean lined crib features a distinctive oval shape that is not only unique but also comfortably curvy for baby. The three modern Stokke bedding sets utilize high quality fabrics which can be mixed and matched with solid colors for custom baby room designs. They offer sheets, bumpers, and blankets in just the right size for each Sleepi bed configuration.
The Neutral Nursery
Choosing neutral colors for a baby's bedroom will create a soothing, serene sanctuary which can easily change as the child grows and their interests change. A neutral color palette may be a necessity if the parents have chosen to keep the baby's gender a mystery until the big day arrives. Likewise, when multiples or infants of different genders will be sharing a room, choosing neutral hues provides a happy medium and makes a nice alternative to primary colors.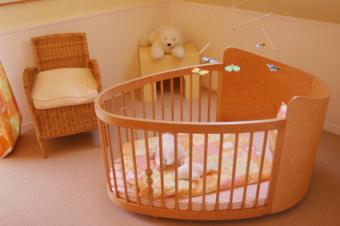 Neutral color selections can expand beyond earth tones, beiges, and whites. Think about other easily adaptable shades like sage green, sherbet orange, icy blue, and buttery yellow. If an earth tone is desired, consider a rich chocolate brown or a sandy tan color to add a little warmth and depth to the nursery. Using a subtle wall color will allow for the addition of colorful bedding and accessories which can effortlessly be updated as needed. For truly calming baby room designs, continue the neutral colors from the walls to the textiles and accent pieces. At Baby Age, shoppers can sort bedding sets by color, gender, and theme. Gender neutral linens can quickly be found along with bedding in neutral color schemes such as Sweet Vanilla by Baby Martex.