Home Design Accents
Choosing the best carpeting for your stairs is easy once you learn how to spot quality in carpeting. You'll want to assess your staircase and the type of carpeting you need.
Keep reading »
Browse Topics in Home Design Accents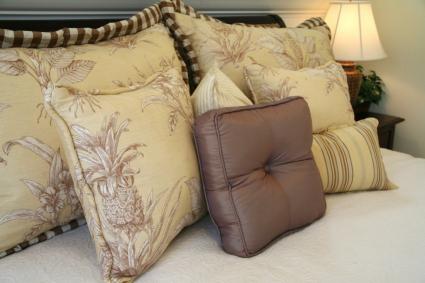 Home design accents can add that pop of style to any room. But which accent items will best suit your room and budget?
Determine a Theme or Color Scheme
Before you begin loading your room up with chatzkes and dust collecting items, think through a strategy for finding room accents that truly add up to a beautiful room.
First, consider whether you'll be decorating your room around a theme - if the answer is yes, then seek out accents that can pull the whole concept together. A beachy theme, for instance, will be well served by home design accents that bring to mind the beach: sea shell items, framed art of beach scenes and nautical items all work well.
Whether you have a theme or not, look at the color scheme you'll be using and work around that, making sure to purchase accent items that coordinate or bring a certain pop of color to your plan.
Home Design Accents on a Budget
If budget is of primary concern, you don't have to skimp on your decor to save money. Look to auction websites like eBay, shop at discount stores and in the clearance areas of department stores, or even scope out an excellent find at a neighborhood garage sale.