Interior Design Basics
Whether your whole apartment is petite sized or you are researching ideas for a small bathroom, a grand assortment of tricks exists in designing for small spaces. If you have a small house or room, remember the…
Keep reading »
Browse Topics in Interior Design Basics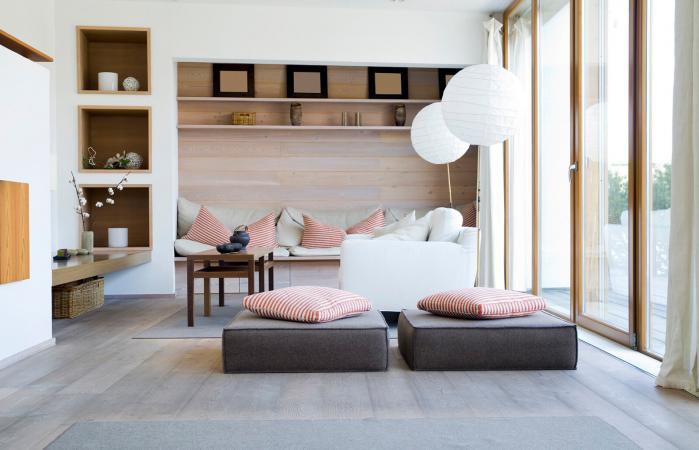 Well begun is half done, and it's always easier to start off right than to fix a mistake down the road. This is especially true for interior design, where one mistake can ruin an entire room and send your budget through the roof. Avoiding errors is as simple as knowing some basics of interior design.
Understanding Interior Design
You might think that interior design is just about moving a few couches. However, it's an artform that takes into account the design of the room, floor plans, lighting and even decorating ideas. Not only can you make a small room look bigger, but you can play with your space in ways that you've never even imagined. Before you start slapping color on the walls, you'll want to learn a thing or two about interior design. Not only do interior designers use specialized design software, they typically attend programs for interior designers. That's not to say you need to go to college. Instead, explore the different interior design terminology, how interior design is different from interior decorating and even the history of interior design before you jump in.
Thinking About Color
One of the simplest interior design projects you can undertake is coordinating colors in your home to give the desired mood. A living room can be cool, modern and contemporary with sleek black furniture and stark white walls. You can also have a rustic theme and incorporate browns, greens and a daring splash of burgundy here and there. Color schemes help give a room personality and are the most basic and integral part of designing any room.
Decorative Touches
The paint is ready and now it is time to think about furniture, wall hangings and other decorative touches that you can add to the room. Whether you need to decorate a long narrow room or large open space, you need to find the right arrangement of decorative objects to make the most of your space. This means you need to think of everything from your room size to your rustic barnwood furniture down to your tension curtain rods. Each different element will give a different feel and flavor to the room.
Coordinating an Entire Room
Rather than just making a few changes, you might be trying to coordinate an entire room. For example, you're taking on a beach theme to decorate a sunroom or coordinating your bedroom space. Here everything needs to come together. Not only must you think about the available space and shape, but color palettes, furniture, lighting, appliances and even wall stencils. Get the design fabulous the first time.
Tips From the Ground Up
Sometimes a few challenges arise in your interior design scheme that you must learn to overcome, such as creating the perfect office hideaway in a small space in your house. Organizing gorgeous rooms can also be a challenge if you're on a tight budget, so a little creativity is in order. The right colors, lighting, furniture and placement can really open up your space in ways you've never even imagined. Running low on ideas? Fear not, interior design bloggers are always a click away.
Get Educated
If you educate yourself well before setting out to change your home, you'll find the process of interior design and decorating is a much more enjoyable one. Be creative, let your flair run free. It's also important to know when and how to hire a professional. Some jobs just get well out your comfort zone and a professional can save you a lot of heartache and anxiety. Let them help you make your home your favorite place to be!