Painting trim the same color as walls can create an elegant designer look in any room of your home. Highlight architectural qualities, draw focus to rich colors, and give beautiful furniture the chance to stand…
Keep reading »
Browse Topics in Interior Design Basics for Beautiful Style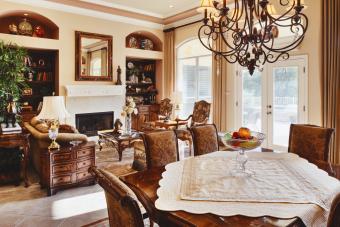 Interior design basics provide you with a framework for designing a room or entire home. With these basics of interior design, you can ensure your design includes all the important design elements.
What Are Interior Design Basics?
Interior design is the art and science of creating an aesthetically pleasing interior. Interior design also addresses space planning, architectural considerations, and structural renovations, and possibly all exterior features and renovation changes.
Where to Start With a Room Design
A good starting place in designing a room is the largest surface areas. There are three large surface areas in every room. The first is the floor, the second is the ceiling, and the third is the walls.
Flooring Options
You have many options for designing the floor space. The most common surface treatment for a floor is wood, ceramic, stone, concrete, or vinyl flooring. You can also layer and add texture a floor with an area rug.
Decorating Ideas for a Ceiling
Most people simply paint the ceiling in the rooms white or off white, depending on the wall colors. A tray (also spelled trey) ceiling offers you different ceiling layers and shapes that can be decorated or painted different colors. Other ceiling treatments include acoustical tiles, decorative medallions, metal ceilings, wallpaper, stencils, and even fabric.
Wall Treatments
If you opt to paint the walls of a room. If you decide to go with an accent wall, choose one that is solid. Another option is wallpaper, stenciling, tiles, murals, art gallery, or decorating with free style painting.
Basics of Interior Design Include Colors for Your Rooms
Whether you're designing a family room, living room, study area, bedroom, or other area of your home, you want to create a color palette. This color palette will include paint chips, upholstery fabrics, accessories, and the décor art objects you want in your room design.
Tools to Help You Create a Stunning Interior
You may use a color guide to express certain themes for your room through color choices. You'll need to create and work with a color palette. If you have opted to paint the walls, you'll need to select the paint color(s) before choosing the furnishings. You can also find free interior design programs to provide you with visual tools of your creation.
Interior Design Basics and Elements
The interior design basics and elements include the type of furniture and furnishings you need to create the design style you've envisioned. Other design elements you'll need to select include things like lighting fixtures, such as chandeliers, recessed ceiling lights, wall sconces, table lamps, floor lamps, and buffet lamps.
Style, Function, and Form
You need to decide on the style you want for your room. You should consider the function of the room and how you can have the design you want and it still be functional. Once you decide on the extent of the room functions, it's time to consider the forms you want, such as styles and textures.
Room Texture Layers
Another interior design basic is the layering of textures in a room. This can range from floors, walls, window treatments, accessories, and art objects. Each element and item you add to your room design brings the cohesiveness of your design closer to completion. Don't forget things like wall art, floral arrangements, live plants, vases, pillows, and throws.
Interior Design Basics for Setting a Budget
You don't want to overlook the most important interior design basic of setting a budget and sticking with it. This is the most challenging and fun aspect of interior design - staying within a budget. It's through the restrictions of a budget that some of the best room designs and creative solutions can happen to create the room you desire.
Hire an Interior Designer
Not everyone wants to tackle a design project. You may prefer to work with an interior designer. Make sure you understand the fee structure and what you can expect, since each designer has her/his own business model. Communication is key to a successful client and interior designer relationship.
Choose Interior Design for a Career
Your design project might reveal you have a talent for interior design, and you may decide to pursue it as a career. There are many online options for interior design schools, as well as helpful tips for starting an interior design business.
Learn to Use Interior Design Basics
The basics of interior design provide you with a starting place with certain limitations to keep you on track. When you adhere to these interior design basics, you're ensured a successful room design.