Cheap wallpaper borders don't have to look cheap. You can find some great deals that can cut the cost of wallpaper borders while still giving your rooms a great look.
Design Approach to Selecting a Border
Any design or decorating project you undertake should be planned and executed with a specific design goal in mind.
As always whenever starting a design or decorating project, you need to decide on the theme, overall style and color(s) of your room. If you take this approach, you'll discover built-in limitations that ultimately assist you in narrowing down the thousands of pattern choices.
You'll want your border to match, or at least blend, with the patterns and colors in your draperies, rugs and furniture. If your draperies are made from a stripe pattern, consider a floral or multi-colored border to contrast with the draperies and upholstered furniture. Choose a pattern for your border that will complement you homes architecture overall room designs.
Living Room or Den
If you're like most families, your living room is your den and where most of the family activity takes place. Don't forget that this room makes a great place for a border.
Kitchen
Kitchen borders and range from typical kitchen motifs of fruit and vegetable to florals, plaids and country scenes.
Dining or Breakfast Room
Romanticize your dining room with the right wallpaper border. Make your dining room have a traditional feel or if casual living is your lifestyle select a pattern just right for your family.
Laundry Room
Spruce up your laundry room with a decorative and cheap wallpaper border.
Master Bathroom
Add a border for a design pop in the mater bathroom.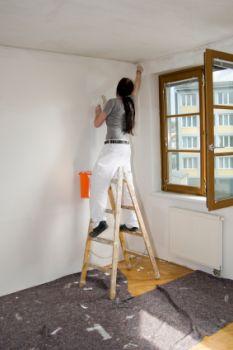 Master Bedroom and Other Bedrooms
You can add a border to your bedroom to introduce another color or simply to enhance the theme and give greater design interest.
Children's Bathroom
There are many cute and whimsical borders for children's bathrooms.
Baby's Nursery Borders
There are many styles, colors and types of borders to choose from for your baby's nursery. The hard part will be selecting just one.
Boy's Room
You can transform a bedroom into a boy's room with a border and window treatment.
Girl's Room
Choose a feminine theme or go with a tomboy look. A girl can have it all with the right border.
Playroom
The playroom is a great place to add a border to give depth and highlight colors.
Online Cheap Wallpaper Borders Resources
There are many cheap wallpaper stores available online. Consider buying from a store that specializes in discontinued patterns, just be sure to buy extra in case you ever need to replace or repair.
Deciding Which Border To Use
Take your time in making your selection. Many stores allow you to check out samples or online stores will mail you samples for a nominal fee. You have thousands of choices of cheap wallpaper borders that look expensive and very stylish.