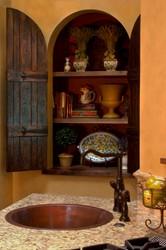 French country kitchens create a feeling of nostalgia and romance from their wonderful aesthetic appeal. With its warm and vivid colors, this rustic style enhances and highlights your kitchen, making it truly the heart of the home.
Elements Found in French Country Kitchens
There are several elements that you are sure to find in any French country design, especially for a kitchen. As you begin to create your kitchen, you want to include some of these design elements and features to lend an air of authenticity to your design.
Most of these qualities are borrowed from the southern region of France and give the best representation of French country design style. Kimberly M. Stone, owner of the interior design firm Adore Your Décor and author of the FabJob Guide to Become a Home Stager or Redesigner, believes that you don't need to spend a lot in order to have a stylish home.
Color Is Important
The colors in the French kitchen palette include bright yellows and vibrant greens, which accurately reflect the countryside. Red and brilliant blue are reminiscent of a field of poppies against a clear blue sky, while gold and orange hues are also excellent choices for a warm and inviting design. Soft butter-colored walls create a perfect canvas for other colors.
"In addition to using the warm yellows and terra cotta reds characteristic of a French country room, try bringing in other rich hues like deep blue or dark green to balance the dark wood," says Ms. Stone. "Wrought iron is also part of this rustic style, so displaying a decorative iron pieces or light fixtures will complement the black appliances. Try a wrought iron curtain rod above a window or add cabinet hardware like black Fleur-de-lis or scroll knobs. Highlight dark tones with natural materials like slate, brick, stone and granite for flooring or backsplash areas."
Wall Textures
Your kitchen wall design needs to transcend cultures and time. Rough plaster walls provide texture and give true ambiance to your kitchen. One technique that reproduces this look in any kitchen is Venetian plaster, where the color is added to the plaster itself.
Other faux-painting techniques that can also add some visual texture to your room include faux-marble or stone, rag wall, washes and glazes that are layered over a flat wall color.
Floors
While you may wish to use wood flooring, the more authentic look for your kitchen floor is flagstone, terra cotta tile, brick and other stone flooring. Because your kitchen gets a lot of use, consider investing in French limestone tiles, such as Fontenay Claire or Beaumanaire. These beautiful tiles have a natural texture and a warm, soft color. They are also nearly indestructible; pavers have been recovered from centuries old French farmhouses and country homes all in perfect condition.
Find reclaimed pavers to use in your kitchen, as well as new materials that mimic the look of old fashioned country pavers at:
Pave Tile & Stone: Limestone and terra cotta tiles that have been found in country homes throughout the French countryside, all available for new installation.
Haussmann Natural Stone: Haussmann specializes in French limestone and other similar floor tiles.
Fabrics
Linens and cottons are authentic fabric choices in Jacquard or damask patterns. For a more formal style of contrast, you may choose a toile pattern. The traditional blue is no longer the only color available in this popular French pattern. Red, pink, green, yellow and black are also available colors.
Ginghams, checks and plaids make great curtains, pillows and other accent pieces. Ms. Stone adds, "There are stylish fabrics on the market which feature reds, yellows and blacks together in classic French country motifs - picture sunflowers, roosters, black olives and floral patterns."
Find fabrics perfect for a French country kitchen from:
Calico Corners: Calico Corners carries a wide selection of French country prints perfect for slipcovers, chair cushions or window treatments.
Brick House Fabrics: If you are looking for some whimsical images, such as roosters, for your kitchen, check out the selection of French country novelty fabrics at Brick House.
Cabinetry
Your choice of cabinets can be more of the dark distressed look, or the opposite end of the design scale with washed out paint in blue, green, yellow or white. The most popular choices of wood are pine or walnut, which offer the two extremes in pricing. Wood countertops would have been the popular choice in an authentic country home, but modern materials give you quite a few choices that blend contemporary design with period-style design.
For decorating your kitchen on a budget, consider painting your existing cabinets. "For a dramatic look, use a black undercoat with a red or yellow crackle finish on top," adds Ms. Stone. "The wood tone of the cabinets could also be changed to a lighter, golden color. It's always a good idea to do a test board before starting a major refinishing project like this, or you may want to bring in a decorative painter."
Patterns and Designs
You have a wide variety of patterns and designs to choose from.
Florals range from small tiny prints to large bolds ones of lilies, roses, poppies and sunflowers.
Olive leaves and grapevines are great motifs.
The farm animal closely associated with French kitchen design is the rooster.
Herbs such as lavender and rosemary fit nicely into a French kitchen.
Other motifs include the Myrtle leaf, corn, fruits, vegetables and in modern time, the Fleur de lis (originally the sign for royalty and noblemen). Try mixing a few different images or prints in one space by making use of textiles for curtains and seat cushions, as well as framing a few botanical prints such as those at Charting Nature for the walls.
Architectural Features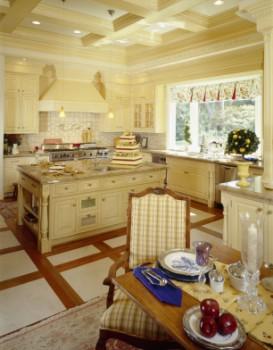 A country French kitchen isn't complete unless it has two main architectural features: exposed beams and a cooking fireplace. Beams should be hand-hewn or at least appear to be hand-hewn; a distressed look is preferable over a finished look. Keep the beams in a dark stain to contrast sharply with white or buff colored ceiling and walls.
You can find beams to complement any kitchen at:
AIC Millworks: AIC Millworks has 17 different types of rustic ceiling beams to choose from. Look for a height and width that seem congruent with the size and shape of your kitchen.
Pioneer Log Siding: Pioneer Log Siding makes hand-hewn ceiling beams for those that want a truly authentic look.
If your space and budget allow, add a fireplace with a flush hearth. Complete the look with cast iron pots and lids stored nearby. If you can't afford a fireplace, however, consider giving some wall space to a collection of cast iron cookware to help simulate the effect.
Accessorizing and Special Effects
Add some gathering baskets, dried flowers and herbs (especially lavender) and braided garlic to your kitchen as accessories. Copper is a popular French kitchen metal; use a pot rack over your range and display your copper pots and pans. If you don't like the look of the pot rack, consider a patina copper range hood, or invest in a copper farmhouse style sink with a living finish that will deepen and change with years of use. If you opt to use more wrought iron in the kitchen, complement and offset it with a fire clay farmer's sink instead, preferably one with a hand painted design on the front apron, like those made by LeBijou.
Lighting
According to Ms. Stone, you shouldn't underestimate the value of good lighting in interior design. "If you want to bring in more light to the kitchen area, try adding recessed can lights or track lighting," she said. "To increase your sources of natural light, consider installing a reasonably priced tubular skylight such as the Solatube."
Weathered Look
The weathered look goes hand in hand with French farmhouse designs. White washed furniture or weathered blue or yellow painted chairs are a classic look. The kitchen table is usually rustic. You can have a very rustic looking kitchen table that is thick with distressed marking.
If you are a skilled carpenter, you may be tempted into making your own kitchen table that will often double was a food preparation area. Most farm tables are roughly hewn wood that is very thick and uneven. You can opt to stain the table a dark hue or put a simple sealer on it.
Paint or stain your chairs and always have colorful thick cushions on to make them more comfortable. Benches on either side of the table with arm chairs at each end will give your kitchen that homey lived-in look.
Window Treatments
Curtains are a natural choice for this style of kitchen. Café curtains are informal enough yet are offered in a variety of ready-made colors and patterns. Shutters are a nice touch, especially if you opted for stucco interior walls. Look for shutters that fold up and tuck back against the walls to let the light in, then pull straight across for privacy later. Choose a color for the shutters that reflects one of the main accent colors already used in the kitchen, pulling a color from a fabric, wall print or glaze.
Find kitchen shutters at:
Horizon Shutters: Horizon Shutters make several different styles of shutters for installation in a kitchen, including country and plantation style.
Danmer: Danmer custom makes all of their shutters, so you know the fit and style will be perfect for your kitchen.
Tying It All Together
There are many choices of fabrics, textures, colors and furniture for your French country kitchen. Help them work together to create a cohesive and authentic design by beginning with your color palette, then choosing items and textures that build onto it. In no time, your kitchen will fit right in with the French countryside.