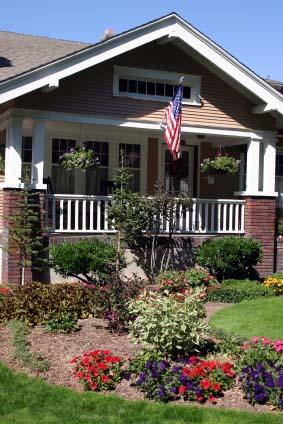 The original Craftsman style homes were designed to provide a comfortable space for a family using beautiful built-in woodwork, natural materials and light to enhance the warm feeling of the home. The Craftsman style today continues to incorporate many of the same design features of the original homes built in the early 1900s.
Origins of Craftsman Style Homes
The concept of a "Craftsman" home was popularized by several designers including furniture designer Gustav Stickley, a leader in the Arts and Crafts movement. Stickley was a big believer in the virtues of simplicity, utility and organic harmony. He said that the "nesting instinct" was "the most deep seated impulse" of humankind.
Stickley founded and was editor of a magazine called The Craftsman, in which he would showcase his new Craftsman design of furniture. The magazine would show the furniture within a specially-designed home, called a "Craftsman" home. Stickley felt that each Craftsman home should:
Be suited exactly to fit the requirements of the life to be lived in it
Harmonize with its environment
Be built, as much as possible, from local materials
Each month, the magazine would have descriptions and drawings of a different Craftsman home. Subscribers could send for plans for one Craftsman home each year, free of charge. Stickley worked with architects to design over 200 homes and published over 200 plans.
The home plans included extensive details including:
Elevation drawings of the front, sides and rear
Interior renderings of the main rooms including the details of the woodwork
Design details including combinations of wallpaper, paint, rugs and curtains
Early Craftsman Style Designs
Craftsman style homes were built all over the United States between 1903 and 1930. Middle class buyers with families tended to be interested in the style because of the home's design and relatively low cost to build. The finished home provided a solid, comfortable, simple place to raise a family. Most of the homes were built in the suburban areas of larger cities, close to commuter railroads and street cars.The homes were generally modest in design. They were built to:
Be durable
Economize on local light, space and materials
Be uncrowded
Be in harmony with the natural surroundings
Liberally use warm-finished wood
Have the charm of structural features such as chimneypieces, window seats, staircases, fireside nooks and built-in furnishings
The homes were built using local materials, often from the site itself. Local stone was used to line fireplaces and local woods and stones were used for decorative accents.
Craftsman Style Home Features
Craftsman homes were generally smaller than many designs being built during the same time period. The Craftsman style is characterized by both the external design of the home as well as the internal design features. The home's combination of open floor plan, exposed wood supports and built-in cabinetry made it very easy to live in.
The original Craftsman homes ranged from very small, relatively inexpensive cottages and bungalows up to very large and expensive homes. But, regardless of size or cost, all Craftsman homes were designed with:
Low-slung gabled roofs with wide overhang
Wide, exposed eaves
One story tall with attics and dormers
Exposed rafters
Wide, deep porches with tapered heavy square pillars
Exposed internal beams
Emphasis on well-crafted and finished cabinets, inglenooks, benches and shelving
Main room focus around the fireplace
Craftsman style light fixtures as part of the home design
Stained glass windows to provide a play of light as well as privacy
Open floor plans with columns and half walls to separate rooms
Plans, Décor and Information on Craftsman Style Homes
Home plans are readily available both in the original designs as well as current multi-story adaptations: