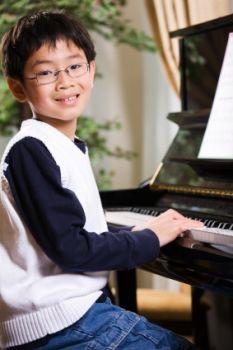 Decorating a music room presents a unique challenge that can be fun.
Where To Start
Approach the design of this room just as you would any other dedicated-purpose room. Select a primary color and two accent colors. Use varying hues of your three colors for a color pallet. Add texture and patterns to create interest and depth.
Musician or Non-Musician
Not everyone who enjoys music is musically inclined or plays an instrument. That is part of the beauty and allure of music because you don't need to be a musician to appreciate or enjoy it.
Before you get too far into the design of your room, you need to ask a few questions to determine the kind of music room you need.
Is this a place to simply listen to music or will you be playing an instrument? Will you be singing?
Will you need space for other musicians to join you?
Will you be performing for others in this room, such as a piano recital or chamber quartet?
Will you be giving or taking music lessons in the room?
Will you be composing music?
Do you need to reduce the sound coming from the room so it doesn't carry into other rooms?
How often will you be using this room? Daily? Weekly? Occasionally?
What direction does the room face?

Is there an abundance of natural light?
Do you get morning light, afternoon or all day?

What other activities will take place in this room? Do you need studio capabilities?
Will there be instruments stored in this room?

Do you need space for a piano? Upright or grand piano?

Do you need extra outlets for amplifiers and other electronic equipment?
Who will be using this room the most?
The answers to these questions will determine what you do next to create an effective and functional design for your music room.
Music Room For Everyone
Creating a music room for a non-musician might seem easier than designing one for a musician, however, the same elements can be used for both to design a comfortable and functional room.
Design Elements Checklist:
Acoustics: Soundproofing and sound absorption
Instrument storage
Seating
Sound system
Lighting
Acoustics: Soundproofing and Sound Absorption
Music lovers are cognizant of the acoustics of a room and recognize how it affects the overall quality of music. You can increase your room's acoustical quality by adding sound absorption products. This method will help make the sounds of your music clearer while protecting the privacy of your other rooms.
Acoustical Insulation
If you're building, incorporate this product into your room. Replace traditional insulation with this acoustical insulation to create a sound barrier to absorb noise.
Acoustic Panels
These are fabric-covered panels that are designed to absorb noise and will make your music clearer since it increases sound quality. You can make this into a design element that appears like a modern artform depending on your fabric choice in pattern and color.
Carpet Padding
You can purchase acoustical padding to reduce sound by giving additional insulation for sound-absorption.
Hardwood and Tile Acoustic Padding
Installs underneath flooring to absorb and reduce sound
Ceiling Panels
Composite ceiling panels help minimize the sound transmission between upstairs and downstairs rooms.
Hanging Baffles
Suspended from walls or ceilings. Panels created from foam boards and material. Great sound absorbers. Available in all sizes, patterns and colors. You can use as an art object by covering it with a batik pattern or silkscreen.
These are just some of the ways you can introduce sound-proofing materials into your overall music room design.
Instrument Storage
You can store instruments, amplifiers and music stands even if you don't have a closet big enough by using a corner in room. If you don't want to display your instruments, use a decorative folding screen to hide them.
Seating and Other Furniture
This is one room where you need very comfortable furniture. You and your family can spend long periods of enjoying music.
Seating:
Chaise lounge
Reclining sofa, loveseat and chair
Cushions and pillows, can also be used on floor
Comfortable piano bench
Chairs for musicians - Use cushioned folding chairs and put in storage when not needed
Other Furniture:
Cabinets for CD collection
Filing cabinets for sheet music storage
Cabinets for electronic equipment storage
Closet organizers to help store instruments and other electronic equipment
Sound System
There is a wide range of surround sound and other high-tech high-quality sound systems you can install or have installed in your music room. Consider wall jacks for a complete in-room system to plug in headsets or a remote headset plugged directly into the sound system.
Lighting
You'll want to utilize natural lighting when possible. Large picture windows also allow a view of nature. An ideal overlook for a music room.
Select adjustable window treatments so you can control the natural light. If your room is on the North side of the house and doesn't receive much light, consider adding skylights or tube lights.
Artificial Lighting:
Floor lamps
Task lights attached to music stands
Recessed lighting
Under cabinet lighting
Table lamps
Rope lighting for mood effect
Decorating a Music Room
The colors, design patterns and themes for your music room are limitless. If you're a non-musician, then you won't need additional space for instrument storage.
Setting the Mood
You'll want your room to be conducive to relaxation. Several colors can create a tranquil feeling. Soothing blues and greens also reflect colors found in nature.
Other Mood Setting Colors:
Purple
Magenta
Pink
Tan
Yellow
For a room where you create or perform music, consider using reds and oranges. Also dark and vibrant colors of any hue will convey a sense of excitement and high energy.
Completing Your Room Design
You can add the finishing touches when decorating a music room with special memorabilia, antique instruments, art, state-of-the-art sound equipment, and potted plants.