There are hundreds of thousands of floor tile design ideas to choose from, which make this interior design task particularly daunting. Bathrooms, kitchens, entryways, outdoor patios--all of these spaces can benefit from a well-thought-out floor design.
Before you rush out and buy the same old white ceramic or slate squares, consider your options. Today there are so many beautiful designs and styles to choose from--from a black-and-white checkered floor to a geometric-weave Spanish ceramic tile courtyard. Finding the right color and tile is only the beginning. The most fun comes when choosing a pattern that will add rhythm and movement to a space.
Visual Impact
Different patterns of floor tile can strongly influence the character of a space. For example:
Pattern
Tight patterns will make a room seem larger
Large patterns can make a room look smaller
A simple design maintains a peaceful, calm ambiance
An intricate mosaic pattern provides a pop of color and interest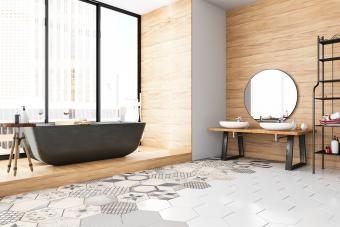 Color
Light colors will make a room seem larger
Dark or vivid colors make a room feel smaller
Consider the colors and flooring of adjacent rooms
Choose a color that is timeless and will last through several decor transitions
Tile Types
Visiting your local tile dealer can prove an overwhelming task if you aren't armed with the right information about the type of tile that will work best in your space. The most important thing to consider is how much foot traffic the room receives on a given day.
Ceramic
Slate
Marble
Limestone
Travertine
Granite
Mosaic
Floor Tile Design Ideas
Below is a list of the various, and seemingly endless types of floor tile design ideas that you can create with a basic large square, small square, half-square, and hexagon.
Design Ideas

| | | |
| --- | --- | --- |
| Corridor | Hopscotch | Steppingstone |
| Lacework | Cobblestone | Windmill |
| Alternating | Basketweave | Pinwheel |
| Brickweave | Checkered Squares | Hexagon with Dot |
| Multi Pinwheel | Alternating Vertical | Brickwork Square |
| Diamond | Herringbone | Checkerboard |
| Mini Grid | Hexagon | Brickwork |
How to Choose the Right Pattern
Because there are an exhausting number of ways to put tile together, the first thing you need to consider after color is the type of pattern that is right for your space. If your decor is more traditional, try a classic herringbone or cobblestone design with honed stone tiles. If your taste leans to more modern or contemporary designs gravitate towards a monochromatic palette, linear patterns, such as a horizontal grid, hopscotch, or vertical brick pattern.
There are several resources for finding the right pattern for your space. Look online at DalTile.com for a comprehensive guide to dozens of different designs. You can narrow down your choice and then begin to experiment with different types of stones and variations of color.
Making Your Final Decision
Look through magazines, at various online resources, and visit your local tile store to discover which patterns and color schemes you like
After choosing your colors, make a true-to-life design with color photocopies of your tile samples
Cut the copies into large squares, small squares, half-squares, and hexagons
Experiment with pattern ideas and continue to rework until you come up with two design ideas that you love
Take your patterns to friends whose sense of style you trust or to a professional tile setter and ask for advice
Finally, take your pattern and tile choices to a tile store to get an accurate idea of how much to order. Ask them to recommend a professional tile setter so you know you will receive quality sub-contracting work>.