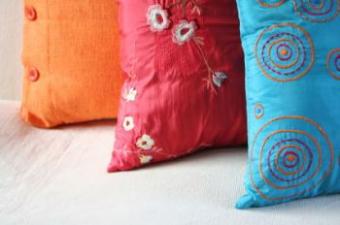 Learning how to decorate throw pillows is a way to add your personal style to any décor.
How To: Decorate Throw Pillows
You can add interest, color and texture to any interior by decorating plain throw pillows. You can even start from scratch and sew your own pillows. Whichever way you choose to begin, you'll need a pillow to decorate and a few supplies.
Where to Start
There are several things you need to do before starting. First, you need to plan your design. Will you be using a transfer for a pattern or will you be doing something free-hand? Next, consider the type of fabric you're using as the base for your pillow. A velvet fabric will respond to certain mediums very differently than a cotton fabric. Make sure the fabric you're using can accommodate the medium you're using.
Choosing Your Medium
Once you have a design or pattern in mind, the next thing you need to decide is what kind of embellishments you want to use for decorating your pillow.
Some of your choices:
Scarves
Beads
Sequins
Tassels
Appliqués
Embroidery Inserts
Fabric Paint
Transfers
Ribbons
Braid
Applying and Attaching Embellishments
The next step is applying and attaching your decorative embellishments. This depends on the type of decoration you're using.
Rope Braids and Tassels
If you're adding rope braids and tassels, you'll need to remove the pillow cover and in most cases disassemble the seams. If you're sewing a new pillow, this will obviously be part of the sewing process. In some instances you can hot glue the braid onto the pillow especially if you're using it within a creative design pattern. The other alternative is to sew the rope or braid onto the pillow.
Simple Alterations for Great Looks
You can alter a pillow by two simple methods. The first is to tie a colorful patterned scarf onto the pillow. Be creative in the way you tie the scarf. Many people enjoy making the pillow like a gift with a ribbon and a big flowery bow. The other style is to tuft the pillow and add buttons.
Appliqués Change a Plain Pillow
If you're using appliqués you can arrange these into an attractive design or opt for a one large appliqué. Your choices of style, color and material for appliqués are endless.
Sequins and Beads
Hand-sewing sequins and beads onto a pillow can add a touch of romance and give your interior a unique look as the beads and sequins reflect natural and artificial light. You may decide to add beaded fringe for a very unique look.
Heat Transfer Patterns
Colorful iron-on, heat transfer can transform a plain pillow into an elegant look. You can further enhance the design by hand-sewing beads, ribbons, braids around the pattern and even inside the actual design. Use your imagination.
Painting a Landscape on Your Pillow
If you want a very personal touch, you can paint a landscape, seascape, birds or flowers onto a plain pillow for an artistic flare to your room. As with any pillow design, you can add crystals, beads, sequins, and other embellishments if you desire.
Embroidery Inserts and Panels
Another great way to decorate existing or new pillows is to hand-embroider panels or purchase panels already embroidered.
Knit or Crochet
You can also knit or crochet embellishment, motifs and patterned covers to attach to one side of your pillow. There are many pattern books for making your own appliqués.
Raised Fabric Motifs
You can also cut out designs and shapes from other fabrics and sew onto the pillow, leaving on edge open so you can stuff the design with batting. This is an excellent technique for motifs such as flowers, animals, ballerinas, and other characters.
Circle Quilting
A very popular overlay for pillows can be created by using gathered circles sewn together. You can use a variety of colorful prints. Make a circle pattern, trace it onto the material. Typically you want the pattern to be twice as large as the finished circle. Next, sew a gather stitch around the edge of the circle. Using the thread, draw the ends of the circle together to form a gathered circlet. Tack the edges in the center so the material will hold its shape. Once you have finished making the circles, you'll want to tack the circlets together and then hand-stitch them to the pillow. This is a great design for a country-styled décor, 1920s, beach cottage, or English cottage. You can also do a basket weave with hemmed strips of calico or patterned pieces for another quilted effect.
Using Your New Pillows
Now that you know how to tackle this project and see how easy it is to decorate throw pillows, you may want to tackle another room in your home.