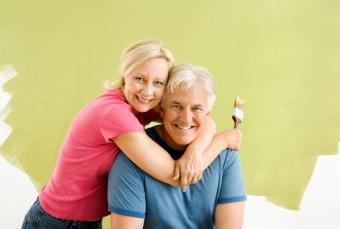 When it's time to give your home a new look without breaking the bank, it can help to get inspired and collect a few ideas for room makeovers on a budget. The Internet is an excellent resource for these ideas, and it's also a great place to save on some of those fun items that will give your new room a little flair.
Get Inspired with Sample Budget Makeovers
Before you begin your own affordable room makeover, take a look at some successful budget redecorating projects. Learn where other decorators spent or splurged to reinvent a room's style.
Sample Budget Living Room Makeover
Think you can't afford a pretty living room? If you shop wisely, a cottage-style living room makeover could cost less than $600, including furniture.
Here's how it adds up:
Sample Budget Kid's Room Makeover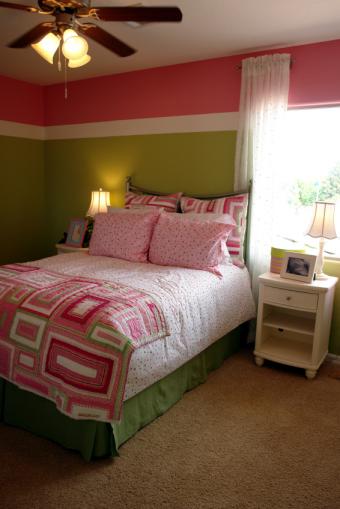 When it comes to kids' rooms, let the bedding dictate the style. Look for a cool graphic-print quilt, and splurge on this item. Then bargain shop for bedding to match. A multi-tone paint treatment gives the walls a gorgeous look for a budget price.
Here's how you can create a cute child's room for under $450:
Quilt and sham from Pottery Barn Kids, about $180
Sheets and bedskirt from local discount store, about $50
Sheer curtain panel from Target, about $20
White nightstand from Overstock.com, about $105
Lamp and shade from Walmart, about $30
Hatbox from local craft store, about $5
Gallon of paint and two quarts of coordinating colors, about $50
Sample Budget Kitchen Makeover
When it comes to remodeling, the kitchen can be one of the most expensive rooms in the house. While you can't redo every surface and replace all your appliances, you can give your kitchen a whole new look for around $500. To do it, refinish your existing cabinets and replace the hardware.
Here's how to get a new look in your kitchen:
Paint and stain for existing kitchen cabinets, about $60
New cabinet hardware from local home store, about $100
Green glass tile backsplash from CoolTiles for 20 square feet of kitchen wall, about $130
New stainless steel sink and faucet from Home Depot, about $180
Gallon of paint, about $30
Five More Ideas for Room Makeovers on a Budget
You don't have to spend thousands of dollars to redecorate a room. In fact, if you plan your project wisely and get a few good deals, you can have a whole new look for around $500. Saving on room makeovers is all about sticking to your vision and your budget. Try some of these great ideas.
Change Your Look with Paint
Paint is a great, cost effective way to completely change the look and feel of a room. If you're trying to create a certain mood in the room, for instance giving your bedroom a calming feel, color is just about the best tool available to you. Blues and greens give your room a calm, cool feel, while yellows and reds jazz it up and are perfect for active spaces, like kitchens or living rooms. If you're not sure what colors work well together or what colors evoke which moods, use a color guide to help you choose.
Accessorize to Complete the Look
Just like the handbag and the purse complete your outfit, the accessories you choose for your home complete your rooms. Accessories don't have to cost a fortune, either, so they are ideal to use when you're trying to give your room a makeover on a budget. Ask yourself what the function of the room is, and go from there. For your bedroom, you might want to add some scented candles, some fresh lavender, or even an inexpensive water feature. If you're giving your home office a face lift, invest in some unique office supplies, a new desk lamp, and some new photo frames. A throw rug, quilt, or pillows will add a splash of style to any room.
Don't Forget Lighting
While lighting may not be your first thought when redecorating, it can actually have a huge impact on the ambience in a room. To give your dining room a whole new look, invest in a new chandelier. Switch out that dated light bar above your bathroom sink to upgrade the whole room. Similarly, lamps can completely change a room, giving it a modern edge or old-fashioned charm. The type of light bulb you select can even make a big difference. Cool tones make a room feel brighter and fresher, while warmer bulbs make a space more welcoming.
Decorate for the Season
If your decorating hand gets itchy on a regular basis but your room makeover jobs don't always fit into the budget, consider seasonal decorating to keep things looking fresh. Wreaths, blankets, flowers, candles, tablecloths, and knick-knacks can all bring the colors, scents, and sights of the season into your home with minimal of cost. When the seasons change, you can simply swap them out for new items. then be swapped out as the seasons change. To keep your seasonal room makeovers right on budget, shop in advance. For instance, check out the after Christmas sales to get bargain basement prices on Christmas accessories and save them for next year.
Where to Shop
Looking for good deals on decorating items? Try some of the following resources:
Thrift stores
Off-season sales
Closeouts
Garage sales and flea markets
Stay on Budget
It's easy to get carried away when shopping, but careful planning will help you stay on budget. Decide what your room needs before you do any purchasing. Can you freshen up things with a few new accessories? Does your room need some paint or wallpaper? Are you trying to change the style of the room, or just give it some finishing touches? Choose your top priorities, and then get started. Soon you'll have a whole new look without spending a fortune!