Mud rooms get a lot of tough use on a day to day basis. From storage to utility, a mud room can have a lot thrown at it, which makes a good layout crucial to its use. Get some ideas on how you can expand your mud room to include not just typical layouts, but unique features and additions as well.
Mud Rooms
The mud room concept originated on farms and ranches out of necessity, and was typically located in the back of the house with a backyard entrance.
Original Mud Rooms
A mud room was literally a place for shedding muddy shoes and clothes when coming in from the fields or pastures. This back entrance kept dirt and grime from being tracked throughout the house. There was usually a sink or basin for washing up before meals.
Utility and Laundry Rooms
Years later, the mud room evolved into a utility room that incorporated the family washer and dryer located in the same room. The 1970s half bath adjacent to the mud room only allowed for minimal wash up. Instead of a half bath, many modern homes have a full bathroom so showers can be taken.
Mud Rooms Today
Today's mud room still has some things in common with its origins. It's often the place a family enters to shed their outer garments and muddy boots. It's also increasingly becoming the place where you store these items, along with any other things you may need for going outdoors from backpacks to sports equipment.
Today's mudroom needs to not only be easy to clean, but it needs to incorporate your storage solutions as well.
Designing Your Mud Room
You may have little choice on the layout of your mud room due to space considerations. The mud room is best located near the kitchen, garage, or back door for easy access by family members. Remember that this is the area you remove muddy clothing before entering the rest of the house; it doesn't work if you need to walk through your kitchen or living room to reach it.
Many families find that the mud room becomes the main entry way they use to their home, allowing their foyer to be used for guests.
What Features to Include
Before you begin designing your mud room, you need to determine what activities need to be accommodated within this space. The features you include will also help define the amount of space you'll need. Activities you may want to make space for storing items for include:
Gardening
Play
Pool and water
Sports
Pets, including an area for feeding or a litter box
Because the mud room is a transition area for family members to use in coming from outside into the house and vice versa, you'll need a way for family members to deposit various pieces of luggage and bags such as backpacks, briefcases, sports bags, purses, and other baggage. Unloading the car of sports equipment, boxes and groceries should be accommodated by your mud room, at least temporarily.
Flooring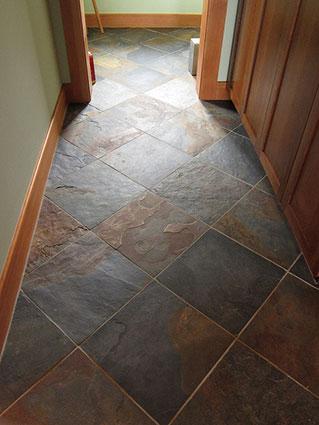 Most mud rooms have a floor that is separate from the flooring used in the rest of the home. This is because the floor of a mudroom takes the most abuse, and probably needs to be cleaned the most often. Therefore, expensive or sensitive floors like hardwood or marble are best left out of the space. Flooring materials to consider include:
Porcelain tile, which requires no maintenance and allows you to wash it with whatever you choose. Porcelain doesn't scratch or stain, and comes in a variety of different styles so it will suit any home.
Chinese slate tile, which has a naturally variegated surface that hides dirt and wear and tear. Slate doesn't stain, and any scratches can be hidden with a little mineral oil, making it a good choice for many homes.
Quarry tile, which is another extremely low-maintenance tile option ideal for mud room use. Quarry tiles don't scratch or stain, and come both glazed and unglazed to fit a number of different looks.
Mud room floors can be laid out in any way, but most make good use of large format tiles, which have few grout joints to stain over time.
Create Your Mud Room
Once you've determined your needs and floor covering, there are lots of ways you can lay out and utilize the space.
Designs for Long Narrow Mud Rooms
If your mud room is a long narrow connector between the garage and the kitchen, there are several things you can do to maximize your space.
Consider two tall storage cabinets to store coats, jackets, hats, backpacks and sports equipment.
Add shelves in between the two units for an additional open storage area.
In lieu of the shelves, you could build a desk out of two pieces of lumber. Add a chair, mirror and wastebasket for a functional desk area.
If your home is formal in style, you can choose pieces of furniture, such as an armoire or chest of drawers and re-purpose to this area.
Use baskets on open shelves for better organization.
Other ideas for long, narrow rooms include:
Hang long racks or sets of coat hooks on the walls to get things like coats and backpacks up off the floors.
Hang boot racks on the walls to store boots and help them dry.
Hang small wall cubbies above a bench to catch things like hats, gloves and bags.
Use a storage bench along one of the short walls to keep things out of sight and provide space for people to sit while putting on shoes.
Mud Room for Small Children
For a family with small children, this is the ideal place to create mini-lockers with specialty furniture or custom-built to your specifications.
Allow space to hang coats, jackets and hats.
Consider using small cubby holes with colorful baskets for storing shoes, backpacks and books.
Create a bench or add a chair for putting on and removing shoes.
Large Mud Room
If you're in a position to create your ideal mud room, you'll want to be sure to include several features and furniture.
Include some seating for putting on and taking off boots; benches, chairs, stools or wooden loveseats work well for this purpose.
Put up some hanging storage such as pegs or hooks for hanging coats, jackets, hats and caps - these may also be incorporated into your wall units.
Put up some open shelving partitioned off into cubby holes or cabinets for storing shoes, sports gear, books and even backpacks - assign one per person to organize all their things.
Use large shelving baskets on or in cubbies to keep things neat and organized.
Include an outlet inside each cubby to charge phones and other small electronics when not in use.
Set up a place to set your purse or grocery bags while unloading the car such as tables, counters or benches.
Add a mirror for last-minute hair checks.
Include space for an umbrella stand.
A hall tree serves as bench, pegs for coats, mirror and often storage underneath the bench.
Make sure you have ample lighting for this area, including overhead, soft recessed, table lamps or floor lamps.
Don't Forget Design Elements in This Space
While you're focused on functionality, don't forget to add a splash of color and style. Just because this is a highly utilitarian space doesn't mean the design should be any less than your den or bedroom. Carry design elements from the rest of the house into this room for great ideas for a mud room.