Interior decorating entry ideas can range from a country-styled décor to an elegant formal one. You must decide which style best suits your home and the kind of welcome you wish to convey to those entering your home.
First Impressions
The entrance to your home can be compared to that of a business. It's all about first impressions. When someone steps through your front door, the entryway is an introduction to you and your family and the kind of lifestyle you lead. You want the style of this area to blend with the overall design of your home.
Foyers Defined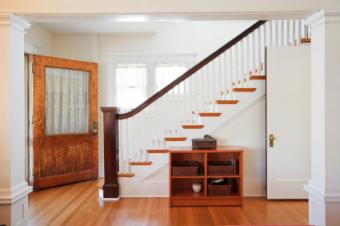 The front entryway of many homes is defined with a foyer, however large or small. The size is usually determined by the total square footage of your house.
Small or No Foyer
If you have a small foyer or no foyer, you can create the illusion of a foyer by using a decorative screen to one side of the doorway. Add a table, a small lamp and plant for the perfect faux wall finishing touches.
Large Foyers
In larger homes, the staircase is usually located in the foyer and can create a dramatic visual effect. An open ceiling to the second floor means you can use bigger and taller pieces of furniture.
Interior Decorating Entry Ideas Basics
The basics for entryway designs are the same whether your foyer is large or small. You want to start with the floor and walls and build up from there.
Flooring Selection
Stone flooring should be carried down any hallway and preferably into the rooms at the end of the hall. This will give a cohesive and natural flowing design. A terra cotta tile can be elegant or informal, depending on the style of your entryway. Wood is always a great flooring choice. There's a wide range of choices. Go with traditional wood floors or select a renewable and sustainable source like bamboo. Marble tiles will give you an elegant look, while slate can be either formal or informal.
Entry Wall Color and Texture Choices
There are many choices for wall treatment when it comes to color and texture.
Paint Choices
You may want to paint the walls of your front entrance space the same color as the rest of your home. If you're a color lover, then experiment with an accent color that complements the adjoining room colors.
Textured Effects
Texture is another way you can add interest to color. A stucco effect or other textures can add interest to your entrance. A glazed wall effect will give you greater contrast and highlight.
Wallpaper
Wallpaper can be a wow factor. A large bold colorful pattern or a simple textured one will give your foyer a dramatic appeal. Be careful not to overpower visually.
Ceiling
Ceilings are usually painted white, yet some home designs look better without a color break between the ceiling and the walls. You can emphasize the ceiling by painting it a contrasting color to the walls. Just make sure you don't create an undesirable effect by painting the ceiling too dark. Another great decorating choice is to use decorative ceiling tiles or even a medallion around the ceiling light fixture like a chandelier.
Lighting
The chandelier is often found in the foyer. Keep the size of this lighting fixture in proportion of the space. Too large will look just as bad as too small. Wall scones make a romantic touch and provide added light.
Furniture and Accessory Selections
Now that you have the canvas (floors and walls) of your design completed, it's time to make the entry way feel like the rest of your home. This is accomplished by what you select to go into this space.
Deciding What to Add
If the entrance area is large enough for a console table or even a chest, you can place it on the wall by the door. A mirror over a console table is a great way to give the illusion of a larger space. It's also a great addition to let you check your hair and makeup before dashing out the front door on your way to work or an evening out. Add a candlestick lamp or if space allows, a much larger table lamp. Place a larger piece of furniture like a hall tree to serve as a place for guests to hang their coats and jackets.
Accessorizing Your Entryway
A decorative bowl can serve as a place to deposit your keys. You may want to add a letter holder for the daily mail. If you have a more formal entrance, then try a marble-topped console table with a gold framed mirror on the wall above it. Add a gold and black finished lamp and a low floral arrangement to complete the look. If you have space, place a chair by the table. An umbrella stand is a welcomed piece when coming out of the rain.
If you have a few cherished pieces of sculpture and you have room, place them on pedestals. Add a nice rug in the foyer. If there's no room for a rug, opt for an appropriate doormat just inside the door. Don't forget that household plants offer a great design element to any décor. A tall plant works great in a foyer with high ceilings. Arrange three different sized container plants in a grouping in a corner or near the staircase wall.
Wall Art
You can add color and texture with various wall art. Mix up the styles and frame sizes. Select a tapestry or an iron grillwork design. Remember, this is your home, so let your personal style shine through.
Things to Remember
Whenever undertaking a project using interior decorating entry ideas, remain mindful of space and proportion. If you add an oversized piece of furniture, then add a few smaller scaled items to counterbalance and lend variety and interest. You can create a striking first impression with your entryway design by taking time to plan out the colors and textures you want to use.