28 Ways to Make Interior Decorating on a Budget Possible
When interior decorating on a budget, prioritizing is key. With less money come fewer choices. Selecting important rooms, elements and themes that are most significant to you and your family are the keys to saving a lot of time and money. Analyze your current home, furnishing and decorations. By improving what you already have, instead of completely starting over, interior decorating on a budget comes together in a simple process with an elegant finish.
Simple Decorating Projects
The following ideas are simple and inexpensive decorating ideas to liven up a room without breaking the bank. All of them can be accomplished in a weekend, saving both time and money.
Utilize mirrors to create light, space and special accents - frame one to create a mock window or place behind artistic belongings, highlighting their character from all sides.
Repaint cabinets, instead of replacing them. Paint will clean, freshen and liven up a cabinet. Just check with a local paint supply store for advice on painting unusual surfaces.
Take off the curtains. If you have a nice view, maximize it by removing the window coverings. A naked window opens up the view and draws visitors to the natural beauty.
Cover imperfections instead of fixing them. For example, place a rug over a discolored spot on your floor or a tapestry on a rough wall.
Paint floors. Most people forget this simple trick, but you can improve most surfaces with paint, including your floors - unless you have carpet of course!
Bring the outdoors in. Real or fake plants, herbs or flowers brighten up a room. Mix real flowers and silk in one vase, saving money as the silk flowers round out an assortment enabling you to purchase less of the expensive fresh flowers.
Hide the clutter. Nothing improves the look of room more than neat and organized decorations. Be creative and utilize your décor as storage, with baskets, compartment benches or cabinets.
Clump current decorations. Preview your assortment of knickknacks, art and decorations. Gather them from throughout the house and lay them in the middle of the floor. Rearrange your treasures, creating collections and themes, thus defining a new look by highlighting your current possessions.
Create your own wall art. Stencil patterns, wallpaper borders, stick on decals, maps, chalkboards are all inexpensive items to create interest in a room's outer edges.
Cover it! Fabric is the like paint for upholstery. Cover those dining room chairs, try slipcovers for fading couches, create fresh pillows, redo curtains, and grow creative with blankets, quilts and bed linens.
Replace your lampshades. Light can make or break a room. Freshen up your current assortment with new hoods.
Paint, paint, paint. Have I mentioned paint before? Well, I will do it again. Paint is truly the budget decorator's best friend. It creates a dramatic change for little money and effort. Be brave and try out new inventions. Paint only one wall a vibrant color, layer and balance colors, paint furniture.
Put your best foot forward. With a tight budget, we cannot buy all that we desire to decorate our home. So work with what you have. Select your finest furnishings and decorations and place them in areas that are most commonly used.
Complete Makeovers
Even when completely redesigning a room or house, sticking to a budget is possible. Try a few of these tricks to save money during a major remodel.
Take the time to structure a budget utilizing a spreadsheet or design software program. Research options for materials and layouts that are less expensive.
Use replicas of the real thing, like laminate "wood" flooring or ceramic instead of stone, which saves money without sacrificing the look.
Details are what create a sense of quality. Spend a little extra on simple accessory pieces, like facets or fixtures, and cut costs on the larger ticket items.
Buy products unfinished or partially finished and do the polish work yourself.
Try beaded board to cover bad walls instead of replacing them.
Employ molding to add elegance with little expense.
Create storage to hide clutter, instantly improving the look of the room.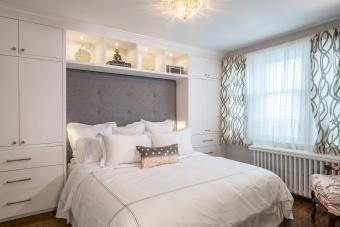 Exploit glass, from windows to clear cabinets.
Removing walls is an inexpensive technique to redesign a home.
Create open shelves or built-ins as excellent places to highlight your artistic collections and cheaper than furniture.
If you own a fireplace, fix it up with paint, mirrors, or a new mantle, as the hearth is an instant centerpiece of any room.
Improve lighting, instantly enhancing a room décor. Be creative and try a skylight.
Buy Products Secondhand
In the world of flea markets, auctions, yard sales and online retailers such as eBay, the opportunity to find quality used home furnishings is outstandingly easy. Buying products secondhand is a key component of interior decorating on a budget. Peruse your neighborhood or online and discover a variety of traditional and unique decorating options. Look for detail pieces like decorative iron brackets or find new uses for traditional items. Try an old iron gate as a pot storage rack on your kitchen ceiling or maybe an antique wood ladder as a plant stand.
When buying used, locating a matched set can be difficult. Take on the mix and match interior decorating philosophy. As long as you balance color and scale, while sticking to a theme, mismatched items can actually enhance a room's décor. The best examples are different dining room chairs or mismatched dishes and flatware.
Even during a complete remodel, used house "parts" also save you money. A quality door, windows, sinks and more, bought secondhand are cheaper and will more effectively match the period of the home. Simply ask a local contractor for the perfect place to discover these items.
Inexpensive Furnishings and Decor
You can find affordable home decor items online that are brand new. You can also save on shipping by buying small multiple items from the same vendor. Find sales at a variety of stores, including.
Other Interior Decorating on a Budget Ideas
Whenever there is a budget, imagination is a key ingredient to success. Three key items - paint, fabric and artwork - are the key to saving money without sacrificing quality. Paint freshens up any used item instantly. Fabric offers the newness to furniture as slipcovers, new pillow covers, bed linens and window dressings. Artwork is a symbol of the quality in a home. Through photos, paintings, knickknacks, furniture and more, artistic details are like cosmetics for your home.
Consistency and simplicity are decorating looks that work for all financial plans and are particularly useful for interior decorating on a budget.