If you're in the mood for a little kitchen decorating, there are tons of great interior design ideas and schemes to choose from. The kitchen is the heart of the home, and typically gets a lot of attention. If your kitchen needs a facelift, these design ideas will help get you on your way.
Getting Started - What You Need to Consider
Style is always important in design; when you're decorating and designing your dream kitchen, you want the finished product to be in a style you love and that fits in seamlessly with the rest of your home. But kitchens require a different approach to interior design than you would take with your living room or your dining room, because they need to be functional as well as beautiful. Kitchens are the center of a lot of activity in your home. In addition to cooking, kitchens offer a gathering place for casual family meals and catch-up cups of coffee with friends and neighbors. They need to be designed in such a way that facilitates the activities that happen in the room, while they meld seamlessly into the rest of your home's design.
Design and Style
The design and style of your kitchen depends on your personal taste and how it will blend in with the rest of the décor of your home. For example, if your overall home design is Asian, then a Tuscany style kitchen isn't going to be a good choice. You can certainly deviate from the Asian style, but you don't mix such opposite styles to achieve a truly cohesive home décor.
Some of the most popular kitchen designs include a large open kitchen floorplan that typically flows into a family room. This is a design change from the formerly traditional separate kitchen and reflects the modern family's lifestyle. Such a kitchen layout demonstrates the integrity of style serving function.
Country
This design style has a broad range that can reach to Primitive Country or Colonial period styles. Americana is another branch of this style that can also include elements of Primitive Country and even Federal period style design. The choices are many and varied; let your personal tastes and likes guide you in creating your ideal Country kitchen.
French Country
Another classic, French Country is always in style. You can adapt your home interior to this design and make your kitchen totally French Country or simply add a few touches that hint at this inviting style. You can add color and texture, especially on the walls, and terra cotta or flagstone tile flooring. Floral patterns for fabrics and even wallpapers reflect the style. Lace curtains and fresh flowers on the table bring the outdoors in. Add various motifs such as grapevines and olive trees in a wall mural, border wallpaper or backsplash tile. Don't forget the rooster icon. Rough-hewed ceiling beams stained a dark color will lend authenticity to your design. Hang a few dried herbs and copper pots, and your look is complete.
Modern
Go for a cool modern design with sleek glossy cabinets in bright red, yellow, lime green or rich blue. Create contrast with stark white walls, art deco framed arts, Modern-styled breakfast table and chair, hand-blown colorful glass pendant lights, and shiny recycled glass countertops. Finish the floors with industrial tiles and use one wall for accent by painting it a matching color to your cabinets. This sleek, crisp and bright design makes a statement with style!
Retro
This kitchen style is one you may find fun and exciting. You can carry this style back to the 1960s with psychedelic, oversized, brightly-colored flowers or keep retrograding to the 1950s style of soda shop designs. Still, you may prefer the 1940s style. Whichever retro kitchen look you choose, give it a personal look.
Tuscan
Many designers claim that this style has passed it's appeal, but homeowners keep returning to it with new homes and renovations. Why such a contradiction? While design trends take time to filter down from designers to homeowners, the Tuscan style will remain an all-time favorite as a classic design simply because it has such comfy appeal to families. The colors are earth-based and reflect the outside environment. The old world appeal is rich in wood finishes, cabinets and dining furniture. If this design resonates with you and reflects your home décor and family's taste, then go for a Tuscan kitchen design.
Other Design Ideas for Your Kitchen
Arts and Crafts
Art Deco
Asian
Commercial Chef-Styled
Contemporary
English Country
Victorian
Elements of Kitchen Design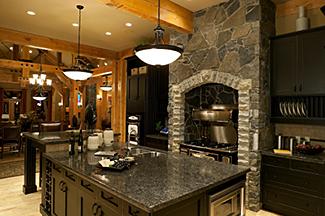 Kitchen design or decorating can be done at many levels. Surface changes can be made to the design of the existing kitchen by changing wall color, counters or counter color, adding a backsplash or some wall art. More extensive decorating choices can be made at every level from the selection of flooring to the shape, style and color of the cabinets.
When decorating your kitchen, take a look at several areas to determine how far you want to go to get the results you want. Things to consider include:
Floor Plan
Good kitchen layouts include a work station. This area forms a triangle of your refrigerator, sink and cooking area. Placing these three major areas close to one another will help make the kitchen as functional as possible, by ensuring you never have to take too many steps.
Cabinets
If your cabinets are in good shape, keep them and either paint or stain them in a different color. If the cabinet box is in good shape, but the door design doesn't fit in with the rest of your vision, consider refacing the cabinets. You can always have extra cabinets built to match, including pantries or tall cabinets for storage. If, on the other hand, the cabinet boxes are in poor shape, or the layout of your kitchen is unfavorable, consider a full kitchen remodel.
Countertop
Your countertop drives the rest of the kitchen design. It should be the first decision made when beginning a total kitchen remodel, as well as your starting point for all color and design decisions.
If you plan on keeping your existing countertop, ask yourself if the color will fit in with your ultimate design goal. If not, consider replacing the counter or painting it to become the jumping off point of the rest of the decoration process.
Flooring
Most kitchen flooring extends beneath the kitchen cabinets, but it doesn't have to. If you are keeping your current cabinets, consider updating your flooring to tie in with the rest of the design. Select a flooring material that is easy to clean, picks up a color from within the countertop and has a style that matches the rest of the room.
Backsplash
The kitchen backsplash is the easiest item in the room to replace. It should be the last design element added to the room, but it can really cement a design into place. If your kitchen is nearly where you want it to be, but seems to be lacking something, add or replace the backsplash to give it an instant design lift.
Additional Considerations
New appliances. If your budget will allow, putting some new appliances in your kitchen can make all the difference. Ditch the old avocado colored stovetop and replace things with newer styles, like stainless steel.
Install new lighting. Go for lights that give a warm glow in the room overall, with more intense lighting directly over your work areas.
If you have a small kitchen, invest in plenty of stacked storage units and consider the new, space saving appliances, like mini dishwashers that double as sinks.
Accessorize. A few new accessories can feel like a breath of fresh air in your kitchen, and they can also help you pull your look together.
Finishing the Design
Cement your kitchen design with some well placed wall art that reflects the period or style you are capturing. Add in some decorative items such as pottery, or chair cushions at the table, and your new kitchen will become even more frequently used than ever before.