Making the Most of Your Space
For some people, a living room is a room for family and friends to gather, socialize, watch TV, and enjoy each other's company in casual comfort. For other people, a living room is a place for more formal entertaining. Who is right? Everyone is! The only right answer when decorating your contemporary living room is the one that works for you.
TV Dilemmas
In many homes, deciding what to do about the TV is the hardest part of decorating the living room. If you watch a lot of television, you may want an entertainment center that turns your TV into a focal point for the room. If not, consider hiding the TV behind an armoire or a sliding panel of artwork so it is only visible when in use.
Adding a Fireplace
A fireplace makes for a lovely addition to a contemporary living room. If your home doesn't have a wood burning fireplace, you can purchase an electric fireplace that creates a realistic flickering flame using LED lights.
Affordable Wall Art
Wall art is often used as a focal point in contemporary living rooms, but original art can be very expensive. If you want something that's unique, yet affordable, consider attending shows put on by the art department at your local college or university. You may also want to check out a website such as Etsy for an affordable painting or print that matches your home décor.
Choosing a Color Scheme
Many people like bright colors, but they are afraid to paint an entire room in one eye-popping shade. Choosing a bright hue for one wall can be a good compromise for the modern living room.
Buying Furniture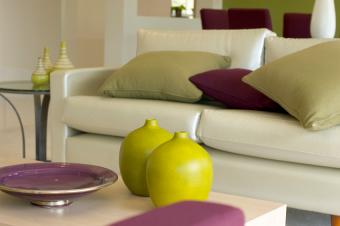 If you're on a budget, interior designers recommend that you invest in neutral colored furnishings that are the highest quality you can afford. Add color with accessories such as throw pillows and pretty pottery. Since these items are inexpensive, they can be changed as your mood dictates.
Evaluating Lighting Options
When choosing lighting options for your living room, think about what activities you typically enjoy doing in this area of your home. For example, while overhead lighting is fine for watching television, a freestanding lamp next to a comfy chair creates a better spot for curling up with a good book.
Choosing Accessories
Accessories are an important part of any living room design. A console table with matted photographs propped against the wall adds a casual look to your living room décor. If needed, you can use large pottery or wicker baskets beneath the table to add storage for small items.
Avoiding Clutter
One distinctive characteristic of modern home design is that care is taken to avoid clutter, but this is actually good advice for every homeowner. Books, newspapers, children's toys, blankets, and other personal items can easily overwhelm a room and detract from even the best interior design efforts. Once you've decided on the look you prefer, plan to devote a few minutes each day to keeping the room neat and tidy.