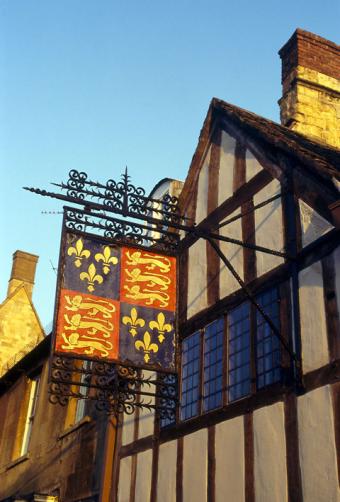 The presence of chivalry and romance infuses medieval interior design with an atmosphere of both fantasy and mystery. Take a step back in time with medieval wall décor and courtly room design that harkens back to a simpler time.
Medieval Interior Design Basics
Also called the Middle Ages, the period of European history called the Medieval years span the important era from around 500 and 1400 AD. This pre-Renaissance span of time is heavily influenced by religious themes and cathedral architecture. Gothic interior design is a marvelous example of classic medieval style. The stately castles and manors of the age also typify the regal influences of Middle Age décor. The distinctive Tudor homes rounded out the final years of medieval era architecture.
Medieval interior design starts with walls and floors adorned with dramatic stone or rich wood accents. Even just one accent wall covered in decorative stone wallpaper or realistic cultured stone can set the right tone. A prominent stone fireplace and hearth can go a long way to establishing that castle vibe in a medieval style room. Wood paneling with carved detailing and exposed wooden ceiling beams will also create a feeling straight from the Middle Ages. Plush and deep toned rugs are often used to soften stone or wooden floors in this type of antique style.
The use of heavy furniture pieces is also a defining characteristic of medieval interior design. Look for carved wooden chairs, benches, and tables for an authentic Gothic appearance. A large dining room table featuring intricate wooden inlay designs and carvings can be enough to establish a medieval theme. Upholstery on chairs and sofas as well as draperies should reflect sumptuous fabrics like velvet, chenille, damask, and brocade. Deep colors like red, gold, or blue are often seen in fabrics and accents.
Accessories for the Medieval Room
One of the essential items for Middle Age décor is wall tapestry. These elegant woven wall art pieces are usually hung on decorative metal rods and adorned with tassels for a complete look. Medieval Wall Tapestry carries an amazing assortment of medieval tapestries which feature reproductions of classic themes like knights, maidens, and animals. Touch of Class also offers a nice collection of wall tapestries with Old World charm.
The use of stained glass window covers in medieval interior design is drawn directly from the remarkable cathedrals and churches of Europe. Vibrant and colorful stained glass designs introduce bold hues and interesting patterns to a Middle Age theme room. The traditional coat of arms is often seen in stained glass designs, but these familial crests can also be found on tapestries or painted wood panels. Mantles and tables in Gothic rooms should also have a touch of wrought iron and feature large pillar candles. These elements can usually be combined by displaying an iron candelabra or wall sconces.
For added visual interest, try some medieval themed accessories from a company like Design Toscano. Their online catalog showcases wonderful iconic items such as dragons, gargoyles, suits of armor, swords, shields, and statuary. Creatures like dragons and gargoyles often look gruesome, but represent triumph over and protection from dark forces. A dragon wallpaper border is a fun way to set up this motif in a child's room for example. The courtly world of knights and squires is commonly represented by metallic accessories like shiny body armor or elegant weaponry.