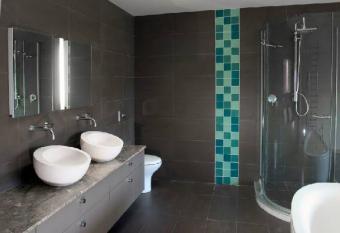 Architects and designers who favor a less is more approach often support minimalist home design. The concept of minimalism in buildings and interior spaces calls for the use of clean lines, simple color palettes and unadorned surfaces.
Basics of Minimalism
The core goal of minimalist design is to break down forms and structures to their basic elements. The straightforward nature of Asian design, particularly classic Japanese design, has been one of the inspirations for minimalism. Famous designers who pioneered minimalist ideas include Ludwig Mies van der Rohe and members of the De Stijl Dutch art movement. Mies van der Rohe focused on the exterior frame of buildings while adopting open floor plans on the inside.
Minimalist designers and architects concentrate on removing dimension from spaces and connecting the intersecting visual planes of the building. This leaves room to diligently plan out the wide open spaces of the interiors. The initial push to rediscover pure forms is now supplanted by the desire to instill a sense of calm, harmony, and spirituality in interior spaces.
Limited Color Palette
Most minimalist houses will follow a strict color palette that is made of primarily neutral colors. One or two bold non neutrals may be added to emphasize a particular detail or object, but in general restrict the colors to tones of white, beige and gray.
Minimal Accessories
Visually complex items, such as bookshelves, paned windows or even patterned pillows or drapes are limited. Most of these elements are carefully concealed within pieces of furniture. Choose a couple of items that mean something to you and/or complement the space, and stop there. Resist the urge to include a lot of different items, and remember to keep surfaces free of excess items. Minimalist décor is all about empty space. As the name implies, when it comes to minimalist décor, less is more.
Appreciation of Negative Space
In general, minimalist houses have less furniture and other accessories than other houses. Instead, an appreciation of empty space is emphasized; place each piece of furniture carefully to do a specific function.
Lack of Texture
Most minimalist interiors also seek to limit varying textures. If a particular pattern is readily apparent in a minimalist house, it is there to emphasize a specific detail. If you emphasize a texture, restrict it to only one or two pieces.You can make these pieces large or small, just don't go overboard with them.
Minimalism in Practice
Minimalist home design can be either modern or contemporary in nature. The unifying element should be a focus on form, color and texture, as opposed to ornamentation. Lighting in both cases tends to be industrial in design with a focus on track lights, art lamps and accent spotlights. Plain walls allow artwork and large accessories to take center stage. Large walls of windows or glass are commonly used to create a sense of airiness and maximize natural light.
Furniture
Contemporary Japanese furniture, some Art Deco pieces and Dutch modern pieces are all excellent choices for the minimalist house. Of course, minimalist furniture manufacturers are also common and can be found in many high design magazines. Make sure the furniture is comfortable and use fabrics that are soft and cozy to the touch. Upholstered pieces should be done in simple, pattern-free fabrics (if you feel you must use a patterned fabric make sure it's very simple and subtle).
Upholstery and Drapes
Keep fabrics in a neutral color with very little texture. Plan on spending a bit more on fabric for a minimalist house: plain fabrics that are inexpensive often look cheap when used without other adornment. Natural fibers should also be used whenever available: linen and wool are popular in minimalist designs.
Storage
Storage is an essential part of minimalist house decor. While home design magazines may encourage you to clear clutter be discarding it, most people have possessions that are incompatible with minimalism. For this reason, conceal these items that don't fit your decor within storage. Built-in storage is the most practical for minimalist interiors, as long as it is steam lined to fit with the rest of the house.
Accents and Finishes
Metal accents like stainless steel or chrome are often seen on furniture pieces, hardware, or fixtures. Choose wood surfaces and cabinetry with a polished or lacquered finish over a light color of wood.
Flooring
Bare floors are perfect in minimalist rooms, but if you want to add softness and comfort include a rug. Avoid patterns and keep it very simple. Choose whatever material works best for the design. If you're sticking with bare floors use hardwood, bamboo, stone or ceramic. Just avoid patterns and the minimalist look will be maintained.
Contemporary Versus Modern
A modern minimalist layout is typically open concept with simple room divisions made with furniture, bookcases, fabric or low-rise cabinets. This is the more classic approach to the design, using the traditional aspects.
Contemporary minimalist home design features the same austere environment but with a softer approach to forms and lines. Sweeping curves and rounded lines take shape in room layouts, furniture and accessories. Walls are kept neutral but with warmer shades like taupe, brown, cream, and beige. Pops of bold primary colors are often incorporated with painted accent walls, art pieces, upholstery or rugs.
Minimalist Home Design Resources
Visit any of these resources for inspiration, ideas and fixtures for your home.
Dwell Magazine - An inspiring magazine about modern home design, inside and out.
Interior Arcade - Photographs and information on many different minimalist homes.
Kohler - Bathroom and kitchen fixtures for minimalist home design.
Livable Design
Minimalist homes are not for everyone. Reduced clutter, concealed storage and a bare look can be sterile and cold when not done properly. Choose each piece of furniture and decor for your home with care, to make sure the final design is exactly what you are reaching for.