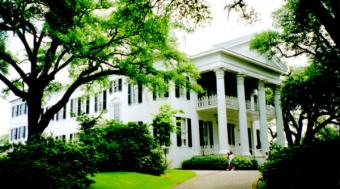 Natchez, Mississippi might just be the antebellum home capital of the South. Tucked behind the Spanish moss and kudzu, you'll find many beautifully maintained antebellum houses guaranteed to transport you back in time for a taste of the old South.
Antebellum Homes
The term antebellum refers to the period before war, and antebellum homes in Natchez generally were built within a 30-40 year period before the Civil War. Architecturally, the homes are built in the Greek/Classical Revival or Federal Style and are characterized by pillars, large porches (often both porches and balconies), gabled roofs, and symmetrical, evenly spaced windows. Inside, the homes are very grand, with large entryways, sweeping staircases, and formal interior design styles, incorporating old South antiques and pieces imported from Europe .
Monmouth Plantation
Monmouth is an antebellum home with a colorful history. The house was purchased for the princely sum of $12,000 in 1826 by General John A. Quitman, who, despite being from New York, had enthusiastically adopted the Southern way of life and eventually became governor of Mississippi. General Quitman was a vocal advocate for secession, and though he died before the Civil War began, Union soldiers attacked Monmouth with a vengeance. Monmouth was spared when General Quitman's daughters swore allegiance to the Union. The home remained in the Quitman family until 1914 and then slipped into disrepair until current owner Ron and Lani Riches purchased the home in the 1970s and began the restoration process.
The present owners have turned Monmouth into an award winning B&B. The property has 30 rooms decorated in an opulent, formal style with a mixture of Southern antiques and traditional English and French pieces.
''Monmouth Plantation, 36 Melrose Ave, Natchez, M2, 39120 1-800-828-4531''
Dunleith Plantation
Dunleith was built out of the ruins of another home - Routhland - which burned to the ground after a lightening strike in 1855. Routhland was rebuilt the following year, but the owners were forced to sell the estate to the Alfred Davis family, who christening the house with its current name.
The home was built in the Greek Revival style, boasting 26 Tuscan pillars around the property. Intricate rod-iron gates connect the columns around the two-story porch. Inside, Italian marble mantelpieces adorn the fireplaces throughout the 9,400 square foot home. The décor is opulent, with ornate chandeliers and elaborately detailed woodwork.
Dunleith Plantation is open to the public for tours, and it also operates as a hotel and restaurant.
''Dunleith Plantation, 24 Homochitto Street, Natchez, MS, 39120 1-800-433-2445''
Other Natchez Antebellum Homes
Magnolia Hall
Magnolia Hall was the last estate to be constructed in Natchez before the Civil War. The home was owned by the Henderson family, and features a costume collection and antique doll museum.''Magnolia Hall, 215 South Pearl Street, Natchez, MS, 39120 (601)443-9065''
Kyle House
This antebellum home is unique in that it is the only property from the time period to belong to a free African American. It is thought to have been built for Nancy Kyle, a former slave, who had a relationship with a white trader named Charles Kyle. The Kyle House is not as grand as the plantation homes - it is a simple, frame house - it is indicative of the style of home in which many families who lacked the prosperity of the plantation owners resided. ''Kyle House, 301 Main Street, Natchez, MS, 39210 (601)445-0728''
Stanton Hall
This stately home occupies an entire city block in Natchez, and is one of the most frequently visited historical sites in the country. It is exterior is white stucco, and its interior boasts chandeliers in every room and French gold leaf mirrors.''Stanton Hall, 401 High Street, Natchez, MS, 39210 1-800-647-6742''
More Information
With 300 antebellum homes in Natchez, there are plenty more opportunities to get a taste of old South architecture, décor, and charm. The following websites will get you started: