Playroom designs should be fun and creative. This is the one area in your home that you need to use lots of color and variety to help stimulate your child's imagination. Keep these goals in mind when selecting all of the design elements.
Walls and Floor
These are your two biggest areas and the best place to start with your new playroom design.
Colorful Walls
Walls can easily be painted or covered with wallpaper. Your child is going to grow and his or her likes and dislikes will also change.
Murals are a nice element. You can paint one or opt for a pre-pasted mural. You can also use stencils to add interest and color. Wall decals are easy to apply and remove when it's time for a change. Whatever you do to the walls, make it easy to change either by simply painting over it or wallpapering. You want the room to reflect your maturing child's likes and needs.
Washable painted walls are a must for any kids' playroom. Choose a paint designed especially for children areas such as the Disney paint available at Home Depot. This paint will stand up to frequent washing and even scrubbing if necessary.
Children love bright colors and whimsical designs. Playrooms that include lots of primary colors appeal to children and hide fingerprints and dirt. The playroom is a great place to use bright blues, emerald greens and lemon yellows.
Specialty Paints
A fun idea, especially if the room is going to be used at night, is glow-in-the-dark paint. You can't see it when the room is light but when the lights are turned off, the room comes alive with the glow-in-the-dark designs painted on the walls. This is a wonderful technique for a space-themed playroom, where stars and planets can come to life.
Chalkboard paint can be used to turn an entire wall into a blackboard. This is a good way to deal with "wall writers." The chalkboard area can be used for handwriting practices, drawings or notes.
Floors
Your floor space isn't broken up like wall space and is the largest area of your room. It will receive the most abuse, so you want to select something that's durable and will last the lifetime of the playroom, if possible. Hardwood, tile or vinyl floors are the best choices for easy clean up. You can add an area rug for comfort and warmth.
Other choices for different areas:
Activity Mats: These come in all shapes, sizes and material. The best is a vinyl coated that can be washed once the activity is finished.
Foam Tiles: Link several together to form a cushiony rug for sitting and playing. Great for kids' gym areas.
Playroom Designs: Divide Room into Areas
Decide what activities you want to accommodate in the playroom layout. Make a list of the activities your child enjoys and any new activities you want to introduce into your child's playtime.
Work and Play Areas
The size of your room will determine how many separate work areas you can place in the playroom. If you have a relatively small room, three will probably be the maximum number of separate work areas. You can combine other activities within a single work area.
Crafts Area
Make a list of the types of crafts your child enjoys. This list will help you determine the best way to store the materials used the most.
Reading
Comfortable chairs or a sectional with ample lighting will invite your children to enjoy quiet time spent reading a good book.
Play Area
If you have the space to include a gaming and movie area, these activities can also be incorporated with a music area. Musical instruments can be stored in a cabinet or a closet. If you have a piano for the kids to use, place it on the wall across from the TV cabinet. You may decide to invest in a wall unit for equipment storage. Drawers are great for storing game cartridges, DVDs and other gaming equipment.
Furniture Choices
Using your list of activities and the kind of materials you'll need to store, you can now decide on what furniture to buy for your playroom.
Activity Table
You can find all kinds of styles and choices for your child's activity work table. Plan for a large coffee table with lots of floor pillows so your family can enjoy board games and jigsaw puzzles.
Bookshelves and Bookcases
You can buy components that change as your child grows. Brightly colored baskets can serve as toy and supply bins. Your child can carry these bins over to the work area and return after clean-up.
Storage Furniture
Storage units come in varying widths and styles. You can select storage chests or larger units that have shelving and bins.
Lighting
You may opt for overhead lighting instead of lamps, especially if your children are small. Recessed ceiling lights and even overhead lights suspended over the table will give enough light for most activities.
Window Treatment
Keep it simple when it comes to window treatment in a playroom. Since most of the activities will be during the day, make sure whatever you choose can be opened to let in as much natural light as possible.
Chairs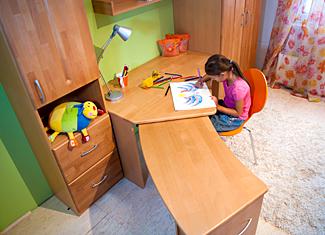 You may need more than one kind of chair in the playroom. Consider some of these options:
Beanbags
Stools
Benches
Side Chairs
Rockers
Gaming chairs or break-away sectional sofa
Children's Gym
Include an area for your child to climb and tumble to help work off some of that energy built up from the artwork project.
Other Elements
Chalkboard: Purchase small one or use chalk paint to create your own
Mini-stage for plays or puppet shows
Play kitchen
Reading area
Snack area
Art Easel
Great Sources for Playroom Furniture
The amount of money you spend on playroom furniture depends on the things you buy and your willingness to hunt for a bargain. You can invest in substantial quality furniture that can grow with your child like a three in one table that adjusts to three different heights.
Below are some playroom furniture suppliers:
Things to Consider
There are several things you'll want to consider as you create your child's playroom.
Safety: Select furnishings and materials that are flame retardant and non-toxic
Function: Make sure your furnishings can be used comfortably by your child
Room to Grow: Make allowances for your child's growth in your playroom design
Make it easy to maintain: Plastic furniture cleans easily. Protect cloth furniture with washable slip-covers
Involve Your Child
Don't get so wrapped up in the project that you forget to include your child in the process. Let your child help make some of the choices so there will be a feeling of ownership. Once the room is put together your child will be proud that he helped to create it.
Consider Going Green
You can teach your child about green living by using the playroom for a green project.
Choose products made from recycled materials
Buy organic fabrics
Make sure your child's art supplies are green-friendly
Set-up a recycling station in playroom
Keep It Fun
Playroom designs should be fun to create, and fun for your child to use. Deciding on playroom elements that work best for you and your kids is easy when you take the time to plan. Discuss what elements your children want and then consider the overall layout you desire for this important room. Take your time and make sure each element is what you and your children will enjoy for years to come.