Old World Sanctuary
Step back in time with a welcoming old world style bedroom design.
The textured paint finish warms up the walls along with warm wood furniture finishes. Metal and ironwork reflect the old world charm with an iron scroll curtain rod brackets and a decorative iron frame bed.
A wrought iron chandelier lights up a cozy pair of upholstered chairs in front of the fireplace. The raised hearth fireplace creates an intimate setting for true sanctuary.
Rose and Green
More Details"
It's like stepping into a summer garden when you enter this bedroom.
Soft pink walls with a subtle white wall decal behind the bed accentuate the height of this bedroom. The wall color serves as a super backdrop for the splash of rose colors in the comforter gracing the bed.
A chairrail breaks up the wall space around the room and is highlighted with a hot pink color that's repeated in the rose pattern comforter and pillow shams. Lime green is the perfect accent color and is repeated in the bedside lamp.
Window treatments have been kept to a minimal so the colors become the focal feature of this garden bedroom!
Contemporary Tropical
Rich hues of chocolate and green establish a tropical theme in this polished bedroom.
The contemporary four poster bed, side tables, and lamps add refinement in an espresso finish with brushed nickel accents.
This tropical inspired color palette is accented with a twin palm tree in the bedroom corner. Reverse colors are played out in the geometric styled draperies and bedding of the four-poster bed.
Retreat Style
Oversized decorative knobs (wood rounds) are used for hanging tab curtains instead of a curtain rod. This creates a draped exotic window treatment with gold damask curtains.
A bench at the foot of the bed is covered in tufted gold linen fabric. Green seat cushions repeat the pale green color of the walls. Fringed pillows repeat the gold accent color.
The ironwork wall medallion adds a Mediterranean flair to the design and the draped russet afghan draws attention to explore the bamboo bed table and throw pillows.
A leather tufted headboard contrasts with the lighter hues of the bedding completing the blend of masculine and feminine elements.
Princess Perfect
More Details"
This teenage bedroom design is all about color and texture.
Soft pink walls are the backdrop for cream colored draperies and tufted headboard. A cream colored stool is placed at the foot of the bed.
A stark white dresser and bedspread create a sharp contrast with the cream colored fabrics. Toss in some whimsical throw pillows in purple pink and blue for a magical feel. The addition of purple velvet stacking boxes is an elegant accent feature.
Don't neglect your lighting elements. Try a pair of stunning mini-chandeliers suspended over the nightstand for a room fit for a princess.
BEHR Colors: Fairview Taupe 130E-2, Interlude S-H-690, Gothic Amethyst 670F-5, Nude W-F-210
Boy's Bedroom
More Details"
A great use of color and a stripe effect makes this a teenage boy's dream bedroom.
Masculine colors backdrop a model collection with a floating display shelf above the bed. The walls are painted a relaxing green hue with a unique upper molding that creates a striped effect along the ceiling.
A chairrail breaks up the wall space further. Chocolate colored paint is used beneath the chairrail and is repeated in the long curtain panels and tailored bed skirt. Wood floors are stained a light blonde similar to the Mission-style furniture finish that creates a sleeping zone and study/work zone.
The stripe theme is repeated in the russet white and green striped comforter. A lighter russet hue is used for the fabric covering the footstool and is repeated in the ski print wall art.
Behr paints used: Woven Straw UL170-5, Aged Parchment UL150-10, Tibetan Orange UL120-19, Macchiato UL170-2
Unique Nursery
More Details"
Tired of the same old pink or blue baby nurseries? Go for a contemporary feel with this cool lime green and chocolate color palette.
The green geometric pattern for the children's chaise lounge matches the crib bumper. A coordinating stripe is used for a crib mattress skirting. The clever use of white helps to define architectural features of the room.
This is truly a fantastic nursery for any baby to come home to.
Behr paints used: Features BEHR Colors: Chocolate Coco S-G-760, Falling Snow UL190-12, Lemon Grass 400B-7
Powder Blue
More Details"
Power blue walls, stark white and chocolate brown create a color palette that's perfect for a powder puff effect.
A dark brown leather bench, bed throw and accent pillows and shams add interest and contrast to the design. Two unique wall art rounds resemble powder puffs hang over the bed. Mirrored nightstands reflect the shag sculpted area rug to create a textured illusion.
A pair of clear acrylic chairs beneath a modern-styled stained glass window add an eclectic touch. The bedroom is illuminated by a linen covered light fixture that matches the tufted linen headboard.
Colorful Zen
More Details"
Opt for a Zen retreat with restive green walls and brown painted woodwork.
Special design touches make this room a quiet yet colorful sanctuary. White is used as a color accent throughout the bedroom.
A Chinese red chest supports a white vase of orchids and other white ceramics accent pieces. White paper lanterns hang over a platform bed. White garden seats have become eclectic nightstands on either side of the bed.
All of these objects and colors combine for a truly inspired Zen bedroom.
Behr paints used: Tea Bag UL180-8, Polished UL200-11, Scented Clove UL130-1, High Drama UL100-5, Spiced Plum UL100-22, Tibetan Orange UL120-19, Red Pepper UL120-22
Classic Sleigh Bedroom Design
More Details"
Soft blue-green and white to sandy tan colors transform this bedroom into the look of a coastal cottage.
The bedroom suite wood finish serves as an accent color. The nautical ambiance is reflected in the porthole style dresser mirror.
Sandy hues are used in the throw pillows, tab curtains, bench and area rug to inspire a bedroom design fit for any beach cottage.
Green with Lavender Accents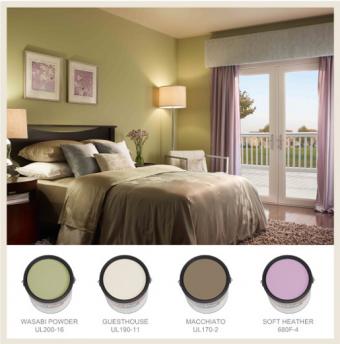 More Details"
A breath of fresh air with the hint of lavender breezes through this design.
It's soft with pale green walls and subdued taupe and gray bedding. A taupe shag area rug covers shiny hardwood floors. Two lavender art prints above the bed repeat the lavender draperies topped a white fabric covered cornice.
A single vase of fresh lavender flowers completes the look.
Springtime Breeze
More Details"
Soft lavender walls and dark lavender bedding set the color scheme for this bedroom.
White sheer draperies, a white comforter and white shag rug act as great accent colors. The wood stain of the oval backed white upholstered chair matches the stain of the round pedestal nightstand and floral frames above the bed.
A lime green bed throw is a striking accent color.
Find more inspirations with romantic bedroom designs.