Elegant Tables for Easter
Easter table decorations can add interest to your home. From whimsical to elegant, there is something for everyone.
For purchasing information, click on the 'buy now' link at the bottom of the image.
Jim Shore Easter Basket
Buy Now"
This collectible basket by Jim Shore is 8.5 inches tall, perfect for a colorful centerpiece. With its soft colors and unique design, it would be wonderful in any country Victorian or cottage interior. The basket is being made in limited numbers to keep it collectible.
Carrot and Bunny Vase
Buy Now"
Perfect on a sideboard or side table, or at the dinner table, this adorable vase is a great conversational piece. Fill it with lilies for classic Easter décor with a whimsical twist.
Traditional Egg Tree
Buy Now"
Easter egg trees are traditional in many European cultures. Add your own decorated eggs or other decorations to this tree and use it to add color almost anywhere.
Limited Production Jim Shore
Buy Now"
This stone resin bunny is another adorable Jim Shore design. He can be tucked into an Easter basket or used in a small table vignette.
Bunny Salt and Pepper Shakers
Buy Now"
Easter table decorations are at their best when they are utilitarian as well as beautiful. These Easter bunny and carrot salt and pepper shakers will add a festive touch and can be used all year long.
Unusual Easter Table Decorations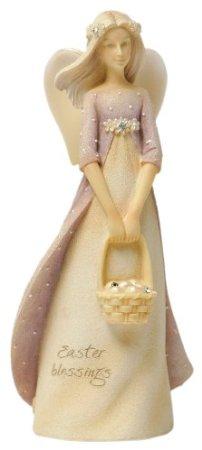 Buy Now"
This Easter angel by Enesco is a miniature figuraine, suitable for adorning the dinner table or as a side table decoration. It is beautifully decorated, and inscribed with the phrase, 'Easter blessings.'
Easter Egg Holder
Buy Now"
Add your own touch to the dinner table with this cute bunny Easter egg holder. For a classic look, decorate your eggs all the same color. Add a whimsical touch by dying eggs all different colors. The fact that you add your own eggs makes this piece very versatile and fun.
Use these decorating ideas to create your best holiday table ever.