Restful Green and Linen White
Color in your home décor plays a major role in how you feel. Spend time examining color charts and select those that make you happy, restful, or energized.
Green is a wonderful relaxing color for a living room. When combined with a linen white, the effect is like a fresh spring breeze. This color combination can be used for a modern, contemporary or even a traditional home decor, such as a dining room or kitchen.
Break up wall space with white or white/green wall art or leave as a large canvas of color.
Add a white linen sectional with matching pillows and green ones.
Use an area rug and large floor vase with white twig arrangement.
Anchor the sectional with a chrome floor lamp and linen shade.
Dogwood Pink and Brown Nursery
The pale dogwood pink color creates a tranquil approach to a traditional gender colored nursery that's subtle. You can use this color combo for traditional, modern, or contemporary styles.
Two values of pink are used on the wall divided by a white chair rail.
Accent with matching brown and pink polka dot child chair, crib set and floor lampshade.
A pair of floating shelves can be used for storage or decorations.
A round pink rug with a brown border repeats the color scheme.
Add a wide molding, baseboard and custom valance.
White draperies complete the look.
Flame Orange and Jewel Accents
Love color? Create an accent wall with a flame orange color enhanced by purple and green jewel accent colors. This color combination is excellent for a Mediterranean, Southwestern, or Bohemian theme.
Black is an accent color that creates contrast with the wall color.
Linen white walls and furniture are opportunities for pops of colors.
Jewel-toned pillows and candles give bursts of fun colors to complement the accent wall.
Add a couple of indoor plants in wicker pots to soften corners.
Blue and White Walls With Pink
Trendy pink and blue for a modern living room brings the perfect combo of cool and warm colors. Use this color combo for a traditional, Victorian, or contemporary decor. The cool blue paint will go with a variety of different color schemes if you change your furniture choices.
Wide white framed artwork repeats the white flooring and white adjoining white walls.
Modern furniture in light brown finishes brings the modern theme home.
Add a gray pouf and pink throw to complement the pink pillow couch.
The final touch is a vase of yellow and white flowers.
Green and White Bedroom
A restive green and white combo is an ideal color choice for this master bedroom. Select this combo for an Asian, contemporary modern, or even a cottage theme.
Create a faux wall with cutout niches along with floating shelves by the bed.
Recessed lighting accents the matching twig sculptures.
Taupe striped bedding with tan accent pillows and a beige bedspread repeat the earth tones.
Medium brown carpeting makes this bedroom a classic design.
Pale Blue and White Bathroom
Tranquil blue is ideal for a bathroom color choice combined with white and wood grain accents. This sleek modern bathroom design takes advantage of the clean look of a floating double sink cabinet. Use this color combination for a 1920s style with black accents or a modern décor scheme.
Woodgrain facings on the sink cabinet and soaking tub adds depth and contrast.
Recessed dimmer-controlled lighting takes mood lighting to a new level.
The large mirror is set flush with oversized white tiles.
The rectangle vessel sink repeats some of the tile shapes.
Primrose Yellow and Cream
A splash of sunshine and soft cream fills this room and will make a pleasant energized den. This color combination gives a clean happy look and is ideal for a cottage theme or a colonial style home.
The low fireplace and bookcase focal point is accented with a cream-colored paint.
Add a loveseat and chair upholstered in creamy linen fabric.
Pillow choices blend the two colors with plaid and floral fabrics.
Add interest to your design with large checkered sheers over the windows.
Accent with touches of floral arrangements and faux fruits.
Pink and Gray Kids' Study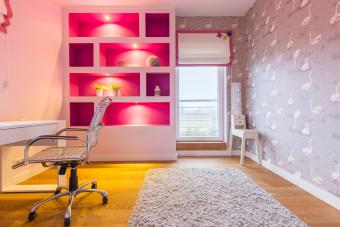 This kids' study area is a great example of the use of color. The color combination offers a nice contrast and works great for contemporary and modern styles. Depth is added by painting the inside of the cubbies with the darker tones.
Pale pink walls contrast against the hot pink and purple cubby style bookcase.
The rest of the walls feature a pale pink flamingo pattern on a gray background.
Add recessed lighting in the bookcase to spotlight color and objects.
White furniture, trim and a shag rug provide contrast.
Add a pink trimmed Roman shade on the windows.
Blue Den and Hazelnut Staircase
Transitioning colors from one room to the other can work like this foyer and living room. The key is to repeat colors in each area for a fluid and cohesive look. Blue and brown of all color values are a known great combo. Designers enjoy using these two colors to stage traditional, French, Colonial, and contemporary homes.
The trim color ties the two spaces together.
The living room wall color is repeated by the foyer slate floor.
The sofa colors are repeated in the foyer braided rug.
The velvet bench in the foyer though darker carries the sofa gray into the foyer.
Sage and White Paint
Sage and white wall colors are sharply contrasted by the espresso finished furniture and matted wall art. These color combinations are reflective of contemporary design styles, but can easily be used in traditional décor styles.
The rug ties the two wall colors together.
The cream-colored chair seats add excellent contrast to the dining suite.
Adding a nice mid-range color, such as the copper colored lamp shades adds depth.
Select a multi-floral centerpiece of white, cream and tan for color repetition.
Bronze colored candles on the side table continue the color depth.
Add a floor plant in open corners to make the room cozy.
Tropical Pink and Gray Den
A tropical pink accent wall can wake up a neutral gray and beige room. This den takes advantage of this combination and infuses them into the den design. This color combination makes a bold statement for modern and contemporary homes.
The console wood grain is repeated in the sofa pillows.
The neutral colors are found in the rug, wire tables/pedestals, pillows and dark pictures frames.
White window trim draws the eye past the room onto the patio where decorative cubes repeat the pink and gray colors.
Island Blue Den
An island blue color theme is expressed with a soft blue accent walls and stark white walls and trim. This is a great color combination for a coastal design theme.
The Caribbean blue sectional is the centerpiece of this room design, offset by a sand-colored tile floor and baseboard.
Pops of lemon yellow add interest and depth to the overall design.
The floating shelves feature various blue colored vases.
A glass coffee table allows a starfish displayed on the floor for that island touch.
The globe overhead light brightens the room.
Set a tropical-looking plant in the corner to complete this design.
Hazlenut Shades and White Living Room
The ceiling is the main feature of this room design created by a gray beadboard ceiling and white coffered beam effect. This color combination is very contemporary, but will fit a traditional home décor.
Three walls are painted hazelnut with the fireplace wall matching the overhead beams of the coffered ceiling.
Darker brown tiles frame the gas log fireplace.
Inset bookcases flank either side of the fireplace.
A wheat colored linen couch, two chairs, and an upholstered tufted ottoman/coffee table are set on a wheat-colored rug.
Throw pillows draw in the eye with darker brown zigzag waves.
Teal and Gray Bathroom
The paint on cabinetry and walls enhance the teal glass tiles of variegated values in this bathroom. This stunning color combination can be used in a modern or contemporary home design.
The walls are painted a gray-green hue.
A lighter teal value graces the cabinet facing.
A gray-colored wood countertop, shower corner, and planter filled with faux greenery repeat the floor color.
A pewter colored mirror frame creates a stunning addition to this bathroom design.
Pink and Gray Painted Flowers
The color combination of pink and gray is striking and provides a nice contrast of warm and cool colors. This combination is excellent for modern and contemporary décors.
This design focuses on the oversized pink floral wall mural with a customized wall clock and patterned gray background.
The gray striped upholstery repeats the mural gray colored background.
Gray plank flooring provides a light-colored canvas to highlight the living room and dining room floral area rugs.
White bookcases, aquarium built-in and dining table provide excellent accent colors as well as the black dining chairs.
Whether you paint a little or a lot in each room, it's important to choose the right combo to fit your home's design and your style. Explore some of the best colors for kitchens before choosing your paint for that room, too.