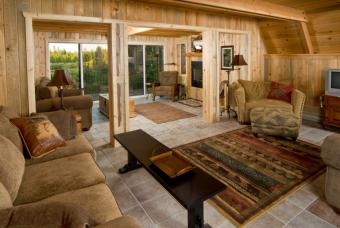 You don't have to live in Arizona or New Mexico to enjoy Southwestern style interior design. Every house can adapt to this casually elegant style that draws its inspiration from nature and the Spanish and Pioneer settlers that populated the American Southwest in the 18th and 19th centuries.
An Evolving Style
Southwestern style, as we know it today, evolved over time. It takes the colors and textures from the desert with the Mexican and Spanish additions of ironwork, textiles, and wooden carvings. Southwestern style follows the soft lines of traditional adobe houses and reflects the easy, relaxed Southwestern lifestyle. It's a simple - and affordable - style to achieve, if you pay attention to the details.
Color
The colors of Southwestern design are the colors found in the American desert.
These colors pair well together, with the majority of the colors staying with the warm, rich neutrals and the brighter colors as accents. Examples include:
Terracotta floor tiles with brightly colored accent tiles in a border
Warm-colored walls with blue, green and red wall hangings and art work
Natural wood furnishings draped with more colorful throws and pillows
Textures of Southwestern Style Interior Design
The textures of Southwestern style interior design also mirror those elements found in nature in the American Southwest.
Clay and stone tiles
Pine wooden structural beams
Hand-carved furniture
Woven grasses
Wrought iron railings, doorknobs and light fixtures
Fabrics for upholstery, rugs, and bed coverings are generally loosely woven wool, cotton or a linen blend. Rattan and basket weave are also used for chair seats and rugs.
Furniture
Furniture in Southwestern design can range from plain, unadorned, plank tables to intricately carved chair backs and headboards. Pine is the wood of choice in this design style, with iron tables, lamps and cabinet hardware used for accents.
Upholstery tends to be either leather or loosely woven fabrics, frequently in a Native American motif. Large cabinets and chests are popular in Southwestern design, as the traditional 19th century adobe homes did not have built-in clothes or linen closets.
Purchasing Southwestern Furniture
Southwestern style furnishings are widely available and include retailers such as:
Architectural Details
Remodelers and new home builders wanting to add a little Southwestern style to a room should look to traditional Southwestern architectural elements, such as:
Rough stucco-style plaster
Curved archways
Terracotta tile floors
Large, heavy pine doors with iron hardware
If possible, add an outdoor patio, courtyard, or garden to your Southwestern style home. These open-air spaces, no matter how small, are traditional spots for an outdoor clay fireplace, a cactus garden or cascading tropical plants, such as bougainvilleas. The traditional patio floor is made of terra cotta tile. Often the patio is enclosed with four-foot stucco walls for privacy.
Accessories
Southwestern accessories run the gamut from the practical to the fanciful. Practical and decorative accessories include:
Woven rugs to cover tile floors
Wrought-iron lamps
Woven blankets and pillows
Clay jars and pots
Wrought-iron statuary
Woven wall hangings
It is also common to bring a little nature indoors with a potted cactus plant or a terrarium. American cowboy accessories, such as wagon wheels, leather saddles and cowboy art also make interesting additions.
Southwest Style By Room
While most of these design ideas can be used throughout the home, there are several items that help make each room a true Southwestern haven.
Bedroom
Start your Southwestern bedroom off right with rich, warm faux-painted walls to create a welcoming and peaceful atmosphere. Use a wrought iron bed frame and slightly rustic or distressed dressers and side tables. Use a heavy, woven blanket on the bed and consider hanging some mosquito netting from a hoop in the ceiling.
Kitchen
Kitchen design in the Southwest embraces a lot of the same attributes of Tuscan design: warm colors, natural materials and lots of light help to create the feel of the room. From there, include several details to bring it to life, including:
Tile countertops made in a combination of glazed and unglazed terracotta tiles
Backsplashes made of either terracotta or worn stone tiles
Floors made of wide pine floors, terracotta or stone pavers
Lower cabinets only, with the upper cabinets replaced with wide pine shelves for displaying pottery and dishes
Living Room
Create a welcoming atmosphere in your living room with lots of texture and the inclusion of several brighter colors against a more neutral background. Mix leather and wood furniture with plenty of woven throws and colorful throw pillows to soften the room. Bring in several details to cement the design including:
Bathroom
Create an opulent Southwestern retreat in your bathroom with the use of lots of natural stone on the floors and walls of the room. Trim out a tiled vanity top and mirror with hand-painted border tiles and introduce copper into the color scheme in the sink, faucets and shower. Keep any porcelain fixtures in the bathroom to a biscuit or almond color to help them blend in.
Add Some Southwest Style
Southwestern style interior design is a natural and uniquely American design style. It works well in a kitchen, bathroom, sun room or even throughout an entire house. If you aren't lucky enough to live in the American Southwest, it's a wonderful way to warm up a cold northeast winter's day.