Starting your own design firm is a big step for any interior designer. It's also a step that, if successfully done, will be the path to an enviable career.
Credentials and Licenses
If you don't have an interior design degree and work-related experience, then you will need to adopt the title of Interior Decorator. There are specific certification and licensing requirements that must be met before you can use the title Interior Designer.
Chances are you've already completed the certification with the National Council of Interior Design Qualification (NCIDQ). There are six ways to qualify for the NCIDQ exam that include a combination of various degrees plus hours of work in interior design. Twenty-six states in the U.S. require this certification before you can work as an interior designer.
You must hold a NCIDQ certificate if you wish to join the most prestigious and recognized organization for Interior Designers, the American Society of Interior Designers (ASID).
Starting Your Design Firm
If you've been with another design firm and have built a reputation within your community, then the move to start your own studio is the next logical step. Assuming you've considered all aspects of going into business for yourself, including whether or not you have an entrepreneurial spirit and drive, you need to possess excellent managerial skills and business acumen.
There are still a few other things you need to address before applying for a business license:
Can your community support an interior designer?
Is there an established design market?
Is there enough of a market share for you?
Who is your competition and what can you offer that is different?
Will you work full-time or part-time?
Type of Design Firm
You need to clearly define the type of interior design you wish to practice and what your personal and business goals are in owning a business.
Will you offer a full-service professional design studio or will you be a consultant charging an hourly rate?
Will you be a generalist or will you focus on a niche market?
Are you going to focus on residential design only or commercial design?
Do you have a specialty, such as eco-friendly sustainable interior design, medical facilities or hospitality design?
Business Location
Location is everything for a business. You need to evaluate what type of facility you require and where it needs to be located in your city. Ask yourself:
Will you be working from home?
Will you run a retail/design shop that sells to the public?
Will you be buying a franchise business or an existing business?
Leasing Office Space
If you aren't working out of your home, then you'll need to find an office or store front space, depending on the type of design firm you open. If you plan to have a retail shop along with your design firm, then you need an idea of the square footage required to showcase merchandise.
Ask yourself these questions in order to narrow down your search and decide if you need:
An office space only for meeting with clients?
A house zoned for commercial use or an industrial building?
A retail shop in the main shopping district?
A loading dock, or are you leasing a warehouse space that's separate from your office space? If so, how will you man the warehouse to receive deliveries?
An adjacent parking lot for clients or is there enough street parking or a nearby parking deck?
To work by appointment only or to be available for walk-in customers?
An assistant, or can you man the office by yourself?
Once you've decided what type of building space you need, canvas your business district or use a real estate agent to find out what commercial real estate is available and the cost of leasing.
Operating Expenses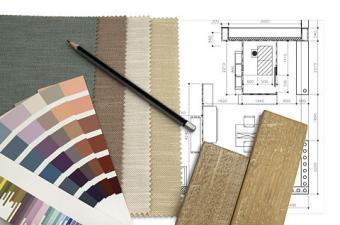 Before signing a lease, ask to see previous power and utility bills for the property to get an idea how much it will cost to run the building. You also need to get an estimate of commercial insurance rates, especially liability for your property and general work liability.
Find out if there are any city or county fees and taxes associated with leasing property that you'll be responsible for. Furnishings, equipment and other operating tools need to be priced as well.
Assessments and Business Plan
Creating a realistic business plan is one of the best ways to map out your expenses and determine how much start-up money you'll require. You'll also need to create a financial plan and establish a line of business credit with your bank, if possible. You may want to hire a CPA (Certified Public Accountant) or business consultant. A good rule of thumb is to have enough money to operate for an entire year.
A start-up reserve takes the stress off by insulating you during the first year of building your business. Cash flow will be irregular and knowing that bills are covered during months there's no revenue coming in provides a sense of security. This in turn allows you to maintain a positive attitude, which translates to your clients.
Your business plan must convince a bank or the Small Business Administration (SBA) to grant you a business loan. Next, you need to determine what business licenses are needed, including state and local.
Network with Industry Professionals in Your Area
You want to establish a solid network of other industry professionals who feel comfortable referring their clients and friends to you. These include:
Architects
Bankers
Contractors and Builders
Financial Services
Land Developers
Realtors
Retailers
Wholesalers and Supply Companies
Network through professional affiliations, such as:
Your local Chamber of Commerce
National Home Builders Association
Rotary Club
Optimists Club
Business and religious organizations
Adopt a genuine interest in any group or organization you join to ensure success.
Establishing Working Relationships with Reliable Contractors and Suppliers
If you're offering a full design service then you need reliable and dependable contractors for any renovation projects you undertake. An inept plumber or a contractor that doesn't meet deadlines can cost you your reputation. It only takes one bad job to ruin everything you've worked for, so make sure you partner with people you can trust. The same thing applies to vendors; you want to have a good relationship with vendors and establish lines of credit with home furnishing companies.
These may take time to build, so be sure you have a business model that allows you to receive increment payments from clients to give you some cash flow as you work on the project.
Marketing and Promoting Your Business
You need to create what's known as marketing collateral. This is a collection of various marketing tools, such as advertisements, business cards, pamphlets, brochures, letterhead with company logo and other sales aids. These will be print and digital materials.
Create and maintain a website and blog. Social media is vital for connecting with potential clients and other professionals in your industry.
Some ideas for these venues include:
Hold contests
Offer design suggestions and hints
Share how-tos and shopping tips
Special purchase sales
Share photos of design ideas and your work
Take online appointments for customers.
Online collateral is the cheapest and most effective in today's world of technology. Utilize it to the fullest.
Taking the Pulse of Your Business
Set goals to serve as benchmarks to determine your success during the first stage of your business and adjust as you move into the growth and expansion stage and then the maturity stage. Keep a chart to monitor your success in reaching these business goals.
What is your mission and marketing statement?
What do you wish to achieve within the first 90 day, 6 months and 1 year of business?
How will you achieve branding of your firm?
Customer Service
Problems with design projects are common, so you need to be a natural problem-solver and diplomat. Pleasing your client should be your number one goal with a motto of "whatever it takes" to achieve that goal. An unhappy client can damage or ruin your business, so make sure your clients are always happy with the finished product.
Even if you don't make as much money as originally planned, do whatever you must to ensure your client becomes a repeat client and refers friends, family and colleagues. Customer service is a cornerstone in building a reputation and growing a business. Give personal touches to clients that express your sincerity and integrity and enjoy a long and healthy career.