Virtual design programs can help you navigate a room makeover, even if you cannot afford to bring in a professional decorator. Unleash your inner interior designer with a little bit of virtual help.
Finding a Virtual Home Designer Program
These software programs aim to step in when you cannot hire a real, live interior designer for a home makeover project. They allow you to sample different design options online, creating a virtual image of what your room would look like if you made a particular change. There are several different things you can experiment with in a virtual design program, including paint colors, flooring options, light fixtures, window treatments, and furniture placement.
There are a wide range of programs on the market, and they range in price from free to several hundred dollars. More and more companies that produce home improvement products are developing their own designer programs specifically for testing their products, and these programs can be found for free on the company websites. We recommend starting out with the following virtual design programs, each of which is available online free of charge:
Today.com
The home improvement section of Today.com (formerly iVillage) doesn't allow you to upload a photo of your own room, but you can do the next best thing. Set the dimensions and other specifics of your room, and then experiment with everything from paint colors and wallpaper to tiles and lighting fixtures.
Floor Facts
Floor Facts is not specifically a virtual design program, but rather is a collection of links to several design software programs that focus on flooring. This is the place to go if you want to try out different styles of hardwood, tiles, linoleum, carpeting, marbling and other flooring options.
Better Homes and Gardens
Better Homes and Gardens has several different virtual design programs available. They have one that allows you to make a series of changes to a room and then a few different programs that let you focus on one feature, like furniture or paint. Their site also offers a plethora of design ideas if you're stuck on what to do next. The programs are free to use, but you do need to register first.
Shopping 4 Floors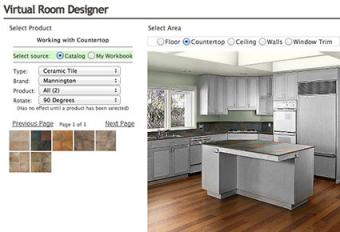 At the Virtual Room Designer at Shopping 4 Floors, you can opt to try out different styles in bathrooms, foyers, dining rooms, living rooms and bedrooms. You can even test styles in a variety of rooms to see how they would flow together if you are considering re-decorating a whole home. You can experiment with everything from flooring to fixtures from a variety of manufacturers.
Sketch-Up
This Google based program comes in a free edition and professional edition and is one of the most precise and elaborate virtual design programs around. You have endless options for creating your perfect room and trying on different looks and styles. The professional version of Sketch-Up allows you to export your design to CAD and other professional design tools.
Plan 3D
At the time of this writing, Plan 3D costs $1.66 per month with no commitment. Although not exactly free, this low price gets you a lot of flexibility and the ability to see your design in 3D. You can also save your designs and send them to other design programs or share them with others.
A Guide Only
The thing that holds most people back from embarking on a room redesign - be it a complete overhaul or just a little bit of updating - is the fear of investing a lot of time, energy and money into a project that ends up being a disaster. With a virtual decorating program, you can take the guess work out of the equation. One word of warning when using these programs - because the free programs don't allow you to work specifically with a picture of your room, the results are to be used as a guide only. Remember that you may need to scale things differently for your own space.
Get a New Visual On Your Space
Virtual decorators can be invaluable for those who really need to see something to get an idea of the finished product. Use these tools to help bring your new room or home design to life and experience a new kind of renovation.