Window seat cushions are the final touch for this area of your room.
Different Styles Set Moods
You can create different moods with a window seat niche depending on your selections of:
Fabric Material
Pattern
Cushion Style
Fabric Material Selections
There is a wide range of fabric materials you can use for your cushion. The room's décor and function where the window seat is located will determine your selection of fabric material.
Favorite Fabric Choices:
Velvet - Romantic choice for a bedroom or formal living room
Suede - Has the look of velvet but not quite as feminine
Leather - Good choice for a den, office or library
Denim - Country themed room or beach house
Brocade - More of a formal look
Chintz - Elegant fabric for any room
Embroidered - Adds a touch of nostalgia
Damask - Great with period style furniture and decor
Corduroy - Informal and casual
Patterns and Colors
There is a vast choice of fabric patterns and colors for your cushion. You'll want your window seat to blend with the rest of the room, yet serve as a focal point or centerpiece to showcase this seating feature. You can accomplish this by choosing a pattern that complements and carries out the overall design of your room. Choose a pattern with the same colors you've used in the room. You may wish to forego a pattern and use a solid color for an accent to repeat the color of your couch or bedspread. Get a sample of the fabric you intend to use and see how it looks in the room.
Ask yourself several questions:
Does it blend with the overall room design?
Does it draw attention as a focal point or does it stand out as though it doesn't belong?
Does the pattern go well with the other patterns in the room or does it clash?
Do the colors match those of the room's décor?
How much use will the window seat get? Can the fabric hold up under daily use?
Once you've answered these questions, you should have a better idea of what kind of material, pattern and colors to use.
Window Seat Cushions: Styles
There are all kinds of styles for your cushion. Each style creates a different mood or look.
Three Most Popular Styles
While you can choose from several cushion styles, the three most popular styles range from informal to formal.
Plain Cushion
You may opt for a simple cushion style that is very utilitarian without any kind of embellishments. This style goes well with a contemporary design or Asian design. Clean lines and a simplistic appeal make this kind of cushion popular.
Tufted Cushion
This style gives added firmness and a cozy ambiance. If you have a leather or velvet couch or headboard, this style of cushion would be a good choice for repeating the design. Tufted cushions can have upholstery buttons within the tufts or blind tufts with no buttons. Each has a distinct look with buttoned tufts giving a more masculine feel.
Boxed and Welted
Also called box welt or welted box, this style gives a formal appearance. If your furniture in the room is boxed and welted upholstered, then a window seat with a boxed and welted cushion would help tie the window seat into the overall room design.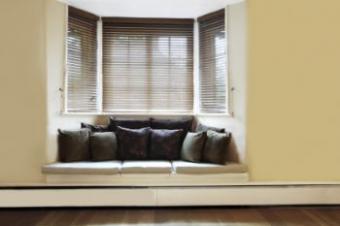 Foam Shapes
Your cushion will be determined by the shape of the foam. There are several shapes you can use for your window seat cushion. You may choose to use more than one cushion for your window seat especially if it's a large window. Two or three cushions can be used for large windows, especially if the window seat is part of a bay window in a breakfast nook.
Window Seat Foam Cushion Shapes:
Rectangle
Rectangle with rounded front corners
Rectangle with rounded front and back corners
Rectangle with rounded back corners
Trapezoid with sharp corners
Trapezoid with rounded front corners
Trapezoid with rounded back corners
Trapezoid with rounded front and back corners
Other Cushion Form Material
You may prefer a different material for your cushion form.
Three Most Popular:
Down Feathers - Available in varying quality
Cluster Polyester or Faux Down -Synthetic filler that simulates down
Cotton Batting - Available in varying density
Comfort First
You want to make sure your window seat is comfortable. If it looks wonderful but is uncomfortable to sit in, then the space won't be used. So take the time to select a comfortable cushion form.
Criteria for a Comfortable Cushion:
Foam Density - Test several cushions before purchasing
Thickness - How thick do you want your cushion?
Depth - Your window seat needs to be deep enough but not too deep for comfortable sitting.
Window Seat Locations
If you are in the planning stages of a renovation or home construction and wish to include a window seat, then you may wish to consider some of the most popular locations of this functional and inviting feature.
Popular Rooms for Window Seats:
Den - Near fireplace or between two bookcases
Bedroom - Window beside bed or sitting area
Kitchen - Breakfast area bay window used as seating for table
Office or Library - By fireplace, between bookcases, reading area
Hallway - End of hallway or nook
Staircase - Top of staircase or nook
Window Seats and Cushions
Decorative pillows add a great accent touch to your window seat cushions and can be embellished with tassels, rope cord, beads, or sequins for a romantic feel.