Add a wild and exotic look to your décor with a zebra print wallpaper. Zebra prints are still very popular and wallpaper choices are widely available for use in your home. Whether you want to decorate a whole room or just add a touch of the exotic, zebra wallpaper gives you several color options beyond black and white.
Ways to Decorate with Zebra Wallpaper
A whole room covered in a zebra print might be a little overwhelming, but there are plenty of ways you can use wallpaper without feeling like you're constantly on safari. Check out some of these ideas for using zebra print wallpaper around the house.
Create a focal point in your bedroom, den or living room by using a zebra print wallpaper on one wall. This technique of an accent wall works best on a solid wall without any windows or doors to break up the effect.
Apply fabric wallpaper to window shades.
Cover a wood valance with a zebra print wallpaper and use patterned or solid colored draperies.
Zebra print lampshade; copyright Starletdarlene | Dreamstime.com
Use molding to create feature shapes on your wall to serve as frames for your wallpaper. You can use three long vertical rectangles with concave curved corners to frame a piece of zebra print wallpaper. Stain or paint the molding.
Take the wall art idea a step further by making a wall hanging or scroll. Cut a long piece and fold the top and bottom edges over wooden dowel rods. Secure them with tape and hang it from a matching ribbon.
Cover a lampshade in wallpaper for a great addition with a graphic punch. Simply cut a piece of zebra wallpaper to fit the shade and apply it with scrapbooking paste.
Decoupage a piece of furniture for a wild element in your room décor. Use zebra wallpaper as an accent element to a chest of drawers by covering the drawer fronts. You can even decoupage a wooden chair seat and back. Be bold with this type of design element for a striking and unique look.
Make zebra print placemats for a dinner party exotic table-setting. Cut thin pieces of Plexiglas placemat size. Next, cut wallpaper to placemat size. Apply a spray adhesive to the patterned side of the wallpaper and glue it to the backside of the Plexiglas for instant placemats.
Zebra Print Colors
If black and white don't fit your color scheme, you can choose from a wide selection of colorful zebra print wallpaper. A restive green or khaki print has a good balance between wild and tame. Brown and white zebra patterns give depth and a bit of warmth. Go feminine with a pink and black print or a purple and black. Need a cheery color? Consider a sunny yellow and black or even a red and black for a more dramatic effect.
Decorating with Zebra Print Wallpaper and Borders
Zebra prints can look great in modern rooms that focus on modern furniture and accessories. Bold black and white stripes look crisp and sophisticated. You can use primary colors like a blue, red or yellow to add depth to this type of design by carrying the single accent color throughout the room.
Don't confine yourself to only modern décors. Go for a tropical look with a zebra print accent wall in a tiki-style bedroom design. A study or den filled with dark brown leather, golds, oranges or russets can become dramatic with a zebra print accent wall.
Give your print the respect it deserves by featuring it as an accent wall in a living room, den, study, bedroom or dining room. Choose a solid wall for displaying this exotic wallpaper. Make sure you have lighting elements to illuminate and show off. Crystal chandeliers are a great contrast element for such a bold pattern.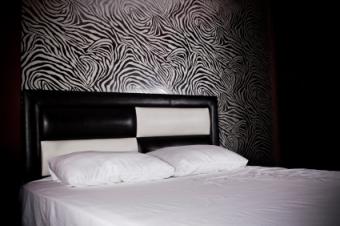 Patterns and Solids
A zebra print is great to use with other patterns and solids. In a dining room, you can use the pattern above a chair rail. Select one of the thin lined prints to give your room a sophisticated look. If this is too much print for you, opt to use the print below the chair rail. Entertain dinner guests with a light blue and white print, soft beige and black or a beige and brown zebra print color combo.
You may prefer a more subtle use of this exciting print by opting for a zebra print border. There are several that can add a touch of the wild to your room decor without the drama of an accent wall. There is a print for everyone's style and taste.
Where to Purchase
Zebra print wallpapers are made by many different manufacturers and are widely available for purchase. Check your local paint and wallpaper stores, but also be sure to check online. There are plenty of places where you can order it.
Steve's Blinds and Wallpaper: One of the best selections in zebra print wallpapers that include vertical and horizontal stripes, tri-colored stripes, various two color stripes and stylized stripes
Decorate to Go: Several zebra print choices and zebra leopard print border wallpapers
Total Wallcovering: Go pink with a pink zebra print border and several other colors available in borders and wallpapers
Dramatic Effect
A zebra print wallpaper is a great way to add a touch of drama and exotic flair to a room. It's very stylish and creates a wonderful focal point in any room. The key to success when using this print is the blending of colors, design elements and room layout.