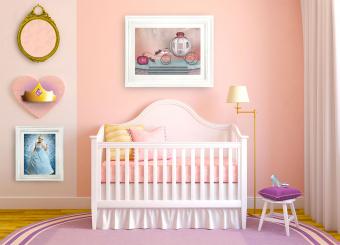 A Disney princess theme for a baby nursery decor has all types of possibilities that will crown your little one as a true princess. Incorporate touches of different Disney royalty into one room, base your room on a favorite princess, or go with a more general princess room that has lots of character-themed accessories.
Easy DIY Nursery Theme
The princess room can be put together without having to spend a lot on name-brand items. Recreate this nursery easily by using the following ideas.
A glass slipper made of plastic is a cute addition to a princess nursery, and it is a fairly cheap option - less than $10 plus shipping. Place the slipper atop a pillow in the nursery to represent Cinderella.
Hang photos you've taken at the Disney parks in your daughter's room. This is a cheap and easy way to personalize the room. Cinderella, Snow White, Jasmine, Mulan, or Ariel could all grace the walls of your daughter's room.
Channel Snow White by hanging a gilded mirror somewhere in the room. Look for one with ornate features, like the Victorian Mirror from Delacora. It's about $130 but will last for years. Once she outgrows the Disney room, you can move it to the hallway, den, or even above a dresser. You could even paint your own gold or silver mirror and hang it in the room.
Placing a print with iconic images from the stories is a great idea for the wall space above the crib. Look for a graphic featuring Belle's castle, Pocahontas near the river, or Cinderella's carriage. Select a Disney poster (often ranging from $5 to $20) and hang up with a pretty frame.
Hang up a tiara plaque to represent the royal baby sleeping in this room, just like Aurora was the sleeping beauty out of all the princesses. The plaque from Hobby Lobby is about $25 and would look lovely on any wall.
Happily Ever After Theme
Plan your nursery around Disney's Happily Ever After comforter set and you're sure to have a lovely place for your princess to lay her head. This nursery also uses a pink and white color scheme. The walls are painted three-quarters of the way with a princess pink color and the top quarter is painted white. Instead of a straight line separating the two colors, a stylized scalloping effect is created with white paint.
Design the rest of the nursery with the following items.
Princess Tiana and the Frog Theme
Consider choosing one of the newer princesses in the Disney family, such as Princess Tiana, and creating a themed nursery around just one royal character. This divine nursery can be recreated by using The Princess and the Frog theme. Add removable wall decals, such as the Tiana wall decal.
Do the following to create a room inspired by the video:
Stylize your nursery design with original artwork, such as The Princess and the Frog Watercolor Print that's available in six different sizes from watercolorposters.com. Purchase the print unframed and select how you wish to display this whimsical rendition. It costs around $10 to $75, depending on the size selected.
Add a no-sew fleece blanket that features Tiana and some flowers to complement the room's scheme. This is a lovely handmade item that is sure to look lovely - and no sewing skills are needed!
Wall Decorations Fit for a Princess
The wall is often the biggest spot available for decorations that will truly bring out the Disney for everyone. Whether you paint a mural, purchase wall paper borders or decals, or create a special crowned crib area on the wall and ceiling above the crib, your little lady will have walls fit for royalty.
Castle Mural
If you're artistic, you may decide to paint a rolling hill land with a castle for your little princess to enjoy as she grows up in her crib.
Like the birds draping fabric for Snow White, you can paint a gauzy scarf with cascading flowers and birds holding up each end.
Repeat your mural colors throughout the nursery. An area rug can be used to repeat the main colors of your mural.
Highlight an accent color with a chair or rocker cushion.
The white crib, dresser, and changing table add elegance.
A crystal chandelier completes the luxurious look of a princess's nursery.
Wallpaper and Decals
Wallpaper murals may be a better option for creating the mural effect for anyone needing an easier undertaking than hand-painting a wall mural. A large Disney castle wall mural is great for a room with chair rail.
There are several wall decals, some removable, that you can use in the nursery. Consider ones that feature several princesses, like Rapunzel, Ariel, and Belle, in one larger design.
Bed Crown Crib
Nothing says princess anymore than a crown. This bed crown is suspended above the crib with gauzy fabric draped to frame the crib. You can recreate this look or go with something different such as a pink princess canopy with pink fabric.
Shopping for Nursery Accessories
Accent any nursery with themed princess items and you're sure to have a royally pleasing look without any trouble.
Nursery Furniture Suggestions
White furniture will look lovely in any nursery and would complement all the princesses.
Stork Craft Princess 4-in-1 White Crib: This crib is a fixed side convertible crib that can be transform into a daybed, toddler bed, and full bed (with separate purchase of a full-size, double-ended mattress rails). The design has lovely bows etched on the front and back of the crib. The mattress has three adjustable positions. Buy it at Toys R Us for about $400 with free shipping.
Stork Craft White Avalon 6 Drawer Universal Dresser: This dresser matched the 4-in-1 crib. Pick it up online through Target for about $320 plus shipping.
Sunshine Megastore Carved White Side Table: This table is an ideal choice for this nursery design. It's around $80 at Amazon with free shipping for Prime members.
Designing a Disney Princess Baby Nursery
You can create your ideal baby nursery using the Disney Princesses as your theme. Keep the nursery decor in balance by using solids colors, stripes and other objects along with Disney Princess graphic designs.