One of the easiest ways to add drama to your decor is with a pedestal. There are many ways you can use this design feature to draw attention to a corner, staircase, foyer, bedroom or just about any room in your home. Turn your imagination loose and come up with your own ideas for displaying art or other objects.
Ways to Use Pedestals in Room Design
If you're looking for a way create a focal point in a room design or simply want to add depth and interest, consider using a pedestal to feature a specific item.
Pedestals for Plants
One of the most common uses of pedestals is to lift a plant to either eye level or add enough height for a vignette on a sofa table or coffee table. Pedestals can create that extra height that a planter or pot can't achieve. Select a pedestal that goes with the rest of your decor, but also complements the plant container. For example, if you have a grand piano, consider adding a pedestal and plant beside the piano for an elegant touch.
When creating a table grouping, use the pedestal and plant to add texture and height to the arrangement. Keep the objects to an odd number such as three, five or seven. You may have a table lamp on one end of a sofa table along with a small plant and need something on the other end to create a symmetrical look you want. Add a pedestal and flowing fern or other draping plant to create a waterfall effect.
Sculpture Displays
If you have a piece of sculpture you haven't figured out the best way to display it, consider using a pedestal. This idea can be used for both indoor and outdoor sculptures. A sculpture can be a bust, abstract art, small-sized human form, animal, botanical, or other subject.
Not all sculptures require a floor pedestal. Smaller pieces can be used individually or in groupings on a sofa, console or coffee table. Consider the subject matter of our sculpture and then choose an appropriate pedestal design. For example, you might choose a stylized Zen design for a pair of pedestals to display a Buddha head and the classic Zen symbol of black stacked rocks. Use these two pedestals to bookend a bamboo plant in a glass vase.
Keep these points in mind for sculpture displays:
Lighting - For this type of pedestal display, you may wish to install direct lighting, such as recessed wall lighting on a dimmer switch for interior displays and uplighting for a garden setting.
Height - You need to measure the height of the sculpture and then determine the height of the pedestal needed. The goal is for the sculpture to be eye level, so you can see the entire piece without having to crane your neck, otherwise the ideal of enjoying a piece of sculpture is lost.
Display Original Pottery, Antique Vases, and Urns
A floor or table pedestal can be used to display pottery, a prized urn or cherished heirloom vase. Be creative and design a grouping of original vases created from different mediums by using unique types of pedestals that can be made from various materials. Antique vases or urns on pedestals make a great display for a foyer, top of a staircase landing or in front of a window.
Floral Displays
A pedestal is the ultimate way to display a unique and valued floral display. Keep proportions in mind when going with this type of display option. For example, you don't want to display a small or squatty type of arrangement. Think in terms of abundance and elegant. This requires height and width as well as the colors and textures of your flowers. The arrangement should be worthy of the attention it will receive.
Placement - You can use this type of floral display in front of a window in a bedroom, living room or dining room for an elegant and dramatic effect. Other areas for this type of dramatic display include the foyer, staircase landing or alcove.
Height - You want the floral arrangement to be eye level. The average height for eye level is considered to be 58 inches. This is measured from the floor up the wall. If you arrangement needs more height, you can always add a smaller pedestal or be creative. Paint a planter/pot and invert it upside down for an attractive solution.
Book Stand Pedestal
A great addition to any home office, library or den is to transform the idea of a book stand with the use of a pedestal. This is especially if you have a book you wish to give special treatment. This could be a religious book, such as a Bible, genealogical book on your family tree or a prized antique collectors book.
Cloches, Candles and Gazing Globes
A single cloche or grouping placed on pedestals is a great way to highlight the items displayed in the cloches(s). Using a pedestal to boost the height of a candle or several pillar candles offers another use for pedestals. Mosaic candle holders can become a design focal point when placed on the right pedestal. A gazing globe in the garden, on the porch or in a sunroom can benefit with a little lift afforded by a pedestal.
Special Occasion Pedestal Displays
Pedestals can be used for specific occasions for displaying art, floral arrangements and seasonal objects. This can include weddings, Thanksgiving, Christmas and various national, ethic or religious holidays. The display should make sense and not just be a haphazard addition. For example, add a pedestal and Christmas arrangement in a vacant corner of the dining room, foyer, living room or hallway.
Lamps for More Light
If you need more light in a room, but you don't have any table space available or a floor lamp, you can still have this additional light with a floor pedestal and a table lamp. This is an especially good look for displaying a stained glass or unique lamp design that demands more attention than an end table or sofa table can give. If you have a lamp that's too short in height for your need on an end table, add a pedestal to give it the additional height required.
Create a Light Vignette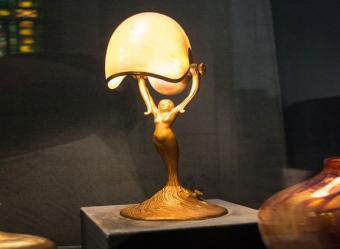 While you can use the pedestal and lamp combo by itself in a corner or by a door or mantel, you may need to add a few other design elements to create a vignette. Add a mirror or painting behind the combo. Place two other pedestals of varying heights to hold plants or use two large floor plants to create texture, depth and interest.
Choose the Right Style
The type of pedestal you choose should be determined by the overall style of your room and object. For example, you wouldn't select a Grecian pedestal design with a Corinthian capstone for a country-style room and rustic pottery piece. By using pedestal designs in keeping with your décor, they will become an intricate part of your room instead of sticking out as a mismatched or misplaced design element.
Customize to Complement
You might find a pedestal that's the right height, but it just doesn't fit your décor. There is an easy remedy. If color is the issue, simply paint, stain or decoupage the pedestal. If you're using the pedestal in a garden setting, but it simply doesn't blend into the overall design, then get creative. For example, you may decide to tile the pedestal so it matches or complements. Make the pedestal part of the art. For example you can tile the pedestal to match or complement a tiled wall.
Pedestals in Home Décor
Decorating with pedestals can add drama, elegance, height and interest to any room decor. Take advantage of different pedestal styles and designs to enhance the objects you wish to display.