China cabinets usually display and highlight items like formal china, but that isn't the only way they can be decorated. From highlighting special items to putting in a little seasonal color, there are many ways you can decorate your china cabinet to showcase your best china and a few personal touches.
Eight Ways to Decorate a China Cabinet
The way you end up decorating your china cabinet will be contingent on several things such as the style of your home, the style of the cabinet and what you have to display. That said, there are several different ways you can use your cabinet that can be adapted to fit several different styles.
Cabinet Color
Before you begin arranging your china and decorative items inside, take a few minutes to examine the color and overall style of the cabinet itself. While some cabinets look their best in wood stains, others will benefit from a coat of paint. Consider using one of these ideas based on your home's style:
Use a glossy bold color in modern homes to update your china cabinet and make it appear more in keeping with the rest of the space.
Consider using chalk paint and distressing and waxing your cabinet for a Country or "shabby chic" look.
Use a semi-gloss or matte solid color in muted tones like gray, taupe or cream for a very understated and subtle look.
Stain it in dark, rich tones to complement a formal space.
Consider painting a pattern onto the back wall of the cabinet's interior, such as a chevron or herringbone design for a playful look.
Interior Decoration Color
One way to decorate your china cabinet without overwhelming the space is to emphasize an accent color throughout the space. For example, if your china has a blue and white pattern, consider adding several other items in that same blue shade to the cabinet, such as:
Blue glass goblets
Blue pottery
Plates or dishes in a solid blue
Make sure you balance the color you choose throughout the cabinet. This may mean centering a solid blue plate so it faces out at the top and placing a few blue glass goblets on either side of the cabinet a few shelves down.
Seasonal Display Items
If your cabinet is large or has a large glass front, it can be a fun place to display some seasonal items mixed in with your china. One way to do this is to designate one area, such as the bottom shelf, as your "themed" place and keep the rest of the cabinet to its traditional use. Consider placing some large bowls, vases or trays on the designated shelf and swap out your seasonal décor from within them. Examples include:
Placing large bowls filled with fresh holly or bulb ornaments
Arranging a tray or trays with a small scene such as a sleigh, lit town or a small lawn scattered with colored eggs
Filling large bowls or vases with things like fake fruit or silk flowers
Catching Cabinet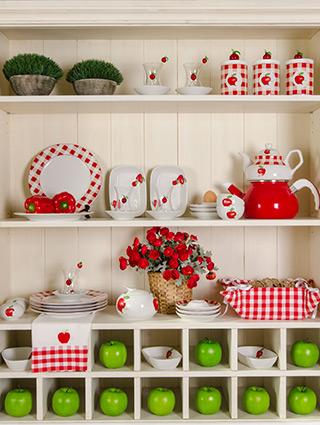 China cabinets don't have to be used for china; some people like to convert their china cabinet to what's known as a "catching cabinet." Catching cabinets are used to hold and display items that need to be stored, but not necessarily out of site. Examples of include things like:
Quilts
Tablecloths
Photo albums
Tea sets
Decanter sets
The key to using your china cabinet as a catching cabinet is to balance the items. Place brightly colored quilts folded so they can be easily seen on alternating shelves. On the intervening shelves, arrange a tea set, some open photo albums or other personal pieces. The idea is to make this a snapshot of things you think too meaningful to pack away.
Arranging Cubbies
While some china cabinets have long, open shelves to arrange items on, others are made up of smaller cubbyholes. While it can seem challenging to arrange your china in them, cubbies are actually a great way to highlight and display specific pieces.
Fill the longer or taller cubbies with vases, trophies and candlesticks.
Small cubbies can hold a single cup and saucer or a single decorative plate.
Arrange your china in the middle sized cubbies and on the shelves.
Lighting
Ensure there's plenty of good light to highlight what's inside your china cabinet. This may mean arranging certain items that catch the light toward the top or upper shelves of the cabinet, or it may mean positioning track or recessed lighting so it hits and highlights the middle shelves. Wherever possible, try to place the cabinet so it gets natural light as well to ensure all items can be seen in daylight.
Arranging China
China cabinets are first and foremost about displaying your china to its best advantage. The key here is to create some balance and an interesting arrangement of the various items. To do this you may have to divide up and arrange your china by type, as well as decide on a few pieces to highlight. For example, divide your china into groups such as:
Stacks of plates
Stacks of teacups
Stacks of bowls
Single teacup and saucers to display
Single plates to display
Then try to find some balance in the cabinet. If you place a display plate to one side, put a second display plate to the other side and stack some cups between them. If you set a single plate in the upper center, make sure it's flanked on both sides by either a place setting or a stack of dishes. Try to vary the way that things are balanced as you move down the cabinet.
Using the Top of Your Cabinet
If your cabinet is freestanding and not built into the wall, it may have some space on the top that's perfect for displaying additional items. The key here is to use it for pieces that coordinate, but don't necessarily belong inside. This may include things like:
Silver sets
Pottery
Seasonal items
Plants
Make sure that what's on the top of the cabinet matches what's inside in terms of use or color for a cohesive effect. Try to balance items evenly across the top so it doesn't feel crowded as well.
Decorate Your Cabinet
A well-decorated china cabinet can be a beautiful addition to any room. Make your cabinet the highlight of your dining room by decorating it to its best effect.