Coffee table books on interior design can be fun and functional to your room décor. This type of hardcover book makes an excellent conversation piece while providing valuable design information.
The Way Home: Reflections on American Beauty
This book explores Jeffrey Bilhuber's evolution as a decorator to the creative elite (musicians, fashion editors, etc). Bilhuber's contemporary design style embraces high-style with shades of comfort. The photos feature his various design projects that include country, urban, townhouses, city lofts and more. William Abranowicz (photographer) captures the ambience of each setting that will inspire the reader to delve deeper to discover personal style. Price: Around $48.
Haciendas: Spanish Colonial Houses in the U.S. and Mexico
Linda Leigh Paul (author) and Ricardo Vidargas (photographer) created a coffee table book on Haciendas featuring more than 250 photos of various hacienda architecture found in Mexico and the Southwestern United States. This book is sure to inspire contemporary interior designers and homeowners by the colors, textures and home designs of the Spanish Colonial style. Price: Around $75.
Haute Bohemians
Miguel Flores-Vianna (author and photographer) presents the icons of haute bohemian style. The homes of artists, potters, interior designers, and others featured reveal their personal tastes and styles in a wide range of home designs, such as country cottage, bungalows, lofts, chateaux, and others. If you're looking for new ideas, this book fills the bill. Price: Around $44.
Veranda the Romance of Flowers
Clinton Smith (author) and Veranda (author) show how to bring outside flower power into your interior with luxurious and exquisite floral designs by the world's top floral artists. The floral designs by accomplished homeowners are also featured. From side table arrangements to incredible centerpieces, this book delivers fresh ideas for décors. You will discover how you can add floral arrangements to every room in your home for great aesthetics. Price: Around $40.
Wanderlust: Interiors That Bring the World Home
Designer Michelle Nussbaumer (author) creates lush dramatic interiors and shares how and where she draws inspiration. From around the world, she selects objects to mix with other furnishings for a worldly spin on décor. The pages are filled with ideas that showcase how she creates mood and style in each interior. Price: Around $34.
Cohler on Design
Eric Cohler (author) is known as "The Mixmaster" since his forte is mixing high-end and low-end décor items, furniture, and objects for truly classic yet renewed interiors. Along with 160 photos, Cohler includes tips and design tricks to help readers achieve their authentic design style. Price: Around $32.
Beautiful: All-American Decorating and Timeless Style
In this New York Times bestselling book, interior designer Mark D. Sikes (author) and Amy Neunsinger (photographer) present the ultimate book on contemporary American style. Sikes' designs cover California style indoor and outdoor living as well as how to use various textures, colors, and layered designs. Sikes demonstrates how classic looks can be given a fresh new look that embraces a contemporary lifestyle. Price: Around $30.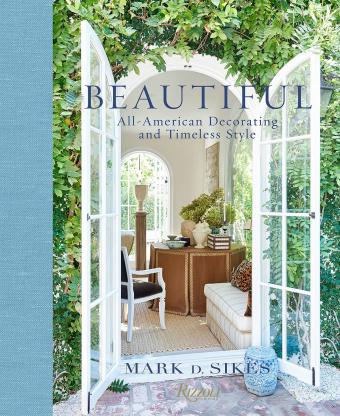 The Art of Elegance: Classic Interiors
Marshall Watson (author) reveals many of his European styles created with rich textures, attention to details and the small touches of luxury. Focusing on family history and the history of each house, Marshall sets out to blend both into an elegant home. Price: Around $38.
A Place to Call Home: Timeless Southern Charm
James T. Farmer (author) put a contemporary spin on classic Southern interiors with this 11-home tour ranging from new construction, remodels, and makeovers. The collection of homes offers a wide selection of Southern home styles and interiors delivering new ideas for your home décor. Price: Around $28.
The Seaside House: Living on the Water
Nick Voulgaris III (author) and Douglas Friedman (photographer) showcase various interior designers, such as Ken Fulk and Martyn Lawrence Bullard who created seaside serene homes. These escape havens belong to celebrities such as Martha Stewart's Seal Harbor home in Maine and Tommy Hilfiger's Miami home inspired by Pop Art. These homes present classic and new beach décor ideas. Price: Around $38.
Tips for Choosing Coffee Table Books
There are a few criteria you want to consider when selecting coffee table books.
Subject matter: Choose books that reflect your interests, career, or hobby.
Cover design: You want to select a cover design that goes with the colors and style of your home. Think of the book cover or jacket as a work of art you're using to decorate your coffee table.
Book size: If you're using more than one book, choose different sizes. You can select one larger books and two smaller ones.
Hardcover: Use only hardcover books. You can leave the jackets on the book; however, you may find the book is more aesthetically pleasing without the jacket.
Vintage: You may luck up on a vintage book. Be sure the outside and inside of the book are in good condition. People should feel free to look and read the book without worrying they will damage it.
Choosing Coffee Table Books on Interior Design
There are many sizes of suitable coffee table books on interior design that are fun and functional. Choose topics that reflect your interest in home décor that you'll treasure and enjoy displaying on your coffee table.