Versatile Design of the Barcelona Chair
The famous Barcelona chair in interior design is easily incorporated into many home décors. This iconic chair makes a bold design statement that will give any room a touch of finesse.
Modern Tile Wall
A modern tile wall leads the way for adding this beautiful reproduction in stunning chocolate leather upholstery. You can add the Barcelona chair to a modern or contemporary living room as functional accent furniture or centerpiece for your interior design.
Entryway Seating
The entryway or foyer into your home is a great place for a Barcelona chair in cream leather. Include a side table or an Art Déco style console table and mirror to highlight this great conversation piece.
Transform Bedroom Corner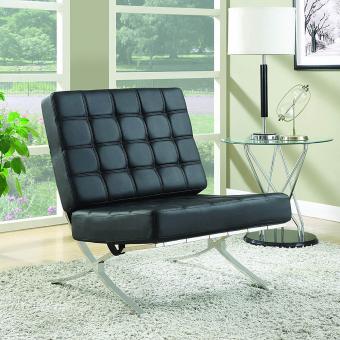 More Details"
You can transform a corner in your bedroom by opting to create an eclectic bedroom style with this black leather Barcelona chair. The leather upholstery features a pronounced square pattern.
Living Room Reading Nook
More Details"
Play up a cozy corner in the living room just for reading and contemplating life. Add a matching ottoman to make this a true place to unwind and relax.
Lumbar Pillow Touch of Home
More Details"
A living room is the perfect place for a Barcelona chair. The simple addition of a lumbar pillow ties this chair to the rest of the room design
Light It Up
More Details"
Set a cozy niche by the fireplace complete with a matching ottoman. Include a nice floor lamp for serious reading time. This set up will also work in a bedroom for a cozy sitting are when you add a matching pair of Barcelona chairs.
Urban Lofty Ideas
More Details"
If your style is chic urban loft, then a pair of Barcelona chairs will inspire you to reach beyond the typical living room design. This mid-century look will give any loft an uptown look that can't be beat.
Home Office Chair
More Details"
If you need a side chair for your home office, then a Barcelona chair will help you make a power statement. This is a great look when mixing mid-century furniture with contemporary accessories and other furnishings.
All About Contrast
More Details"
A black leather upholstered pair of Barcelona chairs add depth to a contemporary family room. The beige linen upholstered couch repeats the cushion tufting while offering a dramatic contrasting color.
Art Déco and Modern Designs
More Details"
This living room exemplifies the mix of modern and Art Déco. A touch of mid-century modern if bought to the design when a white leather Barcelona chair is introduced. The blocking color technique found in the rug ties this room design together for a sophisticated look.
Living Room Set
More Details"
A modern home style shines with a pair of Barcelona chairs and a matching loveseat. The white leather upholstery plays up this white sleek décor.
Contemporary Modern Blending
More Details"
This living room design is a mix of contemporary hard surface treatments and modern furnishings. The Barcelona chair and ottoman make this room of chrome, glass and stone inviting.
There a many examples of interior design furniture styes that may help you decide on which style looks best. Select your favorite designs, keeping the Barcelona chair in mind as an accent piece.