Small rooms don't need to look small. There are several tricks you can use to give the illusion that a room is larger than it is. These include your choices of furniture sizes, wall treatments, colors, mirrors, and other design tools that are fun and easy to use.
Seven Tricks for Larger Looking Rooms
Create a room that appears larger than it is by following these tips and tricks.
1. Use Large Furniture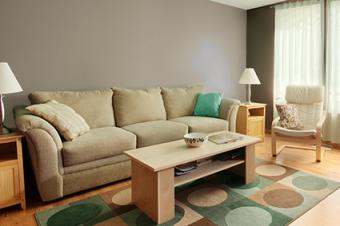 The worst design strategy is to use smaller pieces of furniture with the intention of creating a smaller scale room, which will only make your room appear as a miniature model and abnormal. Instead of downsizing your furniture pieces, go for larger furniture. This approach will make the room seem larger than it is.
The biggest temptation in this type of design is to place too much furniture in the room. The goal is a balanced design. To achieve this, you want to use only a few or a couple of pieces of oversized furniture, depending on the size of your room. The contrast between the over-sized furniture and the rest of your décor will create interest and depth.
2. Floating Furniture Arrangements
Placing the furniture against the wall is a common mistake made especially in smaller rooms. Get the furniture away from the walls and "float" it. Floating furniture means that you place it from the center out. The backs of the furniture aren't against the walls. This technique creates a more intimate seating arrangement while freeing up the wall space that gives the illusion that the room is larger than it actually is.
3. Make It Bigger With Stripes
Another great way to create the illusion of a bigger space is with stripes. Stripes create a directional element to your room. The eye will naturally follow the movement of stripes. You can either go with vertical stripes to give the appearance of heights or horizontal to create the illusion of width. Wider stripes work better in this technique than thin ones.
Use a monochromatic stripe effect of two to three hues of the same color, transitioning from light to medium to dark, using paint.
Striped wallpaper is another wall option.
A striped rug can help to lengthen or widen the look of a room.
Go with a wide striped upholstery for a pair of matching chairs.
Stripes not only add a dramatic touch to your room, but also give it needed depth. Mix patterns into your design for variety and interest.
4. Reflections Open Up Any Room
Reflection is one of the best tricks you can use to give the illusion of a larger room. Mirrors are best tool in your reflection arsenal. If your room has few windows, you can create more by place large oversized mirrors on the wall opposite a window. The mirror will reflect the window, creating a faux window effect on the windowless wall.
Additionally, the reflection of the window will generate more light in your room, helping to open it up further. To carry the reflection technique further into your room, opt for a few glass top tables or modern mirror style furniture pieces. Small pendant chandeliers suspended over glass top end table will reflect light and brighten any small room.
5. Room With a View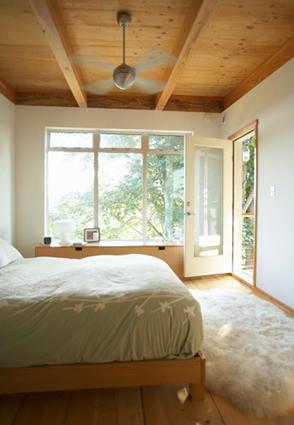 If your room has a natural view through an existing window, consider opening the window wall up by replacing the conventional window. You can use a larger window and install a patio door or simply opt for a large picture window.
Install drapery rods a few inches from the ceiling with full length draperies to create the illusion of height and a bigger space. If your room doesn't have any window space or it is limited and changing windows isn't an option, then consider creating a faux window.
Solid Wall Faux Windows
The faux window can be created by installing a pair of draperies on a solid wall. You can either keep the draperies closed or frame a faux window effect with molding, including a windowsill and then install mini-blinds or a shade that remains closed.
Scenic Mural Faux Window
Another faux window technique is to dedicate a wall or wall space to a scenic photo mural. You can also frame this with molding and draperies, but it's not necessary since the whole wall mural is visually effective in opening up a room.
6. Dramatic Color Choice
Shake off conventional old rules that a small room must only have light or pale walls. While lighter colors give the illusion of objects and rooms being larger, it's a mistake to believe you're limited to these colors. A darker wall color can make a small room warmer and cozier, since many light colors give a sterile or even cold ambiance to a room design.
Use a darker hue for one accent wall to contrast against three lighter colored walls. Many people completely ignore the ceiling, believing that conventional white is the only color choice. You can use the ceiling to give your room design greater depth by treating it as another color space. Go with a darker or contrasting color for an outstanding visual effect.
7. Artificial Lighting
Artificial lighting is another superb way to open up a room. Just as you would layer fabrics and textures, you can layer lighting to give depth, charm and ambiance to your room. Light always opens up a space. Add a few ceiling recessed lights placed on a dimmer switch. Add a couple of table lamps and one or more torchiere floor lamps that throw the light onto the ceiling.
Make Your Room Pop
Create visual layers in your room and make it look bigger through the use of colors, patterns and textural elements. Just follow these tricks to give the illusion of a larger room and you'll end up with a design you can enjoy.