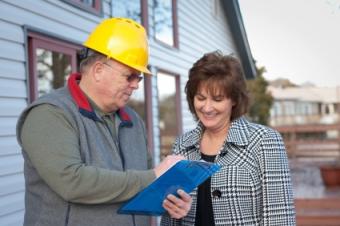 Whether you have plumbing problems, storm damage or want to make aesthetic improvements to your house, you must obtain home repair estimates. The process can be daunting if you don't understand how to decipher them.
Obtaining Home Repair Estimates
Home renovations are typically managed by a contractor. This person is responsible for managing all of the subcontractors who specialize in different building trades, such as painters, carpenters, electricians, etc. He will provide you with a home repair estimate free of charge.
When choosing a contractor, ask friends, family and neighbors for recommendations. Meet with a few and narrow the list down to three contractors you trust to provide estimates before making your final choice. However, if you need a smaller repair, you can go directly to the specialist and request an estimate. Keep in mind that prices vary geographically, and material costs shift with the economy. Estimates are usually only valid for a specific period of time. Always ask for estimates in writing.
Deciphering Your Estimate
Most estimates will include the following components:
Scope of work: This defines exactly what work will be performed as part of the contract. Check this section closely. It should cover preparation and clean up as well.
Price of materials: these are the supplies the contractor must purchase to complete the repairs. The estimate should list each as a line item with a price.
Labor: It is important to be sure this figure is part of the estimate, as it usually comprises a large chunk of your total costs.
Permits and licenses: The contractor will likely have to obtain a building permit or other licenses to perform work on your home. This figure should be included as part of the estimate.
Estimate Tips
Read your estimate carefully to be sure all necessary items are included. Schedule a meeting with the contractor to review each item and don't be afraid to ask questions or call him out on prices that seem unrealistic. Remember, it's only an estimate. The project may end up costing less, but it is likely it will cost more in the long run, especially if the estimate is not carefully reviewed. Contractors make assumptions on labor based on trends and on materials based on their current availability - factors which can quickly change. Also discuss what the payment plan will be. When does the contractor expect to be compensated and in which form (cash, check, etc.)? Before you settle on a particular contractor's estimate, ask for references and check them. Previous clients can give you a good idea of how accurate the contractor's estimates have been in the past.
Estimates may vary by season. If the weather makes construction difficult, the cost could be higher. However, sometimes contractors' work loads are much lighter in the winter and they might give you a better deal to take on your project.
Do It Yourself
If you experience sticker shock upon receiving your home repair estimates, consider which parts of the job you can handle yourself. You may not posses the expertise to handle major electrical or plumbing repairs, but you may be able to tackle tasks such as patching and painting or refinishing your floors. By doing the work yourself, you save on labor costs and other markups that you would incur by hiring a contractor or other professional. Don't take on any tasks that could potentially be dangerous; know when it's time to bite the bullet and hire a professional.
Where to Find Estimates
Before you request an estimate, use these handy online tools to calculate costs for various home repairs and improvements: