In kitchens with high ceilings, your upper cabinets may stop well below where the ceiling starts. The gap that's left may detract from the rest of your kitchen design by acting as a large, negative space. If this is happening in your kitchen, decorate it with any of these ideas to help make the most of this previously unused space.
Five Ways to Decorate
Ultimately, the best way to decorate the top of your cabinets will be determined by several factors, including how much space you have there, and what the rest of your kitchen design looks like.
Use for Display
If you have enough height, it's possible to decorate the top of your cabinets with items you want to display. Keep in mind that anything you put up there will become part of the kitchen design. This means you don't want to put plates you use every day up there, or items that clash with the rest of your décor. A few ideas of things to use include:
Plants: Look for trailing greenery you can stretch along the cabinet tops, and balance the plants themselves at equal distances around the room.
Baskets: If you have a Country-style kitchen, baskets make a nice statement that ties in well. Use a mix of shapes and sizes for interest and space them evenly.
Themed-items: If you have a kitchen theme, like grapes or roosters, consider placing a few themed items like pictures or pieces of artwork there. Prop up smaller pieces on top of decorative boxes to show them off better, and space them evenly around the room.
Pottery: Pottery is tricky unless you have enough space to ensure it isn't crowded at the top. Balance tall pieces of pottery at the ends of cabinet runs, and put shorter, wider pieces in the center.
Words and letters: Wooden signs or letters spelling out words can be a fun touch to eclectic, Country and family-style kitchens. Look for words or letters spelling out, "Eat", "Drink", "Love", "Family" or your family's name. Use letters or signs tall enough to fill the space without touching the ceiling, and allow them to stretch along the cabinets, rather than bunching them together on an end.
Vintage items: Bring a formal kitchen down a notch, or complete a Country kitchen with a few well-placed vintage kitchenware items in this area. Copper strainers, Fiestaware or old-fashioned appliances all work well.
Extend Your Backsplash
If you have a backsplash pattern or tile you love, consider extending it up above your cabinets as well. This is a great choice in modern or contemporary kitchens that don't use moldings on top of the cabinets. It's also a good choice in kitchens that have a repeating pattern such as mosaics or subway tiles as their backsplash.
To really make the look work, run the tile around your kitchen window and slightly outside of the edges of the cabinets on the sides.
Add Some Texture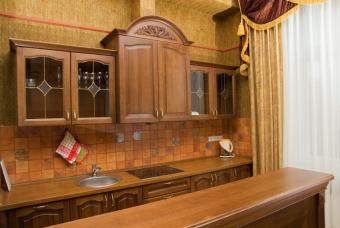 If you have a formal kitchen with a lot of space above it, or you have a soffit that you don't love the look of, adding some texture to the space above the cabinets is a great way to decorate them without adding clutter or specific items that may detract from the rest of the design.
Ways to add texture to this space include:
Using textured wallpaper
Using "tin tiles" in the wall color used in the rest of the kitchen
Use faux-painting techniques to create a leather or stone effect
When using one of these techniques, make sure the color is subtle enough to blend in with the rest of the kitchen, and let the texture be what really makes the area special.
Add a Raised Molding
One way to add some interesting detail to this area without putting items up there to gather dust is to create a raised railing or molding. This is done by taking a molding that matches the cabinet color and style and mounting it on small posts or columns a few inches above the cabinets.
Let the molding follow the shape of the cabinets around the room. The effect gives your cabinets some height, detail and interest, without making the area too busy. You can also combine this look with a few plants or other display items behind the rail.
Extend Your Cabinets
If your cabinets fall far short of the ceiling, and you like the look of the cabinets extending right to the ceiling, consider building a cabinet extender on top of your existing cabinets. A cabinet extender is essentially a wooden box mounted on top of your cabinets. Paint it the same color as your cabinets, and install a molding on top where it meets the cabinet.
You can also get this look if you have a soffit above your cabinets by painting the soffit to match your cabinets and installing two moldings - one where the soffit meets the ceiling, and one where your cabinet meets the soffit.
Complete Your Kitchen
Sometimes it's the smallest changes to your décor that truly completes a room. Try decorating the tops of your kitchen cabinets using any of these ideas, and see how completely polished an appearance your kitchen takes on.