4 Creative Rec Room Ideas That Mix Function With Fun
A recreational room is a real bonus to have in your home, providing a space to relax and unwind with friends and family or to pursue your interests and hobbies. Your rec room décor should support and enhance the function of the room.
Vintage/Retro Pop Art Theme
Whether it's used for games or drinks and socializing, a retro-pop art theme brings classic style to the casual environment of a rec room. Feel free to use a mix of retro and vintage elements from the 1950s through the 70s as long as the room has continuity, and a generalized Retro Mod feel.
Walls and Colors
Consider at least one accent wall for retro wood paneling or wallpaper with vintage patterns such as:
Large floral prints
Large geometric prints
Paisley prints
Ethnic prints
Color palettes from the 1960s and 1970s are closely related and easy to combine. Earth tones became a big hit in both decades, with nature loving hippies and fuel shortages in the 70s inspiring more environmental awareness. Consider combinations such as:
Brown and orange
Gold, mustard yellow, and avocado green
White and sunshine yellow
Pumpkin orange, gold, and avocado green
Bright orange and yellow
Bright or psychedelic colors also come into play on patterns and accessories:
Fuchsia pink and tangerine orange
Bright green and turquoise
Hot pink and neon green
Look for a retro-wallpaper at:
Vintage Wallpapers - Original retro vintage wallpapers from the 50s 60s and 70s in mint condition
Design Your Wall - Reproduction wallpaper patterns in retro and vintage patterns
Flooring
Vinyl and laminate flooring was the modern look that everyone wanted during the 1950s, 60s, and 70s. Both are good choices for rec room floors where spills can be more easily cleaned. Patterns range from graphic, pop art designs, swirling, curving lines, checkerboard patterns, multicolored geometric shapes or small colored flecks. Add texture to the floor with an overstated geometric patterned area rug or a shag area rug.
Find vintage and retro flooring at:
Atrafloor - Vinyl flooring featuring retro pop art comic designs, swirling patterns, stripes and more
Green Building Supply - Offers Marmoleum linoleum flooring, often used in vintage travel trailer restoration and vintage residential applications
Furniture
Create a cozy conversation area with a mod sectional sofa, a Noguchi style coffee table, or low profile cocktail table and vinyl ottomans that can serve as extra tables or extra seating as needed. Include a classic accent piece, such as a retro ball or hanging bubble chair, an Arne Jacobsen style egg chair or Eero Saarinen style womb chair. Molded plastic, acrylic, and PVC furnishings provide a retro mod feel.
Lighting
Try to include at least one iconic lighting style with a mid-century look such as:
Artichoke pendant lamp
Arco style floor lamp
George Nelson bubble lamps
Tiered or geometric print drum lampshades
Mushroom table and floor lamps
Sputnik style chandelier
Billow chandelier
Lava lamps are inexpensive and perfect for accent lighting.
Mod furniture and vintage lighting is available at:
Vintage Looks - A wide selection of retro and vintage sofas, lounge chairs, coffee tables, end tables, and vintage lamps
Kardiel - Search for mid-century designs by furniture type, color or iconic designers
Accessories
Posters and canvas prints inspired by modern pop art of the 1960s and 70s make excellent wall art. Think celebrities or soup cans immortalized by Andy Warhol, popular music artists or bands and comic book art. If the room has a home theater section, dancing refreshments and vintage movie posters add a nice touch.
Find retro and vintage pop art at:
Art, Craft, and Hobby Room
If your rec room is primarily used for arts and crafts, furnishings can be limited to storage and essential pieces needed for completing the tasks.
Walls and Colors
White provides a neutral background for art displayed on rec room walls. It also helps reflect as much light as possible around the room. Sticking with neutral colors and natural wood tones in an art room allows the artwork to stand out and take center stage.
Furniture
A drafting table that tilts at various adjustable angles provides an excellent surface for drawing and sketching. A tall standing easel is essential for the artist working with paint mediums. A work table or desk can be used for model assembly or sculpting.
A rolling cart provides convenient storage of paint brushes, paints and any additional tools you may have. A small bookcase with baskets or plastic bins is also an option and a good choice for a kid's art room or playroom.
Find art room furniture at:
Flooring
It's really best to avoid carpet in a room where paint or glue is likely to make contact with the floor. Click lock laminate or vinyl flooring is an inexpensive solution compared to actual hardwood, ceramic tile or stone flooring and provides the same look. Spills wiped up immediately are less likely to damage the floor.
Click lock flooring is available at:
gohaus - assorted colors of vinyl wood planks
BuildDirect - vinyl tiles resembling stone
Lighting
Directional lighting, such as recessed can lights and track lights, is an excellent choice for lighting in an arts and crafts rec room. Not only can task lighting be focused where you need it to work, other lights can be directed to highlight artwork displayed on the walls.
Accessories
Keep accessories to a minimum in an arts and crafts rec room so the focus remains on the art. Use window treatments that easily pull back or roll up to allow maximum natural light to enter the room. Keep track of any direct sunlight hitting the walls though you might need solar shades to prevent UV damage on wall art.
Find solar shades at:
The Shade Store - Shades with varying levels of transparency in a variety of colors, patterns, and styles
Graber - View the photo gallery to see the varying transparency, colors, and styles of solar shades in different settings
Hang framed art in horizontal rows like you would find in an art gallery. If your collection is large, hang them gallery-style, meaning to cover most of the wall. Sort out the arrangement on the floor first or make paper templates of the frames to come up with a pleasing arrangement on the wall. Install shelves to hold sculpted items, models, or pottery. Fill an empty corner or two with a potted plant to bring warmth to the room.
Karaoke Lounge
If your rec room has a built-in bar or you've brought in a portable bar, you already have half the formula for a fun karaoke lounge. Stock it with your favorite spirits for a little "liquid courage" and be sure to include mixers, soda, juice, coffee, energy drinks, and bottled water for non-drinking adults or those under the age of 21.
Walls and Colors
Whether it's a corner of the room or the entire area, deep colors on the walls incite an intimate, lounge type feel. Consider hues such as:
Burnt orange
Dark red or burgundy
Eggplant
Charcoal gray
Chocolate brown
Navy
You can also hang velvet curtains in a deep color along the wall, in a corner or framing a wall mounted TV, theater-style if the space is also used as a home theater.
Flooring
In a room where you want to enjoy music or sound systems, carpeted flooring helps absorb sound and keeps it from echoing or bouncing around the room, as do the curtains. If you have hard flooring in your rec room and use it as a game room, bring in a large area rug or make one using carpet tiles.
Area rugs and carpet tiles are available at:
Rugs USA - A wide selection of area rugs in contemporary designs
FLOR - A large selection of carpet tiles in various colors and patterns
Furniture
Comfortable seating with plenty of occasional tables for drinks provides the feel of a modern karaoke lounge. Think sofas, lounge chairs or armchairs focused on a TV screen or makeshift stage curtains.
Lighting
Accent lighting is key to setting the right mood and atmosphere for a home karaoke lounge. Install a dimmer switch on overhead lighting and install wall sconces if possible. Add cabaret style table or floor lamps and include a disco ball for a fun novelty light. Create colorful cove lighting around the bar, under cabinets, in ceiling coves or wall trim using LED strip lights.
Find accent lighting supplies at:
Super Bright LEDs - LED strip lights and RGB controllers for color changing effects
HouseOfRave - Disco balls in varying sizes with turning motors and spotlights
Accessories
Look for a karaoke machine that has a quality built-in sound system and display screen or one that has audio output to connect to your sound system and TV or laptop computer. The machine should be able to stream music from a variety of sources, including:
Built-in CD player
Home CD or DVD player
iPod, MP3 player or smartphone
You will need to purchase additional microphones if more than one person is singing.
For a sparkling backdrop behind the singer, hang a shiny metallic or mirror beaded curtain like you might see on a real event stage.
Find karaoke machines and beaded curtains at:
Best Buy - A wide selection of built-in or plug-in karaoke sound systems
ShopWildThings- a large selection shiny and metallic PVC curtains, mirror curtains, and real metal chain curtains
Board Game Theme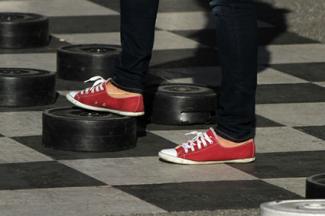 If your rec room is more of a family room dedicated to family game night and playing board games, give it a fun, over-the-top look based on your favorite board games.
Walls and Colors
Many board games are full of bold, bright colors on player pieces, cards, and the boards themselves. One option is to incorporate these colors on the walls. Paint two accent walls in bright blue and green, yellow and blue, red and green, or blue and red. You could also paint a bright strip of color at the top of the wall and include a black border underneath, like you would see on a Monopoly board. Go with red, blue, yellow, and green strips at the top of all four walls.
Furniture
Brightly colored chairs situated around the game table can be matched to colored game pieces or board colors. The chairs don't have to be a matched set - mixed chairs are actually a trendy design idea for kitchen and dining room tables. It might also be easier to just paint folding chairs or wood chairs in bright primary (red, blue, yellow) and secondary colors (orange, green, purple). White and black chairs can be added as well. Check out some of these colorful DIY chair ideas at Brit + Co.
A comfortable sofa with brightly colored ottomans, floor cushions or beanbag chairs grouped around a coffee table can also provide a casual setting for board games. If you have a large family or kids of different ages that would want to play separate games with their friends, it's good to have separate gaming areas. Include a cabinet or bookcase with open shelving for quick and easy access to games.
Flooring
A checkerboard tile floor is a great option for a board game room. Not only does it resemble a chess or checkers board, it can actually be used for one. Giant, oversized chess and checker pieces can be purchased with or without plastic boards or nylon mats. You will need an open area measuring about 8.5 feet by 8.5 feet for checker pieces 10 inches in diameter or chess piece kings ranging from 47 to 24 inches high.
Look for checkerboard flooring options at:
Armstrong - Black and white vinyl tiles or vinyl sheets
Mazer Wholesale - Inexpensive, self-adhesive black and white vinyl tiles perfect for concrete basement floors
Find giant chess and checker sets at Tosso and MegaChess.
Lighting
If possible, install a hanging pendant light over the game table. Recessed ceiling lights or track lights can also be used to direct light over the playing area. Table lamps or floor lamps placed nearby can help with task oriented illumination.
Dice themed lighting adds a whimsical touch to a board game rec room and you can find it at:
Zazzle - A great selection of dice themed table lamps, ceiling lamps and pendant lamps
Accessories
Game board-themed posters and canvas prints make perfect accents for walls. Look for used or vintage game boards at thrift stores or yard sales to mount as wall art.
A very clever idea for storing game boards by mounting them as wall art can be found at Infarrantly Creative. The idea is to build a custom, reverse shadowbox style frame which displays the game board on the front. A self-adhesive hook attached to the back of the board holds the cards and game pieces stored in a hole-punched, zip lock bag.
When you want to play the game, simply remove it from the wall and place it on a table. You don't have to remove the frame, just take the bag with the game pieces off the back.
Find game board-themed wall art and vintage games at:
Café Press - Images relating to chess, checkers, scrabble, backgammon, dice and more offered as posters, framed prints, canvas art and wall decals
Etsy - Vintage board games and handmade board game décor
Enhanced Rec Room Design
However you decide to use a rec room, inject some personality with a theme or use furnishings and décor that readily enhance the activities taking place. Your family and friends are sure to enjoy the room!