Great Ideas for Your Family Room
Choosing the right carpeting for your family room is easy once you determine the finishing style and pattern or solid color that best aligns with your design aesthetic. This includes consideration for the amount of traffic and types of activities that will impact the wear and tear of the carpeting.
Luxury Lattice Pattern
This high-end luxury family room features a lattice patterned carpet. The background russet color repeats the rich wood finish of the wainscoting and bar area while the stylized gold leaf pattern breaks up the expansive room. This saxony carpet yarn twist is very resistant to a high traffic area like a family room.
Navy Zebra Stripes
This dramatic family room look is created using a navy blue zebra stripe carpeting in a saxony weave. When using animal patterns, consider an unusual color combination, such as a tiger stripe in black and purple. This unexpected mix creates a two-point design statement of a unique pattern choice and color option.
Brown and White Chain Pattern
A family room with mostly solid colored furniture is an ideal candidate for a large-patterned carpet. This room is given depth and interest with a brown and white linked pattern design.
Beige Shag Carpet
A lush shag carpet offers warmth and texture to a family room that exudes softness and comfort. Shag carpets come in different lengths and yarns, so you can choose the one right for your home design.
Mix and Match Carpet Squares
Buy Now"
Turn your design talent loose and create your own textured pattern with 20-inch by 20-inch commercial carpet squares. This collection of carpet tiles comes in several contrasting choices, such as stripes, solid colors, plaid, and more.
Elegant Custom Carpeting Design
Not every family room is informal. This elegant design features a customized carpet pattern. This type of carpeting can be sculpted (loop and cut yarn), inlaid (carpets used to create patterns) or hand-carved (shaving a pattern into the carpeting).
Brown Plaid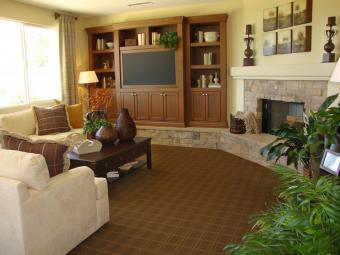 A plaid carpet makes an interesting floor pattern. A subtle statement like this brown and gold plaid anchors the entertainment center, keeping it from appearing to float above the hearth system. You can use any color combination in a plaid carpet to unify your family room design.
Asian Inspired Design
A traditional Asian carpet design can be used with many furniture styles. You can go neutral in your upholstery choices or opt to pull one of the colors from the rug to repeat in your fabric choices.
Geometric Patterns
This classic geometric design carpet can be used with contemporary or modern furniture. Add a few pillows with different geometric patterns to create depth and to add interest to the room's overall design.
Commercial Carpet Squares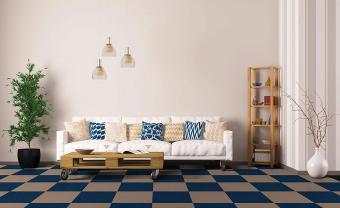 Buy Now"
Some people may prefer utilitarian carpeting by choosing a commercial grade carpet. These carpet squares can be added to an existing hardwood or vinyl floor in the family room. This checkerboard design goes well with modern, contemporary and Art Deco interiors.
Modern Modern Colors and Shapes
This throwback to a 1970s color scheme carpet design with stylized geometric patterns is a good choice for a modern family room. You can use this same theme with a more contemporary color palette too.
Before you set out to buy carpeting, consider various family room design possibilities. You may find a photo gallery of living room ideas to be a source of great inspiration.