Step into an interior design rewind with a modern update on trending 70s decor. The interior styles of the 1970s are back in a beautiful way, and they're bringing back all the classic looks of the decade with new, modern updates. Add warmth and a laid-back vibe to your space with designer secrets on how to decorate with modern 70s home decor.
Update Wood Paneling
Possibly one of the most style defining characteristics of 70s interiors is the classic wood paneling. Most often seen in warm or dark wood tones with a thin vertical application, wood paneling could be found in nearly every 70s home. Update the old-fashioned look with a modern application. Choose paneling in lighter, more neutral tones and arrange panels horizontally, staggered, or in a herringbone pattern to achieve a modern 70s style.
Introduce Leather
Adding leather to your space in some capacity will give a subtle nod to 70s decor of the past. Use the material in modern ways to keep the style up-to-date. Try sleek leather chairs, leather throw pillows, or decor items wrapped in leather like vases or trays.
Add Some Velvet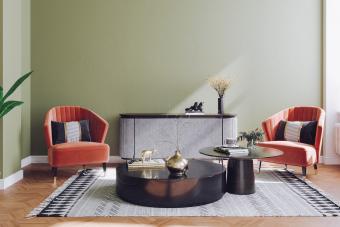 Another update to a trending 70s material is a modern application of velvet. Velvet, depending upon how it's used, can take your decorative style in varying directions. Stick to the casual and streamlined qualities of the modern 70s trend by using velvet on drapes, bar stools, accent chairs, and small ottomans.
Find Western Inspiration
Though western trends were found in 90s home decor, they really started in the 1970s. Western design themes can stand alone as a singular style, but they also blend effortlessly into modern 70s interior design. Use the colors, textures, prints, and materials of the 70s western style in your decor today for a fun modernization of the theme. Be subtle with fringe on pillows, a rug in faux animal hide, or the warm colors seen on the western plains.
Update Your Warm Toned Greens
If asked to picture the green home decor trends of the 70s, your mind probably jumps to the avocado and pea tones popular during the decade. In the modern 70s style of today, the warm greens reminiscent of produce make way for the deeper, muted greens of the forest. Still warm and welcoming, these darker tones like sage, olive, and gray-tinted greens will keep your space feeling updated when embracing the styles of the 1970s.
Decorate With Warm Glass
Colorful glass is trending in multiple interior design styles, but the modern 70s style is where it's seen in warm shades. Amber, brown, and orange shades of glass in decor, light fixtures, and furniture details will bring more warmth to the room and showcase those laid back vibes the 70s made so popular. Look for vintage colored glass or try modern styles of vases, glassware, and lighting to keep the style of your home fresh.
Keep Wood Tones Warm
The 70s gave us warm colors, warm glass, and even warmer woods. Keep that warmth in your home but apply it in an updated way. Swap the orange and brown wood tones of the 70s for darker wood tones that still have a touch of warmth. You can even use lighter wood tones that showcase a subtle warmth like honey and blonde shades.
Update Burnt Orange
The burnt orange and sienna shades of the groovy decade will always be reminiscent of that time. Update those warm western shades with a classic shade of camel or a redder shade of rust. Use these colors in furniture, art, textiles, or your home's entire color palette for a rich and inviting atmosphere.
Make Interiors Monochromatic
The 70s home interior style saw the popularization of monochromatic interior design schemes. Choose warm colors in similar shades to create a monochromatic color palette for your home that brings back the warmth of the 70s. Try updated warm colors like olive and sage green, terracotta, camel, and rust. You can even try a warm and neutral monochromatic color scheme with browns, tans, beiges, and creams.
Update Geometric Prints
The styles of the 70s perfectly complemented the trending geometrics of the time. The shapes of the time were rounded geometrics with flow, curves, and movement. Most geometric prints were large, bright, and featured contrasting colors. With modern 70s style, give the look an update with more structured geometrics, but keep the rounded shapes. Try blended colors rather than contrasting shades and explore shapes of all sizes rather than just oversized prints.
Bring Back Flower Power
The floral hippie prints defined the style of the 70s. Florals can be a classic print that stands the test of time when used correctly. Swap the muted floral shades of the decade for brighter, more saturated florals. Try prints that look more like watercolors and choose florals with light background colors like white and cream in place of the browns and greens seen in traditional florals of the 70s.
Go for Classic Checker Print
Checker print is a timeless choice for home textiles and upholstery. Opt for small-scale checker prints in soft colors for an updated take on the classic pattern. Find clever ways to use the classic black and white or black and brown checker prints that lived on well past the 70s interior styles.
Incorporate Retro Art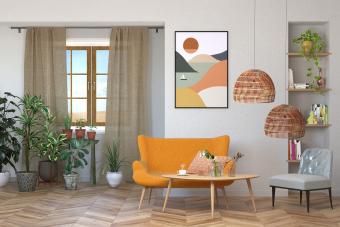 Sunbursts, pop-art, and psychedelic prints of the 1970s can still be used in your home decor today. Incorporate the retro art of the decade in your new 70s decor to give a nod to the original style and to help your art pieces stand out as truly unique and timeless.
Use Disco Inspired Decor
You can't have the style of the 1970s without a little disco. A disco ball-inspired light fixture, a glitzy vase, or a sparkling catch-all tray will give your modern 70s decor a little glamor from the disco era. You might also consider a light fixture that features the popular sunburst style of the 70s in a gold or bronze finish.
Use Wicker or Rattan Details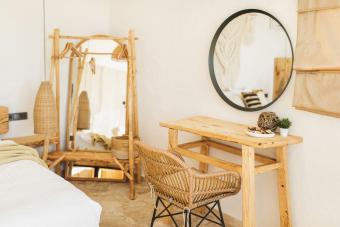 Wicker and rattan are currently trending materials in home design, and they can fit easily into the modern 70s decor style. Use wicker in chairs, side tables, and decorative baskets. Let rattan stand out on chair backings, cabinetry, and light fixtures.
Try Vertical Tile
With the new zellige tile craze, incorporating the vertical tile trend of the 70s into your modern home design is easy. Swap horizontal subway tile or bricks for vertical tile arrangements on backsplashes, showers, fireplace hearths, and feature islands.
It Isn't 70s Decor Without a Bar Cart
Embrace the entertainment hub of every 70s dinner party with your own take on a mini bar. Many homes of the 1970s featured large, built-in bars. You can recreate the trend with your own bar cart to save on space. Fill your cart with your favorite drinks, plenty of glassware, and a couple of decorative items to keep things stylish.
Be Inspired by Bohemian Decor
The bohemian decor trend has been popular in the last decade and with the reintroduction of 70s style, it continues to live on. Let modern bohemian style flow effortlessly into the hippie trends of the 70s. Add macrame, Aztec prints, faux willow branches, and colorful vintage rugs to your space for a modern take on bohemian style.
Where to Find 70s Style Decor
When looking for specific style pieces for your modern 70s decor, try a mix of new and vintage items. Look for items that you truly love and feel you can use for years to come. When selecting trendier items, opt for the more affordable option. For items you plan to use for years or even decades, don't be afraid to invest a little more. For truly vintage items, check out your own local antique shops for decorative pieces that are truly from the 1970s.
Make 70s Home Decor Stylish Again
Groove into the 70s interior design trend with style and flare. Add touches of the style to your home in subtle decor elements or fully embrace the new flower power with a modern 70s decor theme. However you decide to add the 70s style to your home, this nostalgic and laid back trend will create a warm and welcoming atmosphere for you and your home's guests.