Design a stunning extension of your home with a stylish lanai layout. Simple updates and elegant decor touches bring modern home design trends to your space. Your newly decorated lanai will quickly become your new favorite retreat and the entertaining hub of your home.
Use Sun Safe Furniture in Modern Styles
Chances are your home's lanai gets an abundance of sunlight during some part of the day. For this reason, choose your furniture with sunlight exposure in mind. You can use outdoor furniture or furniture upholstered with fade-resistant fabric so your colors stay fresh and vibrant. Look for styles that still work well for interior spaces and take this opportunity to select a sleek or modern design that will help your lanai appear thoughtfully updated.
Choose Classic Color Combos
Though you want your lanai to look fresh and updated, you still want to choose a color scheme that is timeless. For furniture or large decor items you are investing in, choose classic color combinations that stand the test of time. Try color schemes like beige and cream, navy and white, tan and black, or various shades of green.
Look for Light Wood Tones
For a classic look that still feels streamlined, look for light tone wood details. These wood tones will appear more neutral against your other decor and set the stage for more vibrant details to take the spotlight.
Include a Dining Space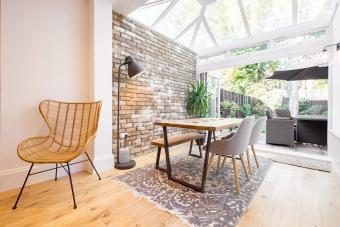 A lanai is a great space for relaxing, entertaining, or dining. Include a dining space on your lanai for the perfect dinner party setting every time. Look for lightweight furnishings so bulky furniture doesn't overwhelm your room and opt for benches if you're looking for a casual vibe. For a smaller lanai, you can swap a traditional dining table for a bar height table and stools or a small bistro table arrangement.
Add Luxurious Details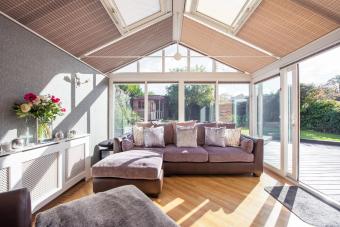 Your lanai doesn't have to showcase a coastal or Nantucket style. You can go the unexpected route and include plenty of luxurious and glam details in your space. Velvet, fur, leather, and plenty of shine will set your lanai style apart from everything else in your neighborhood.
Feature a Textured Wall
Add character and texture to your lanai with a fun feature wall. A slat wall, exposed brick wall, or a stone wall will add natural elements to your lanai. Complement these elements with wood, concrete, or rattan furniture details or contrast them with sleek acrylic, glass, or marble details.
Have Fun With Color
A lanai is an opportunity to bring vibrancy and rich color to your home. You can get away with more daring color choices in spaces like sunrooms, lanais, and patios, so lean in and try the color you have longed to introduce to your interiors. Saturated greens, rich blues, and vibrant corals work well in lanais, whether on walls, furniture, or small decor items.
Mix Materials
If you plan to keep your lanai neutral in decor, you can still add plenty of interest by mixing materials. Try to include one or two elements in as many natural materials as you can. Look for stone, rattan, wood, ceramic, linen, and jute details that blend well and showcase similar neutral shades.
Include Some Cozy Elements
Be sure to add some softness to your space by including a few cozy elements within your lanai. An inviting chair or swing will welcome you to relax and recharge. A soft rug underfoot will help the room feel complete, while a few floor cushions will add to the casual atmosphere. A collection of pillows and a throw blanket will finish the look for a cozy lanai that you and your family will love for years to come.
Relax & Enjoy Your New Lanai
With a freshly designed space, you and your family will wander to the lanai for many reasons throughout the week. Whether it's a Friday night dinner party, a Saturday morning breakfast, or a Sunday afternoon getting lost in a book, your newly decorated lanai will become the heart of your home.