Black and White Décor
There are many great ways to decorate the living area of an apartment. Smaller spaces offer great creative opportunities. Start with color choices. You can create a stunning look when you choose two colors for your color palette, such as black and white.
In this living area, the background color is white with the layering of black throughout the room, giving it depth and a stark contrast. You can even use your bicycle as part of your wall art while finding a new storage solution!
Color Contrast Creates Drama
The use of color can have a dramatic impact on any room décor.
If your lease allows you to paint the walls, then use them as a canvas to introduce a dramatic color, such as deep red walls. Darker red curtains with white sheers bring a strong contrast design into the room.
Add furniture to continue the contrast effect. Repeat the wall color throughout the living room through wall art, pillows and various accessories, including an area rug.
Add Ambience With Electric Fireplace
Few apartments have the luxury of a wood-burning fireplace, especially with commercial building codes. You can circumvent this inconvenience by recreating the ambience with a few alternative items.
Select an electric fireplace in the style that best suits your décor style and enjoy the romantic effect it gives to your living room. Setting it inside the mantel form will only add to the design.
Add Lighting With Sofa Table
So often end table lamps just don't suit the room design, much less provide the right angle of lighting needed. The solution is a sofa table placed between the wall and sofa.
This placement provides the height needed for a matching pair of table lamps directly behind the sofa. These lamps frame a large piece of art. Add accessories on the sofa table that are appropriate in height to complete this warm and very effective lighting style.
Layering for Elegant Design
The art of layering textures, patterns and colors is one of the most effective ways to give any living room an elegant touch.
Pay close attention to fabrics that offer great tactile appeal to soften and lend a touch of elegance to your creation. Don't forget a luxurious rug and an abundance of gorgeous pillows to complete the look.
Faux Wall Panels
Many apartment leases forbid painting the walls, much less installing wallpaper. You can bypass this by creating wallpaper panels.
Create the shapes and sizes you desire for your panel, using lightweight sheeting. Attach wallpaper to the boards and frame with plain or decorative mouldings.
Hang the panels the same way you would paintings and enjoy a new and beautiful living room!
Create Illusion of Larger Space
There are a few of ways to make your apartment living room appear larger.
Stripes: A wide striped area rug visually expands the floor space.
Less furniture: Use a large sectional and add a unique curved back or wing back chair.
Small coffee table: It breaks up the straight lines formed by the L-shaped sectional and striped rug.
Round plant: Repeat circular shapes with pot and topiary.
Smaller Scale Décor
The ideal way to enlarge small living rooms is to opt for a smaller scale design for a visual illusion.
Instead of a sofa, a loveseat is used for the main seating area along with two pairs of large pillows and a comforter for a cozy look.
This stark white décor also features a narrow one-drawer end table with a bottom shelf and a tall shelving unit. A modern mesh chair and a cube-shaped coffee table angled sideways make the room appear larger than it is.
Depth and interest are added to the room design by repeating the zigzag pattern with wall art, pillows, and the overhead light.
Expressing Personal Style
It's easy to make an apartment feel like home once you imprint your own style on the décor.
This living room shows the owner's style with the choice of sofa, lamp, painting, chair and plant as well as the shag rug.
Go for not just color but the furniture designs to express your personal taste. Pay attention to fabric textures and patterns to complement the furniture styles.
Unique Use of Shelving
One way to create a truly unique visual room design that's also highly functional is with cabinet style units. Create a unique wall design by the way you hang each unit and you can also take advantage of instant shelving that's often needed in an apartment.
This style offers great storage and shelving options. A living room design like this takes a modern or contemporary décor to a new level with these fun wall cabinet and shelving system.
Fabric Accent Wall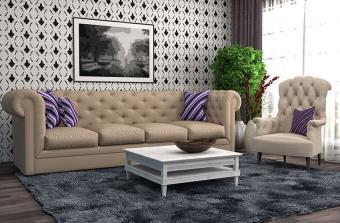 Add a fabric wall to your living room apartment in the following ways:
Use Velcro strips used for photo hanging along the top and drape fabric to floor.
String a wire across the top width of the wall and attach fabric.
Use a removable hobby fabric adhesive to apply along top, sides, and bottom of the fabric and attach to the wall.
Sectional and Decorative Rug
Take advantage of your space with an L-shaped sectional, glass coffee table, and dramatic striped rug.
Create an open and inviting look to your living room with an L-shaped sectional couch.
A vibrant red and black striped area rug anchors the white sectional couch.
Glass-top tables, like the coffee table, are excellent ways to give the illusion of a larger space.
Colorful Wicker Country Style
It's easy to create a country look for your apartment:
Use wicker furniture with floral cushions.
Add a rustic wooden table perfect for supporting tea time goodies.
Use removable wall decals to create the floral border.
The windowsill and a glass top metal table both host several potted flowers and plants.
Use plaid, solid, and fabric stripes for pillows, shades, and draperies.
Using Chairs for Seating Option
A great look for any apartment is to use chairs in lieu of a couch or loveseat.
This room design features a couch (lower left) with a matching pair of slipper chairs with lumbar pillows and a leather wood frame chair. The chair colors are picked up in the area rug.
The curving lines in the area rug design are repeated by the coffee table legs. Once more, a glass-top table creates the illusion of space.
Removable Faux Accent Wall
You can completely transform the look of your apartment living room by adding a textured accent wall. This one is created using removable wallpaper in a brick design.
The addition of this accent wall makes for a cozy design. The wall is further highlighted with black and white photos framed in black. Mocha and a chocolate throw pillows on the tweed couch repeat the colors in the striped area rug. The depth of this design gives a rich and cozy living room.
Living room designs can inspire you to tackle other rooms for a cosmetic facelift to bring design continuity to your entire apartment.