There's nothing more all-American than a home-style BBQ restaurant. Rustic accents incite a farmhouse or western ranch feel with the promise of family style home cooked meals and signature BBQ flavors from well-kept secret recipes.
Seating With Home-Style Comfort
Comfortable seating reminiscent of country kitchens and barnyard cookouts can be a good starting point for your restaurant décor.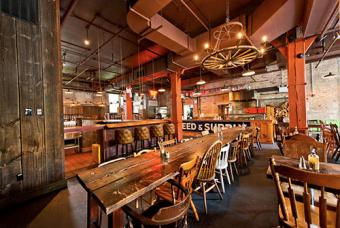 Depending on your budget, go with simple wooden dining tables and chairs in early American styles or upgrade to leather or cowhide upholstered seats. Mix in booth seating with leather or brown vinyl upholstery.
Long wooden tables with bench style seating are another option, similar to picnic tables.
A trending look in residential design involves using a mix of different wooden chairs around a farmhouse style dining table. This look would translate well in a BBQ restaurant, injecting fun, quirky character.
Country Colors and Patterns
Red and white checked or gingham patterned tablecloths provide the welcoming feel of a country home. Any treatments used on windows should also impart a country or casual feel. Repeat the gingham pattern on cafe style curtains or leave windows untreated and install simple solar shades that can be pulled down to block the glare of afternoon sun while still permitting views outside.
Rustic Tableware
Plated foods, drinks, and tableware should have a country feel.
Serve drinks in Mason jar glasses, which look just like the jars but contain handles.
Present sizzling dinners hot off the grill with serving skillets placed on wood liners.
Keep a casual feel to table settings by placing utensils in a rustic caddy made from tin or wood.
A vertical paper towel holder made from wood or iron can hold a full roll of "rustic napkins" for saucy BBQ hands and mouths.
Handmade tableware with the slight imperfections of artisan crafts has become the preferred look in many restaurants, according to Hotel Management. Farm fare served on enameled iron, handmade glazed ceramics, or stoneware in earthy colors of gray and brown appeals to diners. This style of rustic tableware fits perfectly with a BBQ restaurant theme.
Reclaimed Wood, Brick, and Salvaged Items
Reclaimed materials can help you cut costs, decorate more eco-friendly, and add character to your restaurant.
Walls and Flooring
To further enhance a farmhouse or western ranch feel, cover walls and floors with reclaimed wood planks. Weathered barn wood is ideal but most any rough and rustic reclaimed wood will work. For inexpensive wall paneling, gather up wood shipping pallets from warehouses or department stores, with permission of course. Dismantle the planks and mount them as they are or stain them before mounting to the wall.
Reclaimed brick floor tiles provide the feel of an old country farmhouse and make a wonderful option for timeless, rustic flooring. This style of flooring can be purchased through Stone Farm.
Old shutters are another clever idea for a rustic wall covering that may cost little to nothing depending on your source. Consider using them near actual windows or to frame decorative objects.
Salvaged Farm and Ranch Décor
Check salvage yards for corrugated, galvanized steel panels which can be used for farm-themed wainscoting or a rustic accent under a bar counter or covering the awning over the kitchen. Salvaged equipment and materials from farms and ranches can provide a plethora of decor for a BBQ restaurant, including:
Tractor seats or old saddles for barstool seats
Vintage steel milk cans to fill empty corners
Old wooden barrels as freestanding accents
Cast iron gears as wall décor
Vintage tin or wood signs as wall and bathroom décor
Old barbed wire made into decorative accents (hung high to avoid injuries)
Leather bound steer horns mounted over doorways
Old horseshoes and cast iron stars as wall décor
Vintage pitch forks or rakes mounted on the wall
Cow or pig figurines
Salvaged farm and ranch décor can also be found on eBay and Etsy.
Country Style Lighting
Farmhouse pendant lights, also called barn lights, are a type of vintage industrial light with a signature dome-shaped metal shade. These simple pendant lights make perfect overhead lighting for a BBQ restaurant.
Wagon wheel chandeliers impart the feel of a western ranch. Wrought iron chandeliers and rustic wall sconce lanterns are also good options.
For soft, tableside accent lighting in the evening, light miniature vintage oil lamps placed along the center of the table.
What to Avoid
Avoid using furnishings that appear very sleek and modern or heavy fabric linens on tables that appear very formal. If installing track lights for additional ambient light, avoid shiny chrome fixtures and hardware; opt for black so the lighting blends in with the ceiling. A BBQ restaurant should feel rustic and casual, almost as an extension of the farm that produced the food.