Peonies and Roses
A big part of any brunch is the table decoration. You can set the entire mood and ambiance of your brunch by the selections of colors, flowers, containers, and other elements used in the centerpiece.
This spring brunch table decoration features a bouquet of luscious white peonies tinged with peach colors in a round glass vase. An oversized hurricane candle holder supports an ivory colored pillar candle with floating rose petals.
If you grow peonies, you can snip several to use in this table decoration. Be sure to add a few flowers that haven't fully opened to create further texture and interest to the bouquet. For that extra touch, place a silk rose at the place settings beside each place card. Guests can take the rose as a brunch favor.
Grate Brunch
There are two themes going on with this table decoration. The first is color. Red and white daisies, as seen in the full bouquet, set it. These colors are repeated in the vintage-looking kitchen striped cloth napkins and plates. The other theme is the whimsical choice of using a grater as a vase.
Use a wood cutting board underneath the grater for the centerpiece base. To create this vase, simply place a tall slender vase inside the grater. Fill half-way with water, top with the grater, and then add the flowers. Be sure to make the bouquet full, camouflaging the grater handle.
Set a mini-grater and several red and white flower heads on the board. At each place setting, use a small grater for a place card holder and leave a single red daisy in the center of the plate.
Simple Christmas
It's always fun to get together with friends or family during the holiday season. Plan a Christmas brunch and create an easy centerpiece with an oversized, tall glass vase filled with multi-colored ornament balls. Scatter several of the colorful ornaments along the center of the table.
Place a small favor inside a simple white box tied with a brown satin ribbon. A great Christmas brunch favor is a tree ornament. Use a small glass votive candle and holder at each place setting for added ambiance.
Casual Picnic Brunch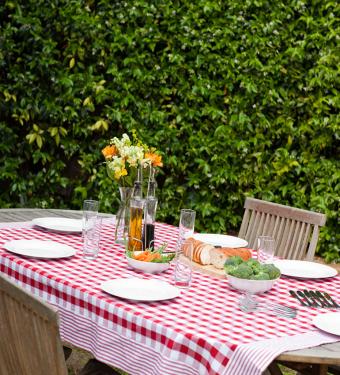 Make a summer brunch extra special with a nostalgic red gingham tablecloth reminiscent of a picnic. Keep this brunch table design simple with a vase of wild flowers freshly picked from your garden or perhaps a local flower market. Make sure you place the table in an aesthetically pleasing area of your yard, patio, or flower garden.
Elegant Occasion Table
Show off with luxurious table decorations for an elegant occasion. This may include bridesmaid luncheons, milestone birthdays, or upscale baby showers. An elegant brunch table starts with fine table linens and napkins. These table decorations are placed along the banquet table style of seating, approximately one foot apart, depending on table length.
These fluted vases mimic the long stems of tea rose plants. The bouquets are made with roses, peonies, alyssum, or Angelica (tiny white flowers) and fragrant flowers like white Tuberoses. Tie a pink satin ribbon around each vase.
You can place various mini-framed thank you cards, poems about friends or word art sayings about friendship in the center of the table between the floral bouquets. Place a small gift or favor at each place setting.
Patriotic and Colorful
These fun red, white and blue decorations are ideal for any patriotic brunch, such as the 4th of July, Memorial Day, Veterans Day, or a military homecoming or graduation celebration.
Use either a red and white striped or flag style tablecloth. The polka dot dinnerware adds a whimsical touch as does the white and blue polka dot handled flatware.
A stitched ribbon looped through a heart-shaped place card has a stylized message with the love symbol (heart) and an American flag on a stick. The linen blue napkins, like the dinnerware and flatware, are a medium blue that add to the whimsical approach to this brunch theme.
Place several blue glass vases with bouquets of American flags on a stick along the center of the table.
Bird Lovers
While this table centerpiece can easily work for a bridal brunch, it's also ideal for a friendly bird watchers (birdies) brunch get-together.
Create this type of centerpiece using any kind of birdcage whether it's wire or bamboo. Fill the cage with baby's breath and add a bird on top. You can always purchase wood or toy birds and paint to match the birdcage color. If working with long tables, use more than one birdcage and place sprigs of baby's breath on the table between the birdcages along with various bird statues.
For a bridal brunch, alternate birdcage decorations with floral bouquets. Instead of baby's breath, scatter several rose petals along the table between the birdcages and floral bouquets.
Citrus Delight
These summertime table decorations are easy to make. Fill either gallon jars or hurricane lantern candle holders with lemons and limes. Place one of the pale green colored plates upside down on top of the container. Holding the plate securely in place, turn the jar or hurricane lantern upside down. Decorate the plate with white daisies and set the lemon and lime centerpieces onto the table.
To finish decorating the table, select striped cloth napkins that repeat the blue tablecloth, and lemon, lime, and green plate colors. This is a simple, but very vibrant and fun table decoration for a summer brunch.
Aqua and Roses
These crisp fresh table decorations rely on the aqua colored table runner, napkins, and chair cover for color. Cream colored roses are displayed in different vase sizes. It's perfect for an elegant beach-themed brunch.
You can create this look by using three sizes of glassware. Using a glass adhering glue, attach satin floral ribbons around the glasses. Faux diamonds are scattered over the table runner. Use small votives to provide greater sparkle to the faux diamond crystals.
Succulent Woodland
This centerpiece is created using cut twigs glued to a piece of wood that's covered with a green fabric topped with a sheer brown fabric. A dozen white roses are at the center of this design surrounded by the twig wall. Each end of the design features camellia leaves and a large rosette succulent along with smaller succulent plants.
The large centerpiece means little else is needed to finish decorating the table. Just add a cream colored tablecloth and matching runners to the table. Finish by adding favor boxes that feature a place card strip and butterfly top closure. Set one in front of each place setting.
Easter Brunch
Infuse Easter brunch with color by using peppermint tulips and yellow egg candles. This table design uses poached egg holders for the egg-shaped yellow candles.
A small wicker Easter basket is filled with lemon-colored eggs and a white and yellow-striped egg. Yellow and pink gourmet jellybeans are scattered over the table and place mats with wisps of yellow and white ribbons.
Each dinner plate is decorated with a tulip, daisy and a bow-topped egg-shaped box along with a linen napkin.
By the Sea
This table decoration is great for any seaside brunch or beach lover. Thoroughly rinse the blue aquarium gravel to remove any dust. Add to the aquarium. Next, set a saucer on top of the gravel and begin pouring water into the bowl letting the water stream hit the saucer. This will prevent disturbing the gravel and causing the water to become murky. Remove when the saucer is floating towards the top of the bowl.
Use aquarium bamboo greenery for this one to avoid any possible contamination to the fish from real bamboo. Bury the bamboo base underneath the gravel. Treat the water per aquarium instructions before adding a few gold fish. Place aquarium in the center of the table.
In front of each place setting use a bowl shaped votive holder filled with gravel and enough water to float a round votive candle. This brunch decoration is sure to be a hit!
Beautiful Country Brunch
A simple rectangle shaped box (planter style) holds a collection of blue succulents, hydrangeas, rosemary sprigs, spanish moss, white roses and a few other flowers. It is placed on top of a burlap table runner that spans the length of the table.
The blue succulents are spaced evenly throughout this arrangement. Small Mason jars filled with colored sand support votive candles, along with other types and sizes of votive holders. These are placed in a combination of one and two in front of each place setting.
The napkin rings are made from simple jute twine and tied in a bow. Napkins are stacked together neatly, adding to the decorations. This table decoration is ideal for a lake house or countryside brunch.
Fall Bounty
This table design takes advantage of the season's bounty. The main star is the pumpkin used as a vase. Create the bouquet using fall flowers combined with berries, wheat grasses and Chinese lantern pods. Place vase and all inside the carved out pumpkin shell.
Next, drape a garland of fall-colored glass beads along the table and around the centerpiece. Apples and striped gourds are scattered about the center of the table for added decorations. Mercury glass mini-vases support several yellow daisies. A vase is placed in front of each place setting.
Modern Chic
This is a chic table design. Start with a medium pink tablecloth topped by a black and white runner in a damask pattern. A glass vase shows off the wrapping paper used to cover the inner container. This paper has a horizontal black and pink stripe. The arrangement is filled with lots of greenery leaves and plant fillers.
Use several white flowers but make sure you include pink ranunculus. Go with either solid white or black colored china for a stunning chic brunch table setting.
Find more ideas by exploring cool floral designs to add to your brunch table and home décor scheme. And when you're ready to share your brunch on your social media, check out these fun brunch captions.