Stairs, hallways and ceilings are often left out when considering custom details that help transform a house into a home. Any component of a staircase can be enhanced or embellished, depending on your budget and your skill level with do-it-yourself projects. Even if you rent your home, you can decorate your stairs with materials that can be removed later without permanent damage.
Stair Riser Ideas
One advantage of embellishing the stair riser (the front vertical surface of each step) is that you don't have to worry about foot traffic wearing out or damaging the materials added there.
Tiled Risers
A popular feature seen in many Spanish, Mexican and Mediterranean style homes is tiled stair risers. Tiled risers look especially striking with colorful hand painted ceramic tiles such as Talavera tiles.
Bright, complimentary or contrasting colors like blue and yellow make the intricate patterns and motifs really pop. Use different patterns on each step or alternate between two or three patterns.
Stenciled Risers
A less expensive option than hand painted ceramic tiles are stair riser stencils. Look for stencils that create the look of ceramic tiles or choose a completely different design. The process for applying the stencil will vary by the manufacturer. However, the typical application involves painting the riser in a background color. Once that is dry, secure the stencil in place and use a foam roller or stencil brush to apply the pattern or design in a different color.
Contact Paper
Self-adhesive contact paper is a great decorating medium for those who rent their homes and need to remove all decorative embellishments before moving out. Carefully measure each stair riser before cutting the appropriate sized rectangles. The risers will most likely have slight variations in size.
Recycled Materials
If you are renovating another part of your house (or know someone who is) and will have leftover materials available, consider the option of using recycled materials to embellish your stairs.
Painted Steps
Painting the stairs can add a lot of character. The entire step can be painted, including the top and riser, in two contrasting colors such as black and white or you can stick with just the riser to avoid the extra maintenance the top of the step will need.
A monochromatic scheme called ombre -starting with light shades of one color at the top of the staircase and ending with a dark shade of the same hue at the bottom- can make a stunning staircase.
Another idea is to paint the stairs white and then add a darker color going down the middle of the steps so that it looks like a carpeted stair runner. If you are good at painting, all you would need is some painter's tape to keep the lines crisp and sharp.
Carpet Tiles
Use carpet tiles to create an interesting look to your stairs. The tiles can be added to the top and riser of each step or to just one of these parts. Create a unique pattern using different colors or designs. Once the tiles are cut to size, you can press them in place with the self-adhesive backing. Damaged tiles are easy to replace and the carpet can easily be removed if used in a rental home.
Railings
Extra embellishments for stair railings don't have to be limited to Christmas decorations. Small, clear string lights threaded through the banister not only make lovely accent lighting, they can also help illuminate a dark staircase at night.
Painting the balustrade can also help give it a fresh, updated look. Try the ombre effect on the railing balusters if you haven't used it on the stairs. You can also use an accent color found elsewhere throughout the home.
Another option is to replace the entire balustrade with something more decorative such as wrought iron or cut-out, gingerbread style balusters. However, this can get quite expensive and typically needs to be done by a licensed contractor.
Staircase Walls
Add interest to your staircase walls with color, texture, shelving or framed art.
Create a focal point or accent wall by painting the staircase wall a bright color or covering it with wallpaper. Create the look of an expensive architectural feature such as stone masonry with stone veneer wall panels. These lightweight panels have an actual stone facade that is only a few inches thick but will create the look and feel of real stone masonry.
Display framed art or photos in groupings. Tie the group together with similar frames or a similar theme. Stagger wall art to follow the incline of the steps or fill the wall with frames of different shapes and sizes.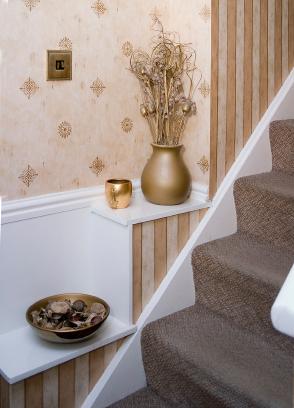 Stagger floating shelves along the staircase wall and display a collection of art glass, antique bottles or other collectibles. Hang shadow boxes both vertically and horizontally to display knickknacks and figurines. Display decorative decor on built-in wall ledges.
Lighting
It's important to have adequate lighting on a staircase. Layered lighting provides the most even distribution of light where it's needed.
Wall Sconces
Wall sconces are a good option for decorative lighting along the wall. Choose fixtures that will match the decor in the rest of the house. Wall sconces can also be used to help illuminate wall art along the staircase.
LED Lights
LED lighting can be installed in several areas along the staircase. One option is to install small LED lights within the stair risers, which will help illuminate each individual step. Another option is to install the lights low along the wall near the steps. For an impressive display of accent lighting, infrared sensors are placed at the bottom and the top of the stairs and when someone walks by, colored LED lights installed along the staircase light up in a programmed sequence automatically.
Pendants and Chandeliers
Many staircases provide adequate room to hang large chandeliers or hanging pendant lights. This is a great way to use space that is otherwise mostly unusable. Installing a dimmer switch will give you more control over the light intensity.
Landings
Use landings as a platform to display accessories and décor. Place a foyer or hallway table on the landing and hang a large mirror behind it. Add a vase with silk flowers as a centerpiece. The mirror will show the back side of the floral arrangement.
Place a grouping of three large urns or vases on a landing. Add some greenery with a large potted plant placed on a pedestal or place an indoor tree or palm plant in an oversized planter. If you have a large window by a landing, add a built-in window seat. Cover the bench or ledge with cushions and pillows to create a cozy reading nook.
Under the Staircase
Utilize the space under the staircase to create an unexpected reading nook or conversation area. Add some comfortable seating and a small table. Include a lamp or a couple of wall sconces for task lighting. This is also a good space for a built-in bookcase.
Personal Touches
Adding a personal touch to any area of a house helps make that space feel more warm and welcoming. A decorative staircase is one of many ways to infuse personality and character into your home.