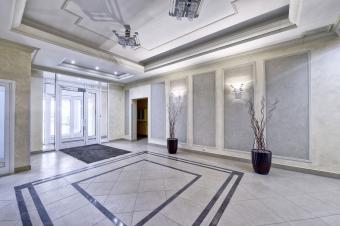 Interior design tips can help you to create a welcoming apartment lobby. This first impression of the apartment building has an impact on tenants and visitors, and should look its best.
First Impressions
A commercial building has different building code requirements than a home, and that includes commercial grade flooring, rugs, fireproof fabrics and other materials. To address the aesthetics, consider the following:
Tile Flooring
Tile flooring is easiest to maintain and keep clean than carpeting. Even commercial carpeting will have significant wear and tear that shorten its lifespan.
Tile flooring offers several design possibilities as well as colors, texture and finishes.
White, light-colored and dark floors show dirt easily.
A medium colored flooring is the best choice for not showing dirt.
Rugs and Mats
Commercial non-slip rugs and mats are a must for any apartment lobby. You'll need a large mat at the door entrance to catch debris. Select rug and mat colors that repeat the colors of the walls and furniture, so they don't look out of place and are a natural part of the overall lobby décor.
Wall Treatments
You can either paint the lobby walls or invest in a commercial grade wallpaper. There are advantages to both.
Chair rail and wainscoting are ways you can break up the wall space to create interest and depth.
Tiled walls can be a viable and desirable option for large apartment buildings with heavy traffic.
Wall murals are a great way to convey the culture of the local region.
Painting the Walls
Compares the advantages of painting the lobby walls before committing to a paint sample. You want a practical paint that will clean and wash easily. Spend a little extra money upfront for a quality eggshell finish to void frequent repainting.
Pros
Painted walls are easy to wash.
Paint is cheaper than commercial grade wallpaper.
You can change the paint color more easily than replacing wallpaper.
Wallpaper costs more than paint.
Wallpaper for an Elegant Lobby
While wallpaper is a costlier choice for a wall treatment, it's more durable than paint. Wallpaper adds depth and sophistication to the lobby design.
Pros
Quality commercial wallpaper will last 15 years or longer.
Wallpaper has a luxurious appeal.
Wallpaper insulates walls and absorbs sound.
Commercial grade wallpapers are highly durable and easy to wash.
Wallpaper technology makes removal easy.
Best Colors for an Apartment Lobby
You want the lobby to be as inviting as possible, so select colors that are warm, relaxing and create a cozy friendly ambience. The most popular color choices are neutrals, such as beiges, grays and whites.
Lobby Color Combinations
You can use more than neutral colors in your lobby décor. Color combinations bring that cozy welcoming ambience to a lobby.
Butter yellow and cream: This combination provides a sunny and warm lobby décor. It paves the way for taupe and tan furnishings with yellow accents. You can go with yellow or beige walls or a combination with wainscoting or chair rail.
Blue and chocolate: A restive color, blue becomes warmer when combined with brown. This color combination is a great choice for a lobby designed for a calming and soothing ambience.
Green and beige: The color of nature, green has a calming psychological effect that puts people at ease.
Add an accent color to enliven your lobby design.
Lighting Is Vital
You'll need more than one type of lighting for the apartment lobby to layer the lighting throughout.
Recessed ceiling lights: Place these a dimmer switch and timer, so the lighting can be dimmed during daylight hours.
Overhead light fixures: Depending on the lobby size and size of the overhead light, you'll probably need more than one.
Table lamps: If there's furniture in the lobby, place a lamp on each end table.
Floor lamps: Torchiere floor lamps are great for reflecting light to the ceiling.. Down-lighting lamps give direct lighting for a seating area.
Wall sconces: A wall sconce can provide both up and down lighting that is especially helpful near elevators and doors.
Furniture Styles
Most lobbies have at least a pair of chairs for guests to sit in while waiting on tenants. Choose furniture to reflect the style of the building, such as a specific era or design, such as modern.
Select commercial upholstery and curtain fabric that repeat the wall and flooring colors.
Depending on budget and type of apartment building, you may choose a pair of the iconic Barcelona chairs or opt for more traditional upholstered chairs.
If space isn't limited, create a grouping with a loveseat and two chairs away from the main traffic flow in and out of the building.
A pair of end tables with matching table lamps will provide a cozy and relaxing area within the lobby.
Other Furnishings
You can add other furnishings to give the lobby a complete design.
Depending on the lighting, you may want to add artificial potted plants, trees and floral arrangements. If selecting real plants, pay attention to the lighting requirements.
Wall art is always a plus in any design. Select a large painting/picture or a grouping of smaller ones.
Choose art based on theme, your location and the lobby color scheme.
If the lobby is large, display work by local artists on a rotation basis local art galleries. A glass display unit is for housing art displays.
Mirrors will visually expand the lobby and pull more light into the space. Tenants can use a mirror for last grooming touchups.
Interior Design for an Apartment Lobby
The approach for designing an apartment lobby should be like any design project. Select colors and materials in keeping with its function and you'll end up with a welcoming entrance.