If your children need a distraction from television when they're in the house, an indoor playroom can help you accomplish that. Make the most of what you can afford to spend on a playroom by starting with a good plan for it first.
Design the Playroom
The more space you have for a playroom, the better. A spare room, finished basement, upstairs loft area, or finished attic are all good options to create a safe zone for imaginative and active play.
Set Up Activity Zones
Decide how you want to divide the space according to the activities that will take place.
Active play zone:

Large activities will take up a lot of room, so start with these. They can run through the center of the whole space, or be designated to half of the area. Regardless of your selection, be sure you select areas with sturdy ceiling mounts and walls nearby to help support any structures. Tents, foam shapes for fort-building, trampolines, and sports games can take up a significant portion of the room.
Creative zone: Pick a corner for dress up costumes and arts and crafts (preferably near a storage piece dedicated to those activities) to encourage creative fun. Position a child-sized table and chairs there, as well as one or two art easels.
Storage areas: Designate a wall or two for storage pieces.
Ideas for Color
Use color psychology to help influence different mood environments within the playroom. Experts suggest vibrant colors such as red, magenta and yellow for active areas where motor skills are involved. Calming hues of blue and green are conducive to learning, while soft pastels are good for reading areas.
Color coded organization on storage can help children remember where to put their balls, where to put their dolls or Barbies, where to put their games, where to put their art supplies, and so on.
Ideas for Walls
Professionally painted wall murals look amazing but can be time-consuming and expensive. Your child may even outgrow the theme by the time it's done. Instead, try:
Peel and stick wall decals are affordable, take no special skills to apply and leave nothing behind, so you can use them in a rental.
Vinyl decals take only minutes to apply and come down even quicker.
A single accent wall is also easier for frequent theme or color changes.
You can achieve a wallpaper effect using a cornstarch and water mixture or liquid starch to apply fabric to a wall or door.
Frame an empty section of wall with trim or mount a large, empty frame and fill it in with chalkboard paint.
Make a rock climbing wall in one corner by mounting painted plywood planks (baseboard to ceiling and 2-3 ft wide) on each wall and installing climbing holds.
Apply energizing colors to the climbing wall boards such as red and yellow or complementary opposites like purple and yellow. Now, when you say your kids are climbing up the walls, you can mean it literally.
Flooring Options
Invest in some soft floor tiles, mats or rugs for your playroom, whether you're dealing with pre-existing carpet or bare floors. Playroom tiles can be made from foam or rubber and come in large interlocking pieces that can be cleaned or replaced if soiled or damaged.
Playroom tiles, mats and rugs may also feature letters and numbers, maps for learning geography or games, making them interactive. It's an excellent way to add color, designs and patterns to the floor while providing a soft place to sit, fall, and play, or tumble around.
Playroom Activity Resources
Ideas for playroom equipment and activities to keep your kids busy and entertained for hours include:
Nest Swing - Mount this swing to a sturdy ceiling support ($135) in a playroom ceiling for hours of flying fun sitting upright, laying on one's stomach or just kicking back. It can hold up to 200 pounds or up to three kids ranging in age from 2 to 10. Includes 9.5 feet of adjustable chain attached with quick links to 70 inch suspension cables, plus the additional hardware and instructions to have it set up in less than an hour. Find it at Wayfair for about $50.

Skywalker Bounce-n-Learn Trampoline

Skywalker Bounce-and-Learn Interactive Mini Bouncer Trampoline - This trampoline exceeds industry standards for safety with a sturdy enclosure sewn directly to the jump mat, eliminating gaps and keeping fingers away from springs. When kids jump on the animal pictures on the mat, they hear the sounds of cats, dogs and birds. The trampoline is 55 inches in diameter and is rated up to 100 pounds. Find it at Walmart for less than $75.
Children's Factory Soft Tunnel Climber - This multi-piece set of vinyl covered foam shapes can be used in countless ways for fun physical activity for children 9 months to 3 years old. It's aailable at Church Partner.com for under $300.
Climbing Cargo Net - Made from nylon rope and wooden dowels, this cargo net measures 96 inches long and 30 inches wide. It is rated to hold up to 150 pounds and helps promote coordination, balance, and strength. Find it at Amazon for just under $50.
Franklin MLS Mini Insta Indoor Soccer Set - Another great training aid for coordination and good sportsmanship, this indoor soccer set is easy to set up and move aside when not in use. Find it at Target for around $30.
Step2 Up & Down Roller Coaster - A safe thrill ride for toddlers, it's destined to be a playroom favorite. The car stays securely on the 10 foot track, which can also be used to roll balls down; rated for kids age 2 to 7. Find it at Walmart for a little over $110.

Mega Cubes and Tubes Play Tent

PlayStar Spiral Tube Slide - For a custom-built playhouse loft or multilevel playroom, this 5-foot spiral tube slide is a fraction of the cost of most playground sized tube slides; it's just a little over $500 at Hayneedle.
Mega Cubes and Tubes Play Tent - Your little ones will love scampering in and out of these tubes and pop up cube tents; from toddlers to 10-year-olds. The pieces are detachable, so you can change the configuration. Available at Toys "R" Us for about $90.
Red Rope Tunnel Bridge - This sturdy bridge made entirely of rope is rated to hold up to 400 pounds, making it strong enough for multiple kids to climb through as well as the adventurous spirited parent. It would be a fun add-on to a custom built indoor playhouse or obstacle course. Find it at Amazon for around $350.
Budget Ball Pit - This activity offers therapeutic benefits for kids with sensory challenges, as well as being just plain fun for any kid. The Pentagon shaped pit made from durable foam and vinyl has a floor so you can move it around without the falls escaping. It measures in inches 72 L by 78 W by 24 H. Balls are extra and cost $195 for 500, $390 for 1000 or $1,363 for 3500. Find it at eSpecial Needs for just over $1,200.
Keep Safety in Mind
Use your best judgment on installing safety measures, depending on the age of the children who will be using the room. Be aware of home safety hazards, whether you're on the second floor or in the basement.
Install safety gates at stairways and doorways for toddlers.
Install high locks on second story windows.
Cover all unused electrical outlets.
Use L-shaped brackets to bolt large furniture pieces, like bookcases, securely to wall studs.
Check the walls for protruding nails and carpeted floors for exposed tack Strips.
Make it a rule for older children to never run, play, or leave toys on stairs.
Find Inexpensive Storage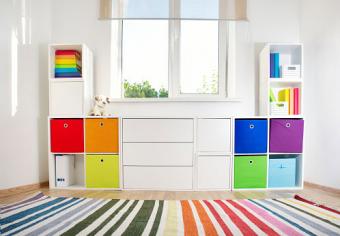 Save money any way you can by visiting thrift stores, dollar stores and discount stores for storage solutions. Look for a mix of open and closed units such as old dressers, large and small bookcases, low cabinets or benches with hidden storage that are still in good, usable shape. Don't worry about the color or finish if you're willing to put a little work into sanding and repainting them. Otherwise, a white, black or natural wood finish will usually coordinate with most décor.
Look for inexpensive plastic or wicker bins, baskets, containers or boxes to store small toys and arts and crafts supplies. You'll likely need containers with lids and some without lids. Collapsible mesh laundry baskets also work well for storing stuff animals and foam or plastic balls.
Design for Growth
Kids grow up fast and it can be a real financial challenge for parents to keep up with them. If your kids are roughly close to the same age, plan for some major design changes to the playroom when they get close to their teen years. That's a perfect time to transition the space from playroom to game room, a space the entire family can enjoy.